Slow start before easy win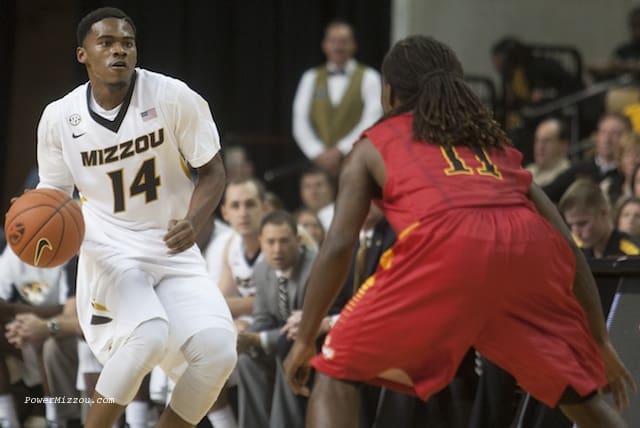 Missouri struggled through the first 15 minutes of its final exhibition game, but woke up to beat the University of Missouri-St. Louis 77-54 in the Tigers' final tuneup before Friday night's season opener.
The Tigers were saddled with seven fouls, including two each on
Keanau Post
and
Ryan Rosburg
in the opening 13 minutes as the Tritons jumped to a 25-14 lead on the strength of 5-of-6 shooting from three-point range. But UMSL missed its final eight threes of the opening half and the Tigers rode a smaller lineup to a 39-34 halftime edge.
"I'm not happy being down ten points, but it really worked out good for us," head coach
Kim Anderson
said. "I think it showed our guys they have to be a little bit more serious about things."

The presence of Johnathan Williams III, playing his first game after missing time recovering from a torn meniscus, loomed large in the comeback. The sophomore scored 12 points and grabbed eight rebounds in the first half. Williams finished with 13 and 12 boards despite a brief scare where he came up limping and rubbing his injured right knee.

"I don't know what y'all are talking about to be honest," Williams said when asked about coming up gimpy. "It just gives me more confidence in my knee. The big thing is gaining more confidence, more trust with my knee."

"You all have no idea ow hard he's worked," Anderson said. "It was good to have him back out on the floor.

"I didn't know how long he could go so it was good to see him play a lot of minutes."
Freshman
Montaque Gill-Caesar
kept the Tigers afloat early with ten first-half points on his way to a team-leading for the game. Anderson had implored the freshman to be more aggressive after the opening game against William Jewell and Gill-Caesar complied, making seven of 11 shots against the Tritons.

"Coach told me to come out and be aggressive. They want me to attack and be versatile," he said. "I think we had a lot of mismatches this game so I think we just wanted to expose a couple early."
Senior transfer
Keith Shamburger
ran the point effectively with 13 points, six rebounds and five assists as Mizzou outscored UMSL 63-29 after falling into the early hole.

"No turnovers," Shamburger said when asked what stood out about his performance. "I come over to the bench after the game ended and asked coach how many turnovers I ended up with. That's a big thing with me. I really don't care about if I miss shots, make shots. I want to get assists and no turnovers. I really don't like to turn the ball over. That really gets under my skin."
Shamburger and
Wes Clark
spent much of the night on the floor together in the Tiger backcourt, a lineup that Anderson praised after the game.
"We've been playing them together a lot, obviously," the coach said. "I think they both play off of each other really well. The big thing that I thought in the first half, we weren't getting the ball reversed a lot. We'd get it reversed once and then we'd hold it. We'd look and we'd look and then we'd reverse it again. I think those two guys kind of got that going, especially in the second half. They play off each other well, they really do. And they're both pretty good defenders."
NEWS & NOTES
: Assistant coach
Tim Fuller
was not on the bench for the game. Anderson said he was delivering the eulogy at the funeral of a friend and should be back tomorrow. He received a text from Fuller prior to the game saying, "I hope the guys play hard"...It never came into play, but the teams played with a 30-second shot clock, something coaches agreed to experiment with in the preseason...Williams' arsenal included a three-pointer just before halftime that gave the Tigers a five-point lead at the break. Asked if a outside shot would be a bigger part of his game this year, Williams put his arms around Anderson: "Have to ask him." Anderson responded with "I haven't told him not to shoot it."...Anderson and UMSL coach
Bob Sundvold
have been friends for years. Sundvold's reaction to Anderson getting his shot to coach the Tigers: "I was ecstatic. We go back a long way, our families do. He's a special guy. Here's what I think Missouri's got is they've got a guy that's invested. Norm was invested. You go to school here, you live here, you grow up here, it's a big deal. I don't think the national people, I don't think they get that. Especially at this place. I think that's a neat thing and I think they're going to see that for years to come. They get a few recruiting classes under their belt and, you know, I think you're gonna see a great brand of basketball. It's gonna be fun. I think he's got a great staff and they're gonna be able to do some good things."...UMSL started by making five of its first six three-pointers. The Tritons made just three of 19 thereafter...Mizzou opens the season at 8 p.m. against UMKC on Friday night. The game is technically a part of the Maui Invitational Tournament, but Mizzou will play in the field of eight in Maui beginning November 24th regardless of the outcome of the early round games.