Spring preview: Loads of experience at LB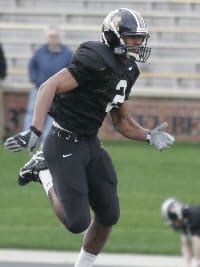 Missouri opens spring football practice on March 11th, just nine days from now. Over the next week-and-a-half, PowerMizzou.com will be previewing the most anticipated spring in school history from every possible angle. Today, we take a look at the linebackers:
The Starters
: This is the only spot on the field (where there is more than one starter) at which Missouri returns completely intact.
Brock Christopher
,
Van Alexander
and
Sean Weatherspoon
are all back, which is a major reason the Tiger defense is expected to be improved. Weatherspoon should be a defensive player of the year candidate in the Big 12, Christopher could push for all-conference honors and Alexander looks finally to have come into his own after battling injuries for so long and could be poised for a breakout season.
The Backup Race
: It would appear at this point that true sophomore
Luke Lambert
is the top backup here. He played significantly last season, splitting many snaps with Alexander.
Steve Redmond
improved in 2007 and should play a significant role and with a year under his belt
Connell Davis
should be a contributor as well. It will be worth watching
Andrew Gachkar
to see if he makes a push for playing time on defense this season in addition to his special teams duties.
The Top Storyline
: On the field, there just aren't many questions. We know the first three, we're pretty sure of the next three and everything seems set. But the major question could be this: Which linebacker steps forward to lead this team? Last year, the Tigers got their defensive leadership from Lorenzo Williams and Pig Brown.
William Moore
should take over for Brown, but the Tigers need another locker room leader on defense. Spoon is the most obvious candidate. We'll be watching this spring to see if this become his defense.
Position Rating: They got steadily better throughout the season last season. Lambert and Davis should provide added depth that really wasn't in place a season ago. The Tiger defense brings everyone back and they should have one of the strongest linebacking corps in the league. A solid nine is our rating here.
Coming tomorrow: The cornerbacks