Spring preview: The fans favorite five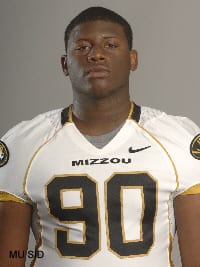 Missouri opens spring football practice on March 11th, 24 hours from now. PowerMizzou.com has been previewing the most anticipated spring in school history from every possible angle. Over the last week, we have previewed every position on the team. Today, we take a look at five players the fans will be watching over the next month:
Michael Keck
: Keck came in with four stars and the most hyped up recruit in the 2007 class. After an injury, a position switch and a redshirt, the Harrisonville product is ready to go at the defensive end spot this spring. But just how ready is he and how soon could he compete for playing time? Tiger fans are watching.
Gilbert Moye
: At one point last fall,
Gary Pinkel
told the media Moye would play as a true freshman. But then he didn't. The Tigers have plenty of options at safety opposite
William Moore
, but few of them have really proven a whole lot more than Moye. Can he get in the two-deep after spring ball?
Dominique Hamilton
: The redshirt freshman defensive tackle most certainly has the size to play, at 6-foot-6 and about 300 pounds. Does he have the talent? With Lorenzo Williams gone and not a lot of proven depth, the chance should be there.
Jake Harry
: He is on every list we have done this spring. The Tigers don't have many holes headed into spring ball. Punter seems to be one of them, simply due to the fact that Harry has never punted in a game. Spring ball will be very big for him.
Dominic Grooms
: There are no questions at quarterback. But
Chase Daniel
is gone after this season.
Chase Patton
is too. In 2009, it seems certain the Tigers will be a starting a quarterback who has never seen meaningful game action. With Blaine Gabbert coming in this fall, it will be a big spring for Grooms. He could give himself a major leg up on going into next spring as the starter, but he's going to have to perform well.
Coming tomorrow: Practice begins