Standouts of Spring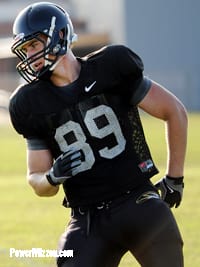 Spring football ended on Saturday afternoon. PowerMizzou.com takes a look at five Tigers who helped themselves over the course of the last month.
Gahn McGaffie
: McGaffie built on a solid showing in bowl practices last year by consistently showing well in practice. He also has versatility which will help, as he showed when he moved over to the "tight end" position when
Eric Waters
went down.
Shane Ray
: Ray was a terror coming around the end and consistently looked like Missouri's best pass rusher. The Tigers aren't likely in the market for a starter at defensive end, but Ray's performance this spring made it impossible to keep him out of the rotation.
Matt Hoch
: Perhaps the biggest spring surprise, in his first showing at defensive tackle, Hoch was good. He came to Mizzou as a tight end, moved to defensive end and is now inside. At the thinnest position on the Tiger roster, the team desperately needed someone to step forward. Hoch did.
Donovan Bonner
: Similar to Ray, it's unlikely Bonner can do enough to wrestle a starting job away at a position where the Tigers are deep. But he capped a strong (and finally healthy) spring with a 65-yard pick six, firmly establishing himself as the Tigers' fourth linebacker. After a good season on special teams a year ago, Bonner should be in the regular rotation for 2012.
Marcus Murphy
: Murphy quickly vaulted back up to second on the depth chart and shone in the Black and Gold game. With Murphy, it's less a question of if he's good enough and more of if he is healthy enough. He showed this spring he is fully recovered from an injury that forced him to redshirt last season and the Tiger ground game is in much better shape for it.
Nobody covers the Tigers like PowerMizzou.com. If you are not yet a member, just try out our free trial.