Sterk takes over at Mizzou
At the start of Missouri's search for a new Director of Athletics, many Tiger fans hoped (assumed?) the person to take over for Mack Rhoades would have deep ties to the University of Missouri.
Not the case.
Jim Sterk comes to Columbia from San Diego State and prior to that from Washington State. The extent of his ties to Missouri are that his father-in-law grew up in the southern part of the state.
"I'm not from Missouri," Sterk said at his introductory press conference on Thursday morning overlooking Faurot Field. "But I am now."
Chancellor Hank Foley said ties to Missouri—or lack thereof—were not a factor in his search for a new AD.
"We looked at that very, very carefully," Foley said. "What we really wanted was somebody to come here and be a part of us right away. I looked at Mike Alden. Mike Alden came here from somewhere else. Gary Pinkel came here from somewhere else. They're Missouri people now. They really get it. That was what I thought we really needed to do. I really was looking for someone that the athletic world would say 'Wow, look who they brought to Missouri.'"
Sterk said it took him "maybe 15 minutes" to accept the job once Foley offered it. His contract was signed on Monday night.
"I told Chancellor Foley there was divine intervention," Sterk said. "I told (his wife) Debbie I was really impressed so let's really look into this more.
"That first day I got back, she went hiking on Torrey Pines, there's a guy walking with a Mizzou shirt right in front of her. I'm driving on San Diego State's campus and there was a Missouri plate right in front of me at the stop light. I'm going, 'Okay, I think the Lord is saying that I need to go in that direction.' So when the opportunity came, we were ready to take it."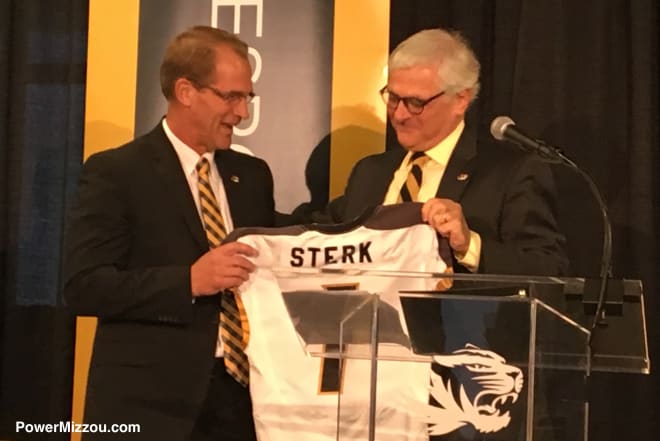 READ MORE FROM STERK'S PRESS CONFERENCE
Missouri included a list of quotes from athletic directors at Duke and Stanford praising Sterk, along with one from former San Diego State star Marshall Faulk. Foley said he discussed the opening with outgoing Florida AD Jeremy Foley. But as of Thursday morning, the reasons Sterk took the job are now secondary to what he must do going forward.
"Chancellor Foley, he did a great job. When I finished with him, I walked out and told Todd Turner, 'I can go to war with that guy,'" Sterk said.
Chief among those is bringing some stability to a campus that has been embroiled in controversy more often than not since last November and to an office that has been filled by four other people in the last calendar month.
"I think some of the things have already been done and we're going to continue to build on that," Sterk said. "As I dug into it more and more, I felt I could help make a difference. I could help continue to move the program forward.
"I wasn't here for all of that last year, but I do know that there are great people here and a lot has been done already."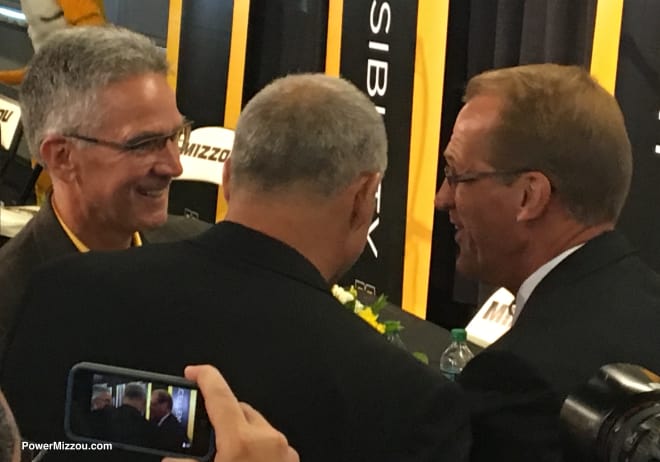 Sterk will get immediately to work. He said he and his wife, Debbie, will remain in Columbia for a few days before returning to San Diego. His permanent start date is set for August 22nd. But already this afternoon, Sterk will tour the facilities and meet with head football coach Barry Odom to begin discussion the future facility improvements for Tiger football.
"It's always good to have a boss," Odom said. "Let's lock arms and go get to work.
"The decisions that we make are going to affect this place for a long time and I'm glad to have the partnership with him. We're gonna work well together."
For the first time in a month, Mizzou has a permanent Director of Athletics. And now it's time for him to get to work…hopefully for Mizzou for quite some time.
"This is a destination spot," Sterk said. "I would love to have the tenure of Mike Alden, if you'll have me. I would love that opportunity. We don't jump around. That's not us. We made this decision to stay here long term and so I have no intention of leaving. So you're stuck with me."