Stretch Run: Defense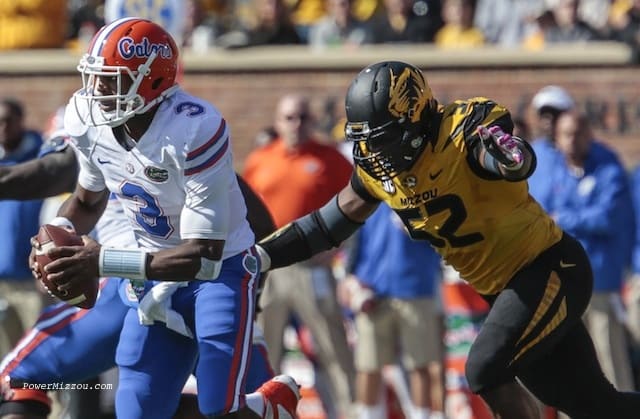 No. 9-Missouri (9-1, 5-1 SEC) begins its stretch run to an SEC East championship next Saturday against Ole Miss. While the Tigers have answered nearly every challenge thrown their way over the first ten games of the season, key questions remain. When answered, these questions could determine whether the Tigers win out into the SEC championship game -- or stumble and spend the first weekend in December at home.
Today, we turn to the biggest questions surrounding the defense.
5. Will Michael Sam get the sack record?
This one likely won't factor too much into Missouri's final record, as the defensive line is getting pressure with or without sacks from Sam. But Missouri's senior defensive end has ten sacks, 1.5 away from tying Aldon Smith's single-season school record.
However, Sam has been stuck on ten for two games as teams have adjusted protection to his side, somewhat mitigating his impact. In the last two games, Sam has just one solo tackle and one assisted tackle. In that time, though, the rest of Missouri's defensive line has picked up the slack, most notably
Kony Ealy
, who has three sacks and 4.5 tackles for loss over the last two games.
Missouri's defensive line will continue to be in fine shape with or without Sam bringing down the quarterback, but his pursuit of the single-season record will be a story to watch.
4. Can the rush defense continue to make teams one-dimensional? We'll get to the pass defense in a second, but Missouri's run defense has been exceptional this year. Missouri is second in the conference in rushing yards per attempt (3.33) and in rushing touchdowns allowed (8). They've held every conference team they've played to fewer than their season average in rushing yards, and have been dominant in the last four games, holding three opponents to under a three-yard average and surrendering more than 100 yards in only one of those games.
Ole Miss isn't a dominant team on the ground, ranking 11th in the conference in rushing yards per game, but because of Johnny Manziel, the Aggies are a real threat to move the ball on the ground. Making those two teams one-dimensional won't determine each game, as they can move the ball through the air, but if the Tigers can force both teams into more third-and-long situations, the pass defense will be set up for success.
3. How much will Tennessee and Kentucky help Missouri? Bear with me for a second. Tennessee and Kentucky's offenses certainly aren't on the same level as those in Oxford and College Station, but after playing the first four conference games against teams that largely didn't speed up the tempo on offense, the Wildcats and Volunteers certainly tried to. Missouri, obviously, handled that tempo well in both games, surrendering 20 total points.
Now, the Aggies and Rebels are first and fourth in the conference in plays per game, and they like to push the pace as much as possible. Missouri seems much better suited to defending those type of offenses this season, as they rotate in a good number of players at every level of the defense, especially on the line. It's tougher to get Missouri's defense fatigued, but then again, the Tigers have only faced one team so far that ranks in the top-five of total plays (Tennessee).
2. How will they adjust to the screen game? Missouri has been burned by screen plays this season, as teams use the aggressive nature of that defensive line against Missouri to free-up space for screens. Over the last few weeks, Missouri players have talked about the need to stop those plays, saying they're not ignoring it. But the fact is, the screens still work, and Ole Miss and Texas A&M are two teams with skill-position players that can turn a screen into a long play easily.
It's a double-edged sword, however, because the Aggies and Rebels have quarterbacks that can make defenses pay if there isn't a pass rush. Seeing how Missouri deals with screens -- delayed blitzes, perhaps -- will be an interesting story to watch over the final two weeks.
1. Will the pass defense hold up? Missouri is last in the SEC in passing yards surrendered per-game, but it's a misleading stat as the Tigers have run out to huge leads, forcing opponents to throw the ball as the defense focuses on preventing deep passes. That much is made clear when you see that teams are throwing the ball 42 times per game against Missouri, seven more than the next closest team. At the same time, teams are only averaging 6.5 yards-per attempt, which is the second-fewest total in the conference.
However, that bend-but-don't break ability will be tested over the final two games of the season. Ole Miss and Texas A&M rank third and first, respectively, in the conference in passing yards per game. Both teams prevent a challenge, as they also average better than two touchdowns per interception -- the Aggies' are over 3:1.
Running out to a big lead would obviously help against both teams, but the Rebels and Aggies like to throw the ball plenty (both average over 37 attempts per game) and each are in the top five in passing plays over ten yards, and in the top three in passing plays over 50 yards. Missouri's defense has its toughest test ahead of it, and it starts in finding a way to mitigate big-plays through the air.