Summer Sessions: Martavian Payne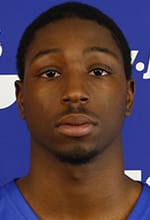 Over the next couple of weeks,
PowerMizzou.com
will speak with every scholarship player on the Tiger basketball roster. We continue our
Summer Sessions
chats with junior college transfer
Martavian Payne
.
PM.com: You're a St. Louis native. Before you signed here, what was your connection to Missouri?
MP: "My connection was strong. I mean, I grew up watching Mizzou all the time and I had some of my close friends come here like Jimmy McKinney so I was real close to Mizzou."
PM.com: Jimmy's got to be, what, ten years older than you?
MP: "Oh yeah, he's way older than me, but I hoop with him all the time when he comes back home and he talks about it all the time. I just wanted to give it a try."
PM.com: Was Missouri always the program you hoped you would end up at or what was the process during the two years in junior college?
MP: "Yes, definitely. Mizzou has always been a program that I grew up knowing. My freshman year I really didn't hear from them that much, but I still wanted to keep them up there so when I heard from them, that made me real excited."
PM.com: Was it the coaching change that really got their interest going?
MP: "I believe it was the coaching change and then the effort and work that I put in."
PM.com: Tell me about your game. What do you think is your strongest asset?
MP: "I would just say my ability to score the ball and leadership and getting my teammates involved."

PM.com: On the other side, what are you really working on and feel like you need to improve?
MP: "I would say just probably playing above the rim and my ballhandling."

PM.com: How has the transition gone in your first month on campus?
MP: "It's going real good. I got some of the older guys helping me with the transition so it's been real good."

PM.com: Has there been one of the older guys you've really gotten closest to who has kind of shown you the ropes?
MP: "It's been Tramaine Isabell, even though I'm older than him. But he's still helping me out a lot and I'm thankful for that."

PM.com: You're not only a couple years older than the guys you come in with, but like you said, you're older than some of the guys on the team. What's that dynamic like coming in as a first year player, but being older than a lot of your teammates?

MP: "I feel like I fit in real well. Everybody's treated me the same as everybody else so I feel like I'm fitting in real well."
PM.com: As far as the other first year guys, anybody jump out at you playing pickup that has impressed you with his game?


MP: "Terrence Phillips. He showed me a lot the last couple weeks."
PM.com: I've seen you called a point guard, a combo guard and a shooting guard. What are you?

MP: "I would say I'm more of a combo guard."
PM.com: What do you feel more comfortable doing?
MP: "The two so I can score."
PM.com: What have the coaches told you about your role on this team?
MP: "I see myself just bringing energy, leadership and just bringing the toughness to a team."
PM.com: You've followed this program for a long time. What's the attitude of the guys in the locker room coming off last season?
MP: "I feel like we're more hungry as a team, we're coming more together as a team, we're working very hard every day."
PM.com: There's been a perception that it's been hard for Missouri to get guys out of St. Louis. Before you came here, what was the attitude toward Mizzou in your home town?
MP: "They said they loved it a lot. They love the program, the fans, everything like that. They want me to come down here and represent for St. Louis."
PM.com: Have you set goals for yourself for the season or do you not worry about that yet?
MP: "I haven't really thought about any goals yet, but I will set some."
PM.com: You said Terrence has impressed you. Is there a guy on this team that you see as kind of the guy everyone looks to? The go-to guy?
MP: "I'd say that we're all going to lead this team together as one."
PM.com: Coach Anderson obviously has a lot of ties to this program. What was your connection like with him during the recruiting process and now that you're here?

MP: "Coach Anderson, he's a real nice guy. He recruited me, him and Brad Loos. They were at most all of my juco games. I have a real strong connection to him. I was talking to him every day. Coach Anderson, he's a good guy."
PM.com: How different is it playing out here against these guys versus the competition you saw in junior college?
MP: "It's way different cause you know, everybody is the same. Bigger, stronger. I just have to adjust a little bit, but I'll get the hang of it."