Summer Sessions: Terrence Phillips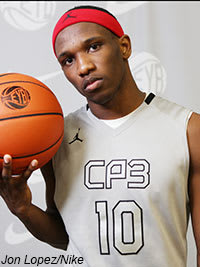 Over the next couple of weeks, PowerMizzou.com will speak with every scholarship player on the Tiger basketball roster. We continue our Summer Sessions chats with freshman point guard Terrence Phillips.
PM.com: Some of the guys have said it didn't take you very long to feel comfortable here. You feel like the transition is going well?
TP: "Oh yeah, we're bonding with the older guys here. All the freshmen, we're coming together and I think the freshman group is really strong here. We're really trying to set the tempo with getting in the gym. Adjusting to practice was quicker than I thought it was going to be. We're settling in just fine."
PM.com: Has having so many new guys maybe helped turn the page from last year a little bit?
TP: "Yeah, new faces, new team, that's how I look at it this year. Last year, it happened. We don't want to bring it back up that much, but it still is in the back of our heads a little bit. Having new guys, it's a new vibe in the locker room, a new vibe on the court, just a lot of excitement."
PM.com: Did you come in with the mindset of wanting to establish yourself as a leader?
TP: "I'm trying. I'm trying to be a leader out here as hard as I can, motivate my guys when we get tired and play pickup, just push and keep going. That's how I've always been no matter if I was a freshman in high school or a freshman in college. I try to be a leader as much as I can possibly, even if I have to really wait my turn before I can be a real leader, I try to be a leader when I can. If I'm the second group, I'll be the leader of that second group."
PM.com: Last year's team, leadership was an issue. Was that something Coach Anderson was telling you they needed?
TP: "He was definitely telling me they could use that, but he was definitely telling me you already have that. You'd be a great asset to this team with that leadership. That's one thing he really wanted me to bring was leadership and motivation, just push guys to get better and get better every day."
PM.com: Who's impressed you, either from the new guys here or the guys that are coming back?
TP: "The guys from last year, they do their thing, but in all honesty, just because they're in my class, I really think the freshmen, including myself, have really impressed me the most. I think we're probably in the gym the most, the four of us, me KJ, Cullen and KP, we're in the gym the most. We're getting up 1,000 shots a day between two of us, maybe just one of us put up 1,000 shots. We're in the gym, we're in the weight room, we're working, we just want to be better as a class. We want to make an impact as a freshman class this year."

PM.com: How much are you shooting every day?
TP: "Since today, I couldn't hit a brick today, I'll put up a thousand today. On a typical day, probably a thousand, but at the same time it's not about how many you put up, it's about how many you make so in all honesty I try to make about 600 a day. I take advantage of the days we have off, especially on Fridays, we don't have practice on Fridays, we just have lifting in the morning, so I come back here, I take a nap, do a little homework, get back to the gym and I make 600 more. I think since I've been here I took one Saturday off. That's the only day I've really taken off though."

PM.com: Of the older guys, who do you guys look to, who's kind of shown you the ropes?
TP: "Wes Clark. He's been out, he just got back about a week ago. Wes has been a big asset to me. We played pickup last week and I had a chance to win the game and I just really didn't have a go-to move and he pulled me to the side and he said, 'In this league, young fella, you got to have a move to go to down the stretch. If you're gonna be a leader for this team, you've got to get in here and work on it.' We're in contact all the time, we're talking all the time and I love playing with him in pickup because we get together and get to do it more. I think Wes is a big asset to me."

PM.com: Do you have a sense of how good this team can be offensively? Because that was the major issue last year.
TP: "I think we can be good. I don't think we have a superstar that's can like go get us 40 every night. I feel like if we've got a few guys maybe we get three-four guys, let's say we get four guys that can average ten apiece, that's 40 points right there. You get another guy that averages five, that's 50 points right there. In a college game you're not going to need much because games are a little bit slower. We just get a few guys here to average double figures, even one can average 15, who cares? At the end of the day we shouldn't really care about who's scoring, we really care about let's win no matter who scores, who gets the credit or whatever, let's just win as a team and let's move forward as a program."

PM.com: You were always a facilitator in high school. Do you expect to take on more scoring here?

TP: "Yeah, I do. Coming in here, that's what they talked to me about, saying I have to score a lot more to be here. I understood that coming in, that's why I'm making 600 and put up 1,000 every day. I need to be a presence and if I've got a three-point shot when they go under screens or when they leave me in the corner. I expect to come in here and score a little bit more, but at the same time I don't really want to get away from my game which got me here which makes my teammates great which makes me great. I feel like if I just add on the scoring to what I already do, who knows what I could possibly do here the next four years at Mizzou?"
PM.com: You played with a lot of great players at Oak Hill. Have you noticed a jump in competition here in college or are you pretty prepared for it?


TP: "There's probably a little bit more jump. Going to Oak Hill last year, we had five seniors, all Division One, Penn State, Iowa, things like that. We had a junior who was committed to Penn State as well. Everybody on my team last year was all going D1 the next three years. We went at each other every day, we competed with each other. We didn't care who you were, what school you were going to because we know if we pushed each other we were going to get better. I think that's what helped me at Mizzou right now. Even though I'm a freshman right now, they're going to try to push me. We're going to go at each other, we're going to push each other. That's what I got from Oak Hill. I think being at Oak Hill was probably the best asset for me, I feel like I'm already ready."