Summer Shakeup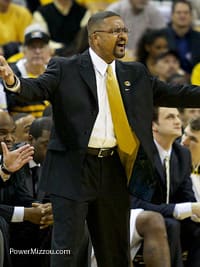 Officially, Ryan Miller's coaching tenure at Missouri lasted approximately 70 days and did not include a single game. Sources indicated to PowerMizzou.com on Friday night and the University of Missouri confirmed on Saturday afternoon that Miller was headed to Auburn to become the associate head coach for Tony Barbee.
"It was a difficult decision because I really enjoyed working at Missouri and I can't think of a better head coach to work for than Coach Haith. I appreciate how supportive he was of me during this process and the culture he has created here is among the best in college basketball," Miller said in a statement. "I do want to say how much I appreciated my short time in Columbia and I know why my friends and colleagues spoke so highly of Frank and Mizzou. This is such a special place to so many people and my experience with our student-athletes, the University and the city will stay with me forever."
No details are out, but multiple sources have indicated a substantial bump in pay for Miller with the move to Auburn. As for Haith, he issued a statement as well.
"I know it was a difficult decision for Ryan, but when you step back and look at the opportunities it can create for him going forward it's understandable. It's a great opportunity personally, professionally and financially, and to go from our third assistant to Associate Head Coach and work for a former colleague and friend, it's a major career move. As for us we have a strong staff foundation in place with Tim (Fuller) and Dave (Leitao). I feel like they are the top two assistant coaches in college basketball and we are going to continue to hire talented individuals in that mold, great on-court teachers and great recruiters with established relationships."
Miller was hired on May 11th to replace Isaac Chew, who left to become the lead assistant at Illinois. Ironically, just weeks after being hired by the Illini, Chew bolted to join Buzz Williams' staff at Marquette. The Tigers also lost Ernie Nestor this off-season, who moved to Navy to work with his former boss, Ed DeChellis.
There has been no word on Miller's replacement, but a source did tell PowerMizzou.com that Haith is expected to move fairly quickly.
Nobody covers the Tigers year-round like PowerMizzou.com. If you are not yet a member, just try out our free trial.