Taking the Reins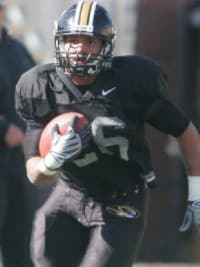 The most common question at Faurot Field on Saturday morning was, "Who's playing quarterback?" About the only thing observers of Missouri's second scrimmage could tell was that Chase Daniel was no longer behind center. The Tiger signal callers were wearing orange jerseys with no numbers, making it difficult to tell them apart.
"What that jersey allows the defense to do is to hit them high,"
Gary Pinkel
explained of the new attire. "It gets real time for them. They're not sitting back there getting tagged and everything's nice. Nothing's nice back there."
For most practices, the quarterbacks wear green, meaning they can only be touched, not hit. The orange jerseys have not been out, as far as anyone could recall, since Daniel was a true freshman in his first scrimmage.
"You get a chance to make a few more plays,"
Blaine Gabbert
said. "But you've just got to go out there focused on the same things. Make plays, make completions, run the offense."
Gabbert is clearly doing that at the highest level of any Tiger signal caller right now. He finished the scrimmage, unofficially, 27-for-37 for 203 yards and a touchdown. He even made a little contact of his own, delivering a forearm shiver to a defender
Andrew Gachkar
at the end of a run.
"The second you let up, they're going to pop you," Gabbert said. "You've just got to go full go and that's what I'm doing. You've just got to run them over."
Gachkar got his revenge later in the day, intercepting Gabbert during the two-minute drill, but the sophomore signal caller still had a productive day.
"I thought he did some good things and he's getting better," Pinkel said. "He's showing very good leadership qualities. But the best thing a quarterback does is lead by winning."
While the quarterback race is still termed an open four-way competition, Gabbert looks to be taking charge both on the field and in the locker room.
"He's doing a great job of taking control of the offense,"
DeVion Moore
said. "He's making calls for the receivers, making calls on the line, letting us know where we need to be. He's basically picked up on any aspect of the offense that you can think of. He catches on real quick."
Gabbert's arm has impressed many. But his legs are perphaps just as impressive. While he won't be mistaken for Brad Smith anytime soon, Gabbert has shown an ability to keep plays alive.
"He keeps the play open," Moore said. "If something breaks down, he knows how to use his feet and keep a play alive."
"He keeps every play alive,"
Sean Weatherspoon
said. "He doesn't take a sack. He just gets out of the pocket and makes something happen."
Never was that more evident than on the offense's lone touchdown pass in a 60-54 scrimmage win over the defense. Gabbert broke the pocket and scrambled right on third and ten as if he was going to run. Just before crossing the line of scrimmage, he pulled up and lofted a 14-yard pass to Moore in the back of the end zone. With
Derrick Washington
out, Moore took advantage of being the top tailback with 50 yards on six receptions and 40 more on seven rushes.
"I think it's a great opportunity," Moore said. "I'm getting a feel for what I'm supposed to be doing and Derrick is still on the side letting you know when something happens, you've got to look at this, this and this. He's giving me a game perspective."
With
Jared Perry
and
Danario Alexander
joining Washington on the injured list, the Tigers have already added to a list of spring questions that included how they can replace a quarterback and the top three receivers from last year's offense. Gabbert's play in the first half of spring ball may be getting Missouri a little bit closer to an answer.
"I saw Chase (Daniel) in spring going into his first season as a starting quarterback," Weatherspoon said. "I see a lot of the same thing. He's making a lot of plays. There are still a few mistakes, but he's getting better."
The Tigers return to the practice field on Tuesday afternoon at 3:30. PowerMizzou.com will be in attendance with complete coverage.
PowerMizzou.com's spring football coverage is sponsored by Pension & Benefits Live. Jesse Cox (stljesstx) and Tim Killday (Killer) would appreciate the opportunity to be a resource to you for company benefits and/or individual health and life insurance needs.
Click
Here
to view this Link.