Ten days in transition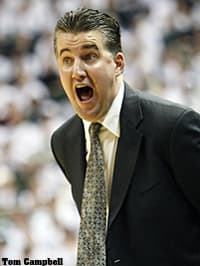 At some point in the next couple of hours (perhaps even as this is being typed) Missouri officials will meet with Matt Painter to try to lure the coach from his alma mater to Mizzou. One way or another, a resolution between Painter and Missouri is expected in the next 24 hours.
For those who haven't kept up with every step of the process, this is a good time to track just how we got to this point:
Thursday, March 17th: Missouri loses to Cincinnati 78-63 in the NCAA Tournament. After the game Mike Anderson is asked again about the vacancy at Arkansas. He replies "I plan to be at Missouri for a long time…Bottom line."
Saturday, March 19th: Anderson watches Otto Porter in the Missouri State High School Championship game then flies to Hutchinson, KS with assistant Melvin Watkins to watch Guy Landry in the National Junior College Championship.
Late that night, Chris Lincoln of Tulsa tweets that Anderson will be the next head coach at Arkansas. For the next three days, rumors swirl with Arkansas sources reporting Anderson will be the next head coach and Missouri sources saying he will sign a 7-year, $14 million extension to stay in Columbia.
Tuesday, March 22nd: The Missouri Board of Curators meet in Rolla. While the session is closed, reports are that the Curators approve the extension for Anderson at Mizzou.
Anderson, unbeknownst to the press at the time, requests permission from Mike Alden to speak with Arkansas about its vacancy. Alden recommends both sides sleep on the issue.
Wednesday, March 23rd: With no word out of Anderson, he is in Tulsa for the funeral of a long-time family friend. Following the funeral, he reiterates the request to Alden to talk to Arkansas. At that time, Missouri pulls its extension off the table, essentially making the decision for Anderson.
Later that day, Anderson returns to Columbia, avoiding reporters at the airport and returning to Mizzou Arena. Once there, he meets with Alden and informs the athletic director that he will be resigning his position at Missouri. Just minutes later he meets with the current Tiger team to tell them he is leaving.
At 9 p.m., Missouri holds a press conference to officially begin the search for a new basketball coach.
Thursday, March 24th: As media and fans speculate on the list of new coaches, one name emerges. Purdue's Matt Painter quickly shot to the top of the list. Most dismissed it out of hand, believe Painter would never leave his alma mater for a program that, at best, would be a lateral move.
Over the next few days, speculation surrounding Painter and the Tigers picked up steam. Talk of a lack of commitment from Purdue to the basketball program, contentious negotiations and a questionable relationship between Painter and athletic director Morgan Burke and a number of smaller issues lent credence to the fact the coach might be willing to listen to Missouri…especially at a price tag thought to be at least $2 million per year.
Monday, March 28th: Reports surface that Painter and Missouri officials will meet in Florida, where Painter has been vacationing, within 24 hours.
That night, Purdue comes to Painter with a new proposal. Financial details are not available, but in a statement, Boilermaker officials say "The Board of Trustees, President (France) Cordova and Morgan Burke clearly demonstrated Purdue University's commitment to him and our men's basketball program. We were proactive and though we will not go into details at this time, we have encouraged Matt to stay through our words and action.
"We want Matt to remain a Boilermaker."
Tuesday, March 29th: Alden and other members of the search committee meet with Painter in Orlando. After the meeting, the Mizzou search committee returns to Columbia while Painter is reportedly back in Indiana.
From this point, either Painter quickly becomes Missouri's next coach (announced no later than Thursday) or he remains at Purdue and Alden and company head to the Final Four to resume their search.
Nobody covers the Tigers year-round like PowerMizzou.com. Throughout the coaching search, PowerMizzou.com has kept Tiger fans in the loop every step of the way. If you are not yet a member, just try out our free trial.