The making of No. 1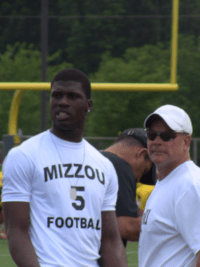 SPRINGFIELD, Mo.-- The name tells the story:
The nation's top recruit is a sum of both parts.
Green-Beckham.
One represents a personal past. The other represents a public future. Neither are constraints. Both are definitions.
Remember those names.
Family is about trust.
Thirty years ago, John Beckham traveled from Miami, his hometown, to Springfield, Mo., to visit friends. There, he was introduced to Tracy Williams. John returned to south Florida, but his heart never left Springfield. He moved back to southwest Missouri. Three years later, Tracy and John Beckham married.
Over time, the Beckhams developed an "open-door" policy at their house. Their home became a bastion for children and teenagers from troubled backgrounds, providing food, a place to sleep or just space to talk. Over time, the Beckhams became foster parents to some, while others came and went. Eventually, they adopted five children.
The background of Dorial Green-Beckham has been well-documented in other articles, and it's now a subject he'd rather not discuss at great length or in specifics. Shuttling back and forth between St. Louis and Springfield with his three brothers and two sisters, Green-Beckham's past is dotted with stories of prison for family members, foster and group homes, and times of transient living.
"That's the storyline of his past," John Beckham said.
Really, that's all that needs to be said. That's all the Beckhams, and Dorial, want to be said. For Dorial and younger brother Darnell, their new life began in 2006. The Beckhams were already present in the lives of the two brothers, as Vincent and Sam, four and two years older than Dorial, respectively, had spent time at Hillcrest and on the football team.
Dorial and Darnell lived in a group home in Springfield at the time. In order to see Sam play on Friday nights, a licensed foster-care provider would have to take them to the games. Luckily, John and Tracy Beckham were just that.
It wasn't long before Sam, Dorial and Darnell moved into the Beckhams' home. Looking back, John Beckham remembers the trying times during the early years, as the two boys looked for comfort, stability and normalcy in their new life.
"Just because you open your doors, give them a room and say, 'Hey, we're going to take care of you,' it doesn't mean that they're going to trust you," Beckham says. "They don't know if they're going to be with you for a week, a month, a year. For a kid at that age, it's a day-to-day thing for them.
"They kept us at a distance. It's a protective wall they built up."
Talking like the veteran foster father he is, John Beckham said there's no use reminiscing on the highs or lows of that adjustment period. Instead, he remembers the little things, the everyday minutaie that hinted toward Dorial and Darnell's acclimation into the Beckham household.
"A lot of times, what the kids were watching on TV in the living room wasn't what my wife and I wanted to watch," Beckham recalls. "So, we would go into our bedroom to watch the television. We have a king-sized bed, and before I knew it, Dorial Darnell, Malachi, Eliza, all the kids, would be sitting there with us.
"That's when I knew they were getting comfortable. The more they started being in there, the more we realized they were comfortable."
Dorial remembers the acclimation occuring quickly. He said he felt like a member of the family after only a year. Tracy and John Beckham became Mom and Dad, and those pseudonyms are said with ease and without hesitation.
"At school, I'm 'Coach,' though," Beckham says.
After just a brief conversation with both father and son, you realize they are just that. The term "adopted" may be needed to clarify, but it isn't necessary to define.
In late 2009, Tracy and John were contacted by Child Services. Dorial and Darnell wanted to be adopted by the Beckhams, a decision they made independently of their family. Both parents were surprised, but elated.
"They were getting a little bit older," John Beckham said. "A lot of times, as they get older, as they approach the age of 18, they don't see the need. They were very positive about it."
"It was a big change in our lives," Dorial admitted, "but it wasn't really that tough, since we'd known them for a while. We were comfortable around them, comfortable with the family. You know, we felt used to it."
Soon thereafter, both bothers added "Beckham" to their last name.
"It was an easy decision," Dorial said. "These are the people we're going to be around our whole lives."
Dorial and Darnell are joined by Rick, Sarah and Malachi, the Beckhams' other adopted children. In 2005, Tracy gave birth to Eliza Grace, the Beckhams' first biological child.
"She's the worst of the bunch," John Beckham lovingly jokes about his soon-to-be six-year old daughter. "She's a troublemaker."
The walls surrounding John Beckham's football office are blue-gray cinder blocks, rising high to an industrial-looking ceiling. Save for a large flat-screen TV mounted on the wall to the right of his desk, they are barren. On his desk, and on a bookshelf, are pictures of his family. Shots of Dorial in action, ready to storm upfield after a reception. A framed picture of Eliza Grace as a baby, with a picture of Malachi nestled into the bottom-right border.
All the pictures face away from his desk, pointed outward so visitors can see.
It's cliched to talk about the traditional, nuclear family, because that model has been nearly eradicated over the past 25 years. For Dorial, just the word "family" is necessary.
"Family is about trust," Dorial says, after thinking for a moment. "It's being able to trust the people around you.
"That's something I've learned after going to the Beckham family."
I felt helpless.
On a Friday night in February of 2011, Darnell -- himeself a burgeoning sports star as a freshman -- had just finished playing in a basketball game for Hillcrest. The Hornets defeated Lebanon 55 to 49. The next day, he awoke with a pain in his hip. Soon, it spread to both hips. By Tuesday, he could barely walk.
Soon thereafter, Darnell was diagnosed with Acute Lymphoblastic Leukemia.
"It was out of nowhere," John Beckham recalls, leaning back in the black leather chair in his office in Hillcrest's football locker room. He brings both hands behind his head, rubbing his dark hair.
"Friday night, he was dunking the ball," Beckham continues after a pause. "We were thinking that this kid has a bright future ahead. He was only a freshman."
Looking back, Beckham recalls signs that were mistaken for everyday childhood ailments, such as fatigue during conditioning ("It was right after Christmas break," Beckham remembers). But this wasn't an everyday malady. John Beckham said the cure rate for ALL is in the 90th-percentile, but the seriousness of the illness was readily evident. Darnell would need immediate, intense treatment. That would require John Beckham to take a leave of absence from Hillcrest, traveling to St. Jude's Children Research Hospital in Memphis for weeks at a time.
"It's a three-year treatment," Beckham said. "It's a very long, drawn-out process."
"There's a whole laundry list (of treatments). They have a protocol. On Day 1, you get this. On Day 2, you get this. It just goes on."
The first stage of treatment is called the induction stage, and that required the most time in Memphis. Then comes the consolidation stage, which includes chemotherapy and the use of a drug called methatrexate. Darnell would go to Memphis for a week, then return to Springfield. He began the continuation phase, the last stage of treatment, on Tuesday.
"That's 120 weeks," Beckham said. "It's a long, drawn-out deal."
Dorial was shaken more than his parents. For so long, he had watched out for his younger brother.
"He knows I have his back in everything," Dorial said.
But this wasn't a bully in the neighborhood. This wasn't learning a playbook, or talking with girls.
This is cancer.
"I felt helpess," Dorial explains. "Seeing him like that. There's nothing much I could do."
The older brother did what he could for his younger sibling. He talked to him. He checked facts on the disease, bringing good news and words of encouragement to Darnell while he was struggling through treatment, through the nausea and hair-loss of chemotherapy, through the never-ending fatigue, that deathly feeling that life-saving cancer medicine brings.
Luckily, Darnell responded quickly to the treatment. While John Beckham said his children, including Dorial, had trouble understanding the disease at first, a spring-break trip to Memphis helped lift their spirits.
"When the boys got there and saw Darnell," John Beckham begins. "He was still in treatment, but he was able to get out of bed, play video games with them, do some things with them, I think they realized he was going to be OK."
The Beckhams said they've seen changes in Darnell, too. There are no silver linings to cancer, but John Beckham said he's seen his son grow and mature as he received treatment in Memphis.
"It's a tough lesson to learn," Beckham says.
After spending weeks at a time in Memphis, Darnell is now able to be treated mainly in Springfield. Once a month, John Beckham says, he'll head back down to Memphis for treatment, but the brunt of that travel is over.
Dorial said everything has been positive, and John Beckham is cautiously optimistic that Darnell will be able to return to Hillcrest's basketball team during his sophomore year.
There's even a chance, albeit slim, he could return in time for the end of the football season.
"Him being healthy is what matters, but it would be a good feeling for me," Dorial said. "Being able to play with him one more time, it would be great.
"He's my younger brother. It'd be great to help him learn from me one last time."
It's overwhelming.
Springfield has an odd feel. With a population of over 150,000, it's the third-largest metropolitan area in Missouri, yet it has the distinct appearance of a town that kept growing outwards, instead of up. Its skyline is dotted by just two buildings rising above 200 feet. Yet, the urban sprawl signifies that it's a city that won't stop growing anytime soon.
It's a city at a crossroads. Interstate 44 traces northern Springfield from east-to-west, bringing travelers from St. Louis to Joplin. US-65 traces the eastern edge from north-to-south, a route for travelers from Kansas City that brings them to Branson. It's known as the birthplace of Route 66, and Oklahoma and Arkansas are each close. Transplants from both states make up sizeable portions of Springfield's population.
That last fact is evident with one pass through Hillcrest High School. Outside the principal's office hangs three wood slates, held together by twine. "Razorback fans live here" is painted on the off-white wood. Certain coaches are vocal Oklahoma fans. A brochure for Missouri's recruiting camp in Springfield is displayed on the glass outside of John Beckham's office, facing the locker room.
Over the past three years, the Queen City of the Ozarks has become the crossroads city, and Hillcrest is the crossroads school. Coaches from colleges across the nation continually make their way to the school on Grant Avenue. Depending on the week, there could be a line of coaches waiting outside Beckham's office.
Take a number. Now serving No. 57. No cutting.
The story of Dorial Green-Beckham, the football player, began as a seventh grader. He attended a Missouri camp, and the Tigers' coaching staff got an early look at him. Two years later, Missouri coach David Yost, now the offensive coordinator, came back to Springfield. He saw Dorial playing basketball. He didn't believe it was the same person.
"I'm not even going to call Coach Pinkel," John Beckham remembers Yost saying. "He has an offer right now."
The myth spread to programs outside the state. With a few Springfield natives working in Oklahoma's athletic department, then-offensive coordinator Kevin Wilson became a sounding board about this man-child in southwest Missouri. A veteran of the recruiting game, Wilson knew that players who sound too good to be true are usually just that.
He cautiously traveled to Springfield to confirm or deny the rumors. He returned to Norman.
A verbal offer remained.
From there, the floodgates opened. Like a pandemic, word spread across the nation about Springfield's blue-chip prospect. A deluge of letters followed. There wasn't any need for John Beckham to market his son. He said he sent video to five schools.
"If that," he corrects.
Now, it's pointless to try and tally the verbal offers for Dorial. Think of a school across the nation. They've probably offered.
"You're here at an interesting time," John Beckham said.
A stack of mail is piled high on the side of his desk. He begins to leaf through them. Some go directly into the trash. Others are filed off to the left side of his desk, ready to be opened when (or if) Dorial feels ready. There are more than 25 of them. Most of the college blue-bloods are represented. There are three letters alone from the University of Florida.
"We'll have the same number, or more, waiting for us at home," Beckham murmurs.
Beckham is a gatekeeper to Dorial, even more so than other situations. He plays the role of coach and father. It's hard to get to the No. 1 player in the nation without going though Coach Beckham first. Protective in both of his jobs, John Beckham has tried to slow the process down as much as possible for his son. He tells Dorial not to answer his phone for any number he doesn't recognize. The family keeps unofficial visits as quiet as possible. Most recruiting talk is strictly off-the-record with reporters. Mainly, "anonymous sources" are the ones leaking rumors onto the internet, even if that information is usually very limited.
There are reasons that John Beckham is so protective. He mentions
Cyrus Kouandjio
, who committed to Auburn on National Signing Day in 2011. However, he reneged on that decision and switched to Alabama three days later.
"I just remember the look on his face," Beckham says, talking about Kouandijo's announcement on ESPN. "You could tell he hated it. He couldn't tell any team 'No.'
"I don't want that for Dorial. I want him to enjoy this process, but I'm protecting him, too. I want it to be a good process for him."
Even with the recruiting process in full swing, there are reminders that life goes on for families like the Beckhams, with or without football.
A walk from Hillcrest's main office to the football locker room covers a distance of around 100 feet. However, the journey takes much longer as administrators and teachers are constantly tugging at John Beckham's sleeve.
"Coach Beckham, I need you to send me directions to your house," one teacher says.
"I'll just tell you right now," Beckham eagerly responds, finishing his quick directions by saying it's the first driveway past a large white farmhouse. "With the white-piped fence."
"Coach Beckham, you need to see the principal when you're done," another administrator says.
"I hope I'm not in trouble," Beckham jokes back.
Throughout the course of an hour-long interview, Beckham constantly apologizes for being distracted. He's texting with his wife, who is driving a van around Springfield to pick football players up from different middle schools so they can attend Missouri's camp that afternoon. His assistant coaches walk in and out, and he jokes with one about leaving for a job at another Springfield high school.
"It's not too late to stay," Beckham says.
Coupled with the ongoing treatment for Darnell, the recruiting process has thrown the Beckhams' world into chaos that they are trying to control.
For Dorial, that din has grown louder by the day. Both he and his father agree that as a junior, Dorial felt the pressure. He's the man for Hillcrest, the alpha male on the football field, and it's no secret that the Hornets' offense is contingent on getting him the ball. In the fall, Dorial would be upset when he wasn't finishing games with 200-plus receiving yards. Teams would hold him to a more managebale 150, and call that a victory.
"To think that he's put up the kind of numbers that he has, with that attention, it's amazing," John Beckham says.
In three seasons, Dorial has compiled 4,120 yards on 181 catches, scoring for 51 touchdowns. By next December, he should hold every meaningful receiving record in the state of Missouri. He already holds three: career receiving yards, yards in a single season, and receiving touchdowns.
Still, Dorial says he has fun on the football field. Despite the expectations, it's still a game to him, and after coping with the pressure as a junior, he says he's ready for his senior season to begin as soon as possible.
Off the field, though, the spotlight is more noticeable. That tunnel-vision is absent when there's no helmet to serve as blinders.
"I handle it petty well, but some moments, a lot starts rolling in," Dorial says. "It's overwhelming. I can't take some of it. I try to let it slow down, take it a little bit at a time."
The attention has rolled in since he was a freshman -- "It just built up and got crazy," Dorial says, shaking his head. His dad says Dorial's ability to handle the attention impressed the family. Colleges and the media have put Dorial on a pedestal above every recruit in the nation, but John Beckham said his son has stayed grounded. He's still just a teenager, after all.
"He's probably chatting up a girl," Beckham says when, ten minutes after Hillcrest's final bell rings, Dorial hasn't appeared in the locker room.
Dorial says he tries to keep his expectations manageable and focus on the present. It's hard sometimes. Since he was a freshman, he's continuously posed two questions to himself:
"How far can I go or how good can I be if I just keep working at it?"
The spotlight will continue to brighten, especially on Aug. 27. Hillcrest plays Seneca in a season-opener that ESPN plans to televise to a national audience. This isn't a game between two Texas powerhouse programs, where you can throw darts at their rosters and hit the name of a future college player. Springfield has produced three high school players who signed with FBS programs over the last ten years.
There was no mention of the World Wide Leader in this interview, however. Dorial is trying not to look too far ahead.
"Whatever happens, happens," he says.
John Beckham has seen foster children come and go from his household over the years. He said of those children, it's a 50-50 chance whether they'll succeed in life, or end up back in the same situations that first brought them to the house with the white-piped fence, the first driveway past the big, white farmhouse.
Dorial's oldest brother, Vincent, was sentenced to five years in prison on Tuesday.
"I really don't know (what for), to be honest," John Beckham says sadly.
But, in Dorial and Darnell, John already sees a success. There are the changes in Darnell during treatment, as compassion and empathy have entered his vocabulary. In Dorial, Beckham says the changes are immediately evident.
"He's a lot more outgoing," John Beckham says. "He's a fun guy to be around. He's grown up so much. They two of them have really come a long way."
Dorial Green-Beckham. The nameplate on the back of his college jersey will double as an autobiography. Both names will be behind him, pushing him forward.
Remember the significance of those names.
He always will.