The rankings: 2010 opposing offenses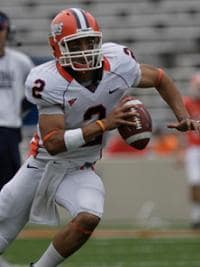 Over the last four days, PowerMizzou.com has rated each unit on the twelve offenses Missouri will face this season. Each group was given a score from one to 12. Today, we add up those results to find out the order of the offenses the Tigers will be taking on this season. The top possible score is 48 points, the lowest possible score is four. Here's what we came up with:
Texas A&M
: The Aggies should have the best offense in the Big 12. Led by quarterback
Jerrod Johnson
, they have an experienced signal caller, a strong stable of running backs and experience at receiver and offensive line.
Best Score: QB, RB, OL 12
Worst Score: WR 10
Total Score: 46
Texas Tech
: The Red Raiders can always move the ball and the receivers are as good as any.
Baron Batch
is a good running back, if underutilized the last few years. The biggest questions are the offensive line and how the offense will change with Mike Leach gone.
Best Score: WR 12
Worst Score: OL 7
Total Score: 40
Oklahoma
: While losing Sam Bradford and Jermaine Gresham hurt last year, it may have helped the Sooners for this season, giving
Landry Jones
and other receivers some experience.
Ryan Broyles
is the schedule's best wideout and
DeMarco Murray
is a dangerous running back.
Best Score: QB, WR 11
Worst Score: RB, OL 8
Total Score: 38
Nebraska: The Huskers did very little in the passing game a year ago and they still haven't settled on a quarterback. But the running game is good and the offensive line is experienced, which should help to minimize the question marks.
Best Score: OL 11
Worst Score: WR 7
Total Score: 36
Kansas State
: There is a major dropoff from the top four teams to the other eight. Kansas State has
Daniel Thomas
, but not much else. The fact they rank this highly on our list may be more of an indication of the questions on the rest of the offenses than a thought that K-State will be this good on offense.
Best Score: OL 10
Worst Score: WR 1
Total Score: 28
Iowa State: The Cyclones are experienced at quarterback and running back, but lack a real game-breaker. The receiving corps is a major question mark.
Best Score: QB, OL 9
Worst Score: WR 4
Total Score: 27
Kansas: Kansas loses its quarterback, top two receivers and starting running back. Like K-State, the Jayhawks' ranking speaks more to the rest of the schedule offensively than to their possible strength.
Best Score: WR 9
Worst Score: QB 4
Total Score: 24
Colorado
: The Buffs have an experienced receiving corps and
Rodney Stewart
. They have-again--a huge question mark at quarterback.
Best Score: WR 8
Worst Score: RB 4
Total Score: 23
Illinois: The Illini weren't very good on offense last year. They lose a four-year starter at quarterback, their best offensive lineman and the top two receivers. Tough to see them being better this year, despite depth and talent at tailback.
Best Score: RB 7
Worst Score: OL, WR 3
Total Score: 19
Miami-OH: The Redhawks have experience at quarterback and nice returning production at receiver. They can't run the ball a lick.
Best Score: WR 6
Worst Score: QB, RB 2
Total Score: 14
San Diego State: The Aztecs have some talented receivers. They don't have a whole lot else.
Best Score: WR 5
Worst Score: RB 1
Total Score: 11
McNeese State: This is the only non-Division One team on the schedule. They belong here for a reason. Perhaps the only surprise is that McNeese wasn't last in our rankings in all four categories.
Best Score: RB 3
Worst Score: QB, WR, OL 1
Total Score: 6
Next week, we will take a position-by-position look at the defense and special teams.