The Rucker Report: Tennessee
We found 'em! This looks like the football team I was promised at the beginning of the season. Air attack dropping bombs, ground game steaming like a freight train, and the defense flying around making plays and creating turnovers.
As a tight end, I'm partial to the passing game but I was most excited about how good the running game looked. It was impressive! Watching Rountree bowl people over made me want to strap it on and join in the fun. I reveled in lowering my shoulders and punishing a defender for trying to tackle me. In the beginning of the game everyone is jacked up! Emotions and energy are through the roof! Everyone wants to come up and try to tackle you then. But after you put the BOOM on them, it's funny to see how much will power (or how much less, rather) they put into the second tackle. And by the third time they're just trying to grab you as you run by or dive at your feet instead of trying to go head up. That's when you know, 'they don't want none of this'! I'm getting jacked up just thinking about it; might have to call up Andrew Jones and see if he wants to do some Oklahoma Drill in the backyard.
I was also happy to see Drew Lock take off on a couple designed run plays. Not going to lie, I almost choked on my margarita when I realized he was running, but I think we should do more of that. No we aren't turning him into Brad Smith, but designed run plays for him will help keep the defense off balance and give them one more thing to waste time game planning for.
Can't forget about the defense. The boys on the D-Line have been playing inspired football and our linebackers are really reaping the benefits. It's also amazing how the less time the QB has to throw the ball, the better our defensive backs get…weird how that works. Keep it up boys!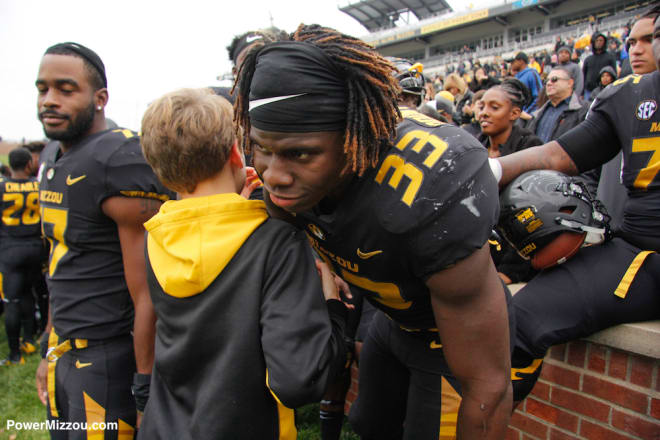 Ruc's Keys to the Game
*Consistency
*Win on early downs
*Stop the run
We've strung together three in a row and that bowl talk we were all laughing at two weeks ago (myself included) suddenly isn't so comical. But, we've continued to consistently get better. Consistently make plays, play disciplined and bring the same energy and confidence.
This Vols team is banged up—badly. The offensive line will be starting two redshirt freshmen, one of which played his first ever snap of college football last week. The QB will either be a RSFr. averaging five yards per pass attempt or a freshman who burned his shirt last week. With the recent shot of Mountain Dew into our defensive line and their toxic soup of injuries we should be able to keep them behind the sticks all day. Forcing either of these quarterbacks to make plays with their arm, I would think, falls in our favor.
One thing that can help the Vols on offense is running back, John Kelly. At the beginning of the season he was toting the ball well, but not so much lately. We need to keep him trending downward. He also catches a fair amount of balls, so keeping him in check as a whole is vital to our chance at success.
Tennessee is a program in a tailspin that's probably going to fire its head coach at the end of this year. I imagine this game being similar to the one we played last Saturday. After our showing against Florida, I feel safe picking us to win this game. I don't think it's going to go as smoothly as we've grown accustomed to over the last three weeks, but we'll get it done. Basketball game Friday, keep the streak alive on Saturday; great weekend to be in CoMO! MIZ!