Three Tiger keys to win over Buffalo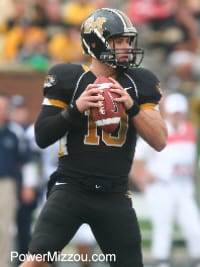 Each week during the season PowerMizzou.com will break down the upcoming Tiger game from every possible angle. Each Thursday, we will identify three keys to victory for Mizzou on the upcoming Saturday. Today, we take a look at the major factors heading into Saturday's contest against Buffalo:
End it Early
Missouri has really not been in a tough game in the fourth quarter yet. Yes, the Illini were within ten points, but never had the ball with a chance to tie or take the lead. That's the key this week. Keep Buffalo in it and the Bulls are going to believe they can win. See last week's Hail Mary to win. There is no reason this game should be in the fourth quarter. Missouri has to make sure it isn't.
Slow down the Run
Buffalo is not a great running team, but they are decent. The Bulls run for 163 yards per game and clearly their game plan will be to keep the Tiger offense off the field. Buffalo is averaging a little more than four yards per carry and James Starks leads the way with nearly 100 per game.
Turner Gill
will likely feed Starks early and often to try to get him going.
Wing it Around
The Bulls defense has been good against the run, but vulnerable to the pass so far this season. Buffalo is giving up 241 yards per game, but even worse they are allowing seven yards per pass and 11 per completion. And that's against Temple, UTEP and Pittsburgh. None of those teams is even in the same atmosphere as the Tigers throwing the football. I'd expect the Tigers to come out throwing the football to loosen the Bulls up. If
Chase Daniel
and his receivers are on their game, the first half of this one could look a whole lot like Nevada.