Thursday Scrimmage Notebook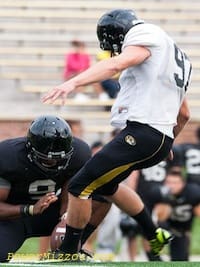 It was the first scoring play of Missouri's final camp scrimmage and, make no mistake, it was the story.
Indeed, Green-Beckham has gone from super-hyped prospect to a player who looks like he can be a major factor in week one for Mizzou.
Not that there aren't improvements left to be made.
"He's thinking out there. He's thinking about routes, he's thinking about route adjustments, he's thinking about things he's never had to do," Pinkel said, recalling that he used to have the same criticism of Jeremy Maclin as a freshman. "And when you think, you don't play instinctively, you don't use all your speed."
"I think we can be one of the best (receiving corps) in the nation. It's all about guys coming out every day and just living up to the potential," Washington said. "Because right now, it's just potential until we get a chance to go out on the field and show what we got."
"I think we've got some guys who are going to make some plays on offense," Pinkel said. "I think we're going to up the playmaker type numbers. In our offense, that helps us tremendously if we can do that. We haven't done it yet, but if we can do that."
For video of Green-Beckham's touchdown and the rest of the day's highlights, click on the video player below.
Pinkel said after practice that Meiners had sprained his knee.

"We're hoping it's not serious," the coach said. "We'll get an MRI and see what's up with that."
Even if Meiners is okay, Boehm and Copeland will both be in the rotation.

"I think they're both gonna play," Pinkel said. "We'd like to play more players. That's what I always tell our players, you don't have to be a starter to play. You just have to prove you're good enough to play. If you happen to have a good player in front of you, we'll play both of you."
It could be Monday at media day before an update on Meiners' condition is available.
Neither had much to be pleased about on Thursday. Both went 3-for-7 in the scrimmage. Each made kicks from 36, 38 and 43 yards. Both missed from 32, 39, 40 and 45. Barrow's 45-yarder was blocked.

"Little disappointed in our field goals. Not competing there as well or as consistent as we'd like," Pinkel said. "Went through that a year ago, we know what that's like. That's Missouri beating Missouri. We've got to work that out."
The battle may last through game week, but Pinkel will pick either Barrow or Baggett to handle the job against Southeast Louisiana.
"Kickers are a little bit different. Kickers are a little bit like quarterbacks," he said. "You don't want to sit there rotating kickers in."
The following players sat out the scrimmage due to injury: