Tiger Notebook: Anderson takes a stand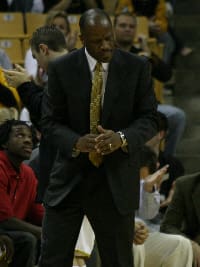 Mike Anderson
has been coaching basketball for more than two decades. He has been on the bench for a national championship and won a lot of games. And, yet, he told his team on Wednesday night--after a 66-62 loss to Nebraska--that he had never been more proud.
"He just told us that he's been coaching a long time in basketball and that he's never been more proud of a group of players,"
Matt Lawrence
said. "Even though we lost the basketball game and winning's our main priority, it's good to know that the coaching staff is still behind us."
"It brings joy to my heart," Anderson said. "None of you guys even thought these guys would be in that position. I'm going to tell you that, no doubt. But you know what? I had a suspicion, I had a feeling that we were gonna win the game. But I always think that. I always think that. But I really did. I really, really did. And the reason why is nobody expected it. But you know what? Those eight guys did. Those eight guys did and that coaching staff did."
The Tigers suited up just six scholarship players. Midway through the second half,
Justin Safford
went down with a leg injury. The remaining five players and Michael Anderson, Jr., went the rest of the way and nearly pulled out a win over the Huskers.
"Those were guys that wanted to represent Mizzou," Anderson said. "Even shorthanded. They never complained for a minute. They gave it all they got tonight."
With four of their five starters from the Colorado game, the Tigers fought and clawed their way to a 60-60 tie in the waning minutes. Ultimately, an errant pass from
J.T. Tiller
led to a breakaway layup for Nebraska, ending the Tiger hopes of a win in the final 20 seconds.
"We had the game right there, we had them where we wanted to be and we just couldn't finish them out," said
DeMarre Carroll
, who led the Tiger charge with 15 points and 12 rebounds in 38 minutes. "You can't ask for a better effort."
"The guys that were out there showed a new level of heart that I haven't seen in a long time," Lawrence said.
Stefhon Hannah
is most definitely out for at least four weeks. As for the other suspended players, Anderson said he has made no decision.
"Right now, we've got some things they've got to do," he said. "Those guys will serve a suspension and it will be evaluated and possibly they will be back for the Kansas State game."
The Tigers and Wildcats tip off at 12:30 on Saturday afternoon at Mizzou Arena.
Anderson Takes a Stand
Prior to opening his post-game press conference for questions from the media, Anderson made a statement that lasted more than five minutes. Rather than break it up, PowerMizzou.com brings you that entire statement:
"First of all, let me talk about some things that have taken place and stories that have been written and this and that. I want to address that before I even start.
"Number one, when I took the job day one, I talked about having an opportunity to come in and bring an exciting brand of basketball that I think our fans would enjoy that's predicated on defense, kids really getting after it. And not only that, we're gonna bring in kids that represent this University in a first-class manner on and off the floor. They're gonna do the right things, they're going to have fun and when they leave here, they're going to be productive citizens. That's the one thing I talked about. That's my vow to the fans here and to the University and even to the administration when I came in here. I have not changed from day one.
"Now, I know there have been a lot of events that have taken place, even the one that took place here recently where we had to suspend five guys. But the one thing about me is, I talk about being, I'm big on family. I'm like these guys' father. So when kids make mistakes, you got to discipline them. That's part of it, you've got to discipline them.
"But with that being said, you know, every situation, I made sure I get all the facts and I look and then I make that decision. Even as far as my son, Michael Anderson, he was involved in an incident and I disciplined him. That's my own son. Disciplined him…Mike has done the things he's supposed to do. Do you realize that Mike is getting ready to graduate? Now, do you think, when Mike leaves here, he's going to be a productive citizen? I think so. Kalen Grimes. Kalen Grimes is another one. You kick him off, he's not with the team. Kalen continued, we allowed him to have his scholarship. Kalen Grimes will walk in May. Kalen Grimes will be a productive citizen. All these incidents have been separate. The way they happened is unfortunate. DeMarre Carroll just happened to be a victim. Scheduled to graduate.
"These are kids we're talking about. So let me ask you this here. My job is more than just a coach, you know…Also I'm a teacher too. I'm trying to teach them about life. And so the latest episode, they broke team rules. With that being said, they were suspended indefinitely. Now, how long it's gonna last? It may be one game. Right now, we've got some things they've got to do. You know what? Those guys are on line to graduate. They're walking in May. So what gets lost, and I want you people to understand, what gets lost is, they're still kids. Heck yeah, they make mistakes. We're grown ups and we make mistakes. I know that. But I think the most important thing is can you learn from it? The easiest thing to do is throw somebody under the bus. And you'll ruin that kid's life. You'll ruin this kid's life. I know you guys have got your jobs. I've got a passion about what I do.
These kids are my family. With that being said, I'm going to try to do the best I can for my family. You've got a job to do. And, so, you know, when I look at some of the stories that were written about this and that, and the thing I always say is they broke team rules. And all kinds of stories and rumors and all that stuff and a lot of them were incorrect. Those guys will serve a suspension and it will be evaluated and possibly they will be back for the Kansas State game."
Try as he might, that statement did not put a stop to the questions about the suspensions, the off-court incidents or the last four days in Columbia. Anderson was asked what he hoped the suspended players took out of Wednesday's game.
"When we played at Colorado, as I said, we were getting ready to turn that corner. I mean, can you imagine with a full squad?" he asked. "Who knows what those guys thought? But I think number one, they're hurting…It hits home. It's one thing to say it. But it hits home when you're sitting in street clothes and you know your guys need you. That's why I said I couldn't be more proud of [the players that did play]."
Anderson admitted he has endured some tough times, not just over the last four days, but the last 22 months.
"It's the coaching profession. That's what it is. It tests your faith. But it didn't test my faith. I know who I am and what I'm about. Again, I think that's the thing I lean on more than anything else. I prayed about this. I did. I really, really searched," Anderson said. "I know I'm building a program. I'm building a program, trying to change a culture…I want guys that are going to come in and leave as men. I think even if you look at these [suspended] guys, I think they are. I think they've learned some things. There have been some hard lessons, now, I'm going to tell you that. It ain't been easy now. It has not been easy. "