Tigers beat Auburn to open SEC Tournament play
The Tigers of Missouri took on the Tigers of Auburn on a sunny Wednesday afternoon in Gainesville, Fla. The second game of the day in SEC Tournament play started almost two hours behind schedule, but it didn't disappoint. A pitchers' duel all the way down to the finish saw the #7 Missouri Tigers take down #10 Auburn 1-0.
Jordan Weber earned the start at pitcher for Missouri and she made it one of her finest of the season. Weber struck out eight batters in the game while shutting out Auburn. The win pushed her record to 14-6 in 2022, with the Tigers' team record moving to 34-19.
"It's not the best stuff that I've had and there's always room for improvement," Weber said. "So I think that's just something that I need to keep focusing on. Getting better every day."
She didn't do it alone, however, as the defense stepped up in a few key situations. Perhaps the most important of these moments came when Alex Honnold caught a fly ball with the bases loaded and fired it home to catch Aubrie Lisenby at the plate. The double play saved a run from crossing and played a tremendous part in the Mizzou victory.
"It's a big deal when you know your defense behind you can get the job done and back you up," Weber said. "I think that's exactly what they did and that just gives me more confidence. Knowing that they're behind me."
Both teams put a number of runners on to begin the game, but Missouri struck first in the bottom of the fourth when Emma Raabe drew a walk. Maddie Snider, running for Raabe, advanced to second on a passed ball. This brought up Jenna Laird who sent an RBI double to the wall on a two-strike count with two outs to score Snider from second and give Mizzou a 1-0 lead.
The single run was all that Weber needed to secure a complete-game shutout of the Auburn Tigers in the first round of the SEC Tournament. Two flyouts and a strikeout put a cap on Weber's night, allowing seven runners to get on base but zero to score. Missouri won the game 1-0 courtesy of a spectacular defensive effort.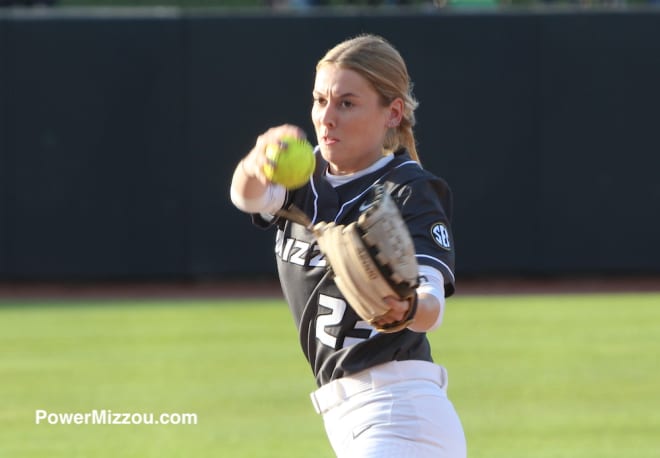 "We're out here to win," head coach Larissa Anderson said. "We're out here to have a good time and to compete in every opportunity that we have. We just want to continue to play tomorrow."
They'll do that. The win moved Mizzou forward to the quarterfinals of the SEC Tournament to face #2 Alabama at 1:30 p.m. on Thursday. The Tigers and the Tide faced off the weekend before the tournament with Alabama coming away with a 2-1 series victory in Tuscaloosa, Ala. With the Tigers expecting star Tide pitcher Montana Fouts to make a start in the circle, the focus shifts immediately to tomorrow.
"Definitely be aggressive. We know what she's gonna throw. We know how she goes. We know what she does," Laird said. "So we'll just have to be aggressive. Keep swinging and swing at the right pitches."
Having played Alabama less than a week prior, the familiar foes face off in a win-or-go-home scenario. The teams know each other very well, but Anderson believes that her team is plenty motivated to change the outcome of last weekend when the two match up on neutral ground.
"We know what we need to do. We know what we're capable of doing. That's motivation enough. So, obviously, we're gonna prepare," Anderson said. "They know that they've faced their pitching staff. We know what we need to do. We need to be aggressive. We need to set the tone. That's really what we're gonna go out and try to do tomorrow."