{{ timeAgo('2023-03-14 10:00:00 -0500') }}
football
Edit
Tigers hoping continuity will lead to more defensive progress
Missouri head coach Eli Drinkwitz, defensive coordinator Blake Baker and the rest of the defensive coaching staff aren't satisfied with the top 35 defense they had a season ago. It was a good year, but for this coaching staff it isn't enough.
There's been a few words and phrases that seem to make up the defense's war cry for 2023.
Takeaways. Self-improvement. Development. The "best defense ever in Mizzou history," as Baker has challenged the players to be.
To accomplish the latter, the Tigers' defense will have to do the first three things, but there's another word the coaches and players believe will help in their efforts to improve, develop, get takeaways and possibly be the best in school history: Continuity.
"I think continuity on the defensive side of the ball is good as long as you don't let it become comfortable," Drinkwitz said. "You've got to be pushing the limits and testing new things and continue to press and push for growth. So, I don't think that on the defensive side of the ball we've arrived or are where we want to be."
For the first time since Drinkwitz arrived in December 2019, the team will retain the entirety of its defensive coaching staff led by Baker, who is also the team's safeties coach.
Baker was hired as the safeties coach in January 2022 after spending a season as the linebackers coach at LSU in 2021. In February 2022, Baker was promoted to defensive coordinator after Steve Wilks departed to be the Carolina Panthers' defensive pass game coordinator and secondary coach.
In Baker's first season leading the Tigers' defense, he helped turned a Tigers defense that was 106th in the nation in total defense allowing 434.6 yards per game and 113th in scoring defense allowing 33.8 points per game into one of the nation's better units in his first season.
The Tigers ranked 34th in the FBS in total defense allowing 340.8 yards per game and 56th in scoring defense allowing 25.15 points per game.
The turnaround all happened when the defense was going with a more simple approach as Baker tried to assimilate to the version of the 4-2-5 defense Wilks had installed while adding in some of his ideas from the version he ran. Baker had said in the past he believed it was easier to learn the system in place already as opposed to having the team learn his version of the system.
Now, with everyone on board for year two under Baker, he's just trying to gauge the difference between pushing the envelope and going overboard.
"I've got to keep telling myself we've got to go back to the basics," Baker said. "We've got to start back fundamentally and not speed up the install because last year we didn't have much of a choice. ... So, we were very simple, but I think it paid off.
"Once you understand concepts and you have good fundamentals, now you're able to do much more, and that's what I've got to be careful of installing too much and then they're not getting their fundamental work. So, it's a fine line from that standpoint. My staff does a good job of saying 'man that's too much,' and we scale it."
The turnaround along with the returning coaching staff is part of the reason why the Tigers got eight starters to return on that side of the ball.
"Continuity is always great," cornerback coach Al Pogue, who is returning for his second season at Mizzou said. "Everyone understands the scheme and we all kind of know how to push each other. It's like a brotherhood within the brotherhood and I think that's really big.
"You have to credit not only coach Blake Baker for allowing us to have the voice to say this is our defense, not my defense. This is our defense. 'Hey, Pogue, what are you bringing? (Linebackers and co-defensive coordinator) coach D.J. Smith what are your thoughts? (Defensive end) coach (Kevin) Peoples what are your thoughts?'
"Also, for coach Drinkwitz to make sure that it happens 一 I'm sure guys had opportunities, but we wanted to be here. So, for him to have us here and make it available for us to do that is huge."
Snap count for starters returning vs. starters loss
| Returning players | Total snaps returning | Departing players (position) | Total snaps lost |
| --- | --- | --- | --- |
| Darius Robinson (DT) | 468 | DJ Coleman (DE) | 371 |
| Kristian Williams (DT) | 434 | Isaiah McGuire (DE) | 515 |
| Chad Bailey (LB) | 581 | Martez Manuel (S) | 505 |
| Ty'Ron Hopper (LB) | 763 | *Trajan Jeffcoat (DE) | 414 |
| Kris Abrams-Draine (CB) | 714 | | |
| Ennis Rakestraw (CB) | 725 | | |
| Jaylon Carlies (S) | 786 | | |
| Joseph Charleston (S) | 668 | | |
| Total | 5,139 | | 1,805 |
The Tigers technically only lost three starters with DJ Coleman, Isaiah McGuire and Martez Manuel declaring for the NFL Draft. When you add defensive end Trajan Jeffcoat, who started the first 10 games before being usurped by Coleman in the lineup it's really four starters. Jeffcoat's last game he played in was against the same team he transferred to this offseason 一Arkansas.
Even with the loss of those four players, Missouri will retain 75% of the snaps from last season headlined by defensive tackle Darius Robinson and linebacker Ty'Ron Hopper, both of whom seemed to be destined to declare for the draft alongside Coleman, McGuire and Manuel.
Robinson recorded 35 tackles, 5.5 tackles for loss and 3.5 sacks in 2022 and in the process said he received a draft grade "between the third and the fifth round" and was on his way out of Columbia with his sights set on Indianapolis, the location of the 2023 NFL Combine.
"After the bowl game, I got invited to the NFL Combine and the Shrine Bowl and I told (head) coach (Eli) Drinkwitz I don't think I'm coming back," Robinson said. "Then, I just started thinking more about everything. I felt like I didn't reach my potential on tape and I feel I can get better. … "I'm glad everybody came back with me because we've got some really talented guys on this team that's why I say the pressure should be on. We have eight returning starters. We've got to play ball like we've never had before."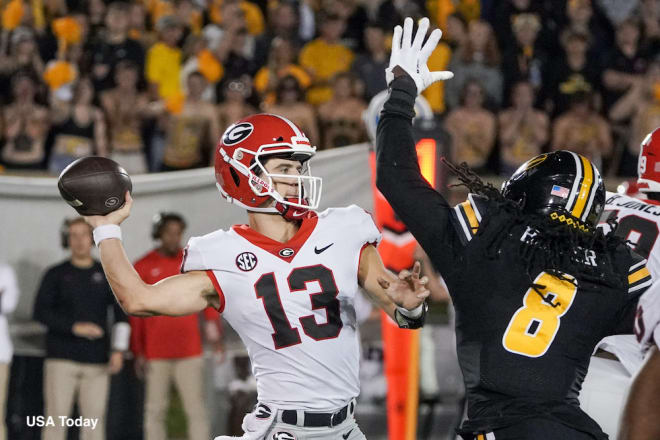 Hopper came over from Florida last offseason and had the best season of his career with 77 tackles, 13.5 tackles for loss, 2.5 sacks, four pass deflections and a forced fumble.
Hopper was the last starter to commit to the program for 2023, but again, the continuity on defense helped make his decision.
"Everything went into it (making his decision to return)," Hopper said. "Basically, going over it with my family and seeing things I did on film really well and things I did badly and terribly. So, we have the same staff, defensive coordinator and playbook and I trust the staff. I feel they helped me get to where I was last year and I feel they could help me take the extra step.
"I feel like it (continuity on defense) helps me a lot 一 it helps all of us. We already know the scheme, so now we're focusing on recognizing different things from the offenses and focusing on tendencies, so we can call the plays faster and better."
If the team wants to accomplish its lofty goal of being the best in school history it will have its work cut out for them.
Considering the modern era of football is pass-heavy and the athletes and playcalling are more dynamic than they were in the past, the 2023 team may struggle statistically with trying to catch the 1962 team that only allowed 5.2 points per game or the 1967 unit that allowed 175.2 total yards per game. Even being better than the 2004 squad that allowed 301.4 total yards per game (lowest since 2000) or the 2010 defense that allowed 16.1 points per game would be a tall task.
Nonetheless, that's what this group has its sights set on, and while continuity is a part of the puzzle the Tigers now will have to shift their minds to the other three things that they want to accomplish in order to be the best defense ever. Takeaways, self-improvement and development.
"Yeah, that's our main goal right now and that's what we want to get done and we just are working towards it step by step every day," Mizzou linebacker Chad Bailey said. "Just taking it day by day."
Are you a displaced corporate executive or wanting to put your career in your own hands? Or are you an experienced entrepreneur wanting to diversify? Well, Andy Luedecke can help! Andy is a long time business owner, franchise consultant and franchise veteran. Using his expertise, he helps others find franchises that fit their DNA, so to speak. Call Andy, put your life and career in your own hands. His services are 100% free, so what do you have to lose?!! MyPerfectFranchise.net