{{ timeAgo('2022-11-23 20:58:01 -0600') }}
basketball
Edit
Tigers pass and steal their way to a sixth straight win
Missouri will head into its first Thanksgiving under Dennis Gates fat and happy. The Tigers finished off their run through a six-pack of homemade cupcakes with an 89-51 win over Coastal Carolina on Wednesday night. The Tigers' lead was double digits for the final 29 minutes and 16 seconds and Mizzou outscored the Chanticleers 44-19 in the second half.
In a change of pace, it was the defense that keyed this win. Somewhat maligned through the early part of the schedule, Mizzou's defense forced 27 Coastal turnovers and turned them into 32 points. A season-high 16 steals turned into 28 fast-break points, another season-best.
"It says a lot about our defense," Gates said. "The guys carried over the game plan. They had each other's back. We were either communicating at a high level, we were moving at a high level and those things combined allows you to stay connected because there's gonna be mistakes happen throughout the game defensively, but our guys are stepping up."
"Defense leads to shooting," Kobe Brown said. "The more defense we play the more shots we get. It all goes hand in hand."
Conversely, Missouri turned the ball over just nine times and the Chanticleers scored just three points off those mistakes. Coastal made just six of 18 layups and scored on only 21 of its 80 possessions in the game.
There were also familiar sights in this one. Mizzou continued to share the scoring and the ball. The Tigers had three players reach double figures in scoring (Isiaih Mosley 23, D'Moi Hodge 18 and Brown 17). It was the first time all year fewer than four Tigers scored at least ten. For the sixth consecutive game, Mizzou had more than 20 assists. Gates said it's the first time he's ever had a team top 20 in six straight games. They handed out 27 against the Chanticleers, led by seven from Hodge.
For the season, the Tigers have nearly a 2:1 assist-to-turnover ratio with 134 assists and just 73 turnovers through six games. Mizzou now leads the nation with 22.3 assists per game.
"Are we?" Gates asked. "Talk to me in April. If it stays consistent over 30 games it means something. Right now it's a small sample size."
Assists and turnovers are the two statistics Gates talks about the most. Which of those was more important on Wednesday night?
"I'll say twenty-seven forced turnovers," Hodge said. "That's my answer. I played for coach Gates for two years. I know the main focus for us is defense."
Hodge must have learned something over the last two seasons.
"I give my guys all the freedom in the world offensively," Gates said. "They have no freedom defensively."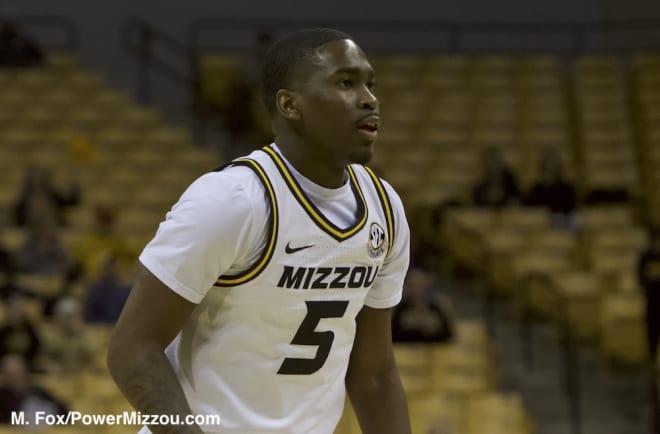 MOSLEY HEATING UP
The biggest splash of Missouri's offseason was the addition of Isiaih Mosley, who made his name as one of the nation's leading scorers at Missouri State over the last three seasons. Mosley took a minute to find his footing back in Columbia, but seems to be solidly entrenched now.
The senior guard followed up an 18-point second half against Mississippi Valley State on Sunday with a season high 23 on Wednesday night with his mother in attendance. He has needed just 42 minutes over those two games to compile those 41 points. Mosley made 7-of-14 shots against the Delta Devils and was 10-of-15 from the floor against Coastal Carolina.
"Mr. Microwave. I thought he did a great job," Gates said. "You can see him getting more and more comfortable, but also you can see his strengths."
While there has been some consternation about Mosley's minutes and his place in the rotation from Mizzou fans over the first three weeks of the season, Gates likes what he's seen of late.
"I'm definitely excited about his growth," Gates said. "And what I've taught him is no different than what I explained to him during the recruiting process. I'm going to push you on defense. I think you have more to give defensively.
"As a guy that averaged 20 points per game, you have to understand, he had clips where he would not play as hard because he was preserving his energy. And what I've seen now is a gap free sort of play that he's displaying."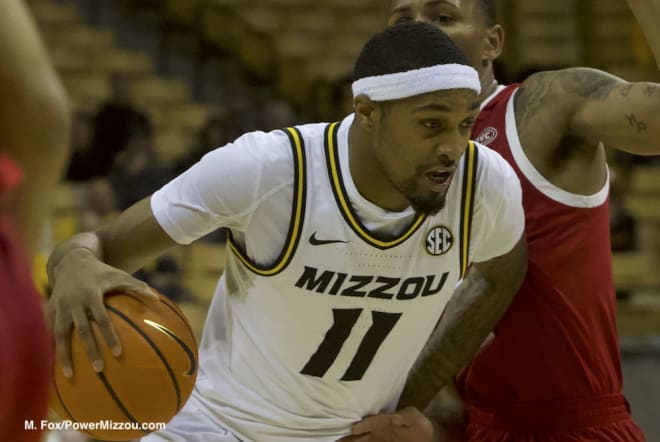 THREE AT A TIME
A day after Gates said he'd like to see Missouri be a little less reliant on jump shots, the Tigers hoisted a season-high 33 of them. It's the fifth time in six games Mizzou has taken at least 27 threes in a game and the third time they've attempted more than 30. The Tigers are tied for 17th in the country right now, averaging 29.2 attempts per game.
"I want guys to play with freedom and to play aggressive," Gates said. "If they do not shoot a shot that I think they should shoot, they'll get subbed.
"If a kid is not playing minutes or his coach is subbing him out and that kid or that parent calls or coach calls, 'why did coach sub you out?' that kid's response is, I didn't shoot."
The school record for threes taken in a season is 834 back in 2001-02. That team advanced to the Elite Eight as a 12 seed and played 36 games, averaging 23.17 attempts from behind the line. At the current rate, the Tigers will hoist 933 three-pointers in 31 regular season games and the SEC Tournament opener.
The Tigers have made 62 three-pointers so far, shooting at a 35.4% clip. Last year, Mizzou made just 28.1% of its threes, the lowest mark in school history.
HONOR IS A MILLENIUM MAN
Graduate transfer point guard Nick Honor connected on a three-pointer with 9:31 left in the second half. The bucket put him over 1,000 points in his college career. Honor played one year at Fordham and two at Clemson before coming to Mizzou. Wednesday's game was the 95th of his career.
"I didn't know he was that close," Hodge said. "But when we found out in the huddle, you could see Coach Gates was talking. We all just ignored—not say ignore what he's saying—but, like congratulated Nick on that achievement because that's a huge achievement.
UP NEXT
Mizzou hosts Houston Christian at 11:00 on Saturday morning. The Huskies are 1-5 with an 82-31 loss to Texas in their only game against a high-major opponent. The game will be televised on SEC Network.