Tigers stomp Texas Tech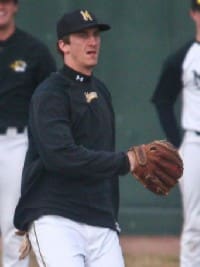 No one covers Tiger athletics like PowerMizzou.com. This year, we've added baseball coverage to our top-notch football and basketball beats. To follow the Tigers year-round, sign up today to start your Free Seven-Day Trial.
Normally, Missouri pitcher Kyle Gibson doesn't need a ton of help when he takes the mound. On Friday, however, Missouri's offense fueled an 18-7 come-from-behind victory after Gibson surrendered five runs in the first.
"We wanted to get some runs," Greg Folgia said. "We didn't want it to be that close. Not with the wind blowing out like this. The guys came in there, and we were aggressive and much more comfortable seeing pitches and walking."
Although the final score does not indicate the competitiveness of the game, Missouri (22-21, 9-10 in Big 12) and Texas Tech battled for sixth innings before Missouri exploded for ten runs in the seventh to put the game out of reach. It was Missouri's ability to come from behind in the early innings, however, that gave fans an image of the team's personality as of late.
Everything seemed to be shaping up nicely for Gibson (7-3) in the first inning when he struck out the first two batters. After a hit and walk, Tech struck on consecutive hits by Scott Lejune and Taylor Ashby to putt the Red Raiders up 2-0. Then, Justin Berry stepped up to the plate and crushed his third home run of the year to left field that hit the light tower. It was 5-0 when it was all said and done.
"That's one of those things that's going to happen," Gibson said. "I went out there and just got a little too jacked up in the beginning. I was leaving the ball up, and that was really the only time I got hurt tonight. When I was leaving the ball up."
Missouri had their pitcher's back and regained a run in the bottom of the first when Aaron Senne barely missed his first homer of the year when he doubled off the wall in leftfield to score Austin Holt. Senne wasn't done flirting with the long ball.
Gibson would struggle again in the second, but he was able to induce a double play to get out of the jam, and the Tigers would eventually tie the score with a four-run third. After Gibson finished the top of third getting revenge on Berry with a strikeout, Missouri came to plate swinging and scored four runs with two outs.
With runners on second and third, Big 12 Player of the Week Greg Folgia stepped to the plate and delivered a double that scored Michael Liberto and Holt. Trevor Coleman would follow with a double off the wall in right and Kyle Mach would add a single to tie the game. It was enough to knock out Tech starter Brian Crowd as Kimmie English and Laurence Bowers led a MIZ-ZOU chant in the stands. According to Jamieson, an injury might be playing a part in Folgia's success.
"He's capable of doing that," coach Tim Jamieson said. "He is a guy who hit over .600 in high school, and in the fall you couldn't get him out. When he gets hot, he gets confident and stays relaxed. He has a tweaked back, and I believe he has had to back off his swing a little bit. He is behind the ball and getting the barrel of the bat on it consistently without over-swinging."
"The key to tonight was the two-out hits we got," Jamieson continued. "When Aaron did strikeout a couple times, Greg came up with two outs. Most our runs were scored with two-out R.B.I. all night long. That's a sign that the guys are believing in each other a little bit."
The Tigers would take their first lead of the night when Senne unloaded on his first home run of the season in the fifth. After third baseman Justin Berry failed to make a catch in foul territory, Senne was given new life and capitalized with a long ball to center. It was Senne's first home run of the year after he hit 13 dingers last season. As he crossed home plate, he was swamped by his teammates who were all trying to touch his hair.
"I'm not going to lie, it feels really good," Senne said. "I don't think I was making as big of a deal about it as other guys in the dugout were, but it definitely felt really good to get a good piece of it there."
Missouri would add two more runs in the sixth after Folgia provided a two-out single with the bases loaded. With those two R.B.I. and the one he added in the seventh, Folgia found himself with a 5 R.B.I. night to give him 47 on the year.
Texas Tech would add two runs in the seventh on solo home run by Jeremy Mayo and a two-out hit by Joey Kenworthy to make it a one-run game. A nervous hush swept Taylor Stadium as Jamieson brought in Phil McCormick to get the last out in the seventh with runners on first and second. Red Raider Scott LeJune hit a ball to the hole on the left side of the infield, but Liberto ranged to his right and made a running throw to get LeJune just in time at first.
Missouri would put the game out of reach in the seventh when they scored ten runs on nine hits. Every batter contributed with an R.B.I. except for Coleman and Liberto in the outburst.
"We were loose out there, and we knew we were going to hit their pitchers," Senne said.
The Tigers will look to grab a hold of the series tomorrow at 2 p.m.
No one covers Tiger athletics like PowerMizzou.com. This year, we've added baseball coverage to our top-notch football and basketball beats. To follow the Tigers year-round, sign up today to start your Free Seven-Day Trial.