Tigers tested, but stay perfect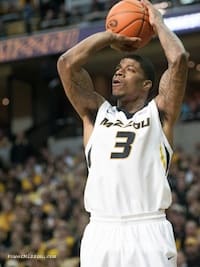 Missouri allowed 28 second half points in an 80-71 win over UCLA last weekend. The Tigers carried that defensive effort forward eight days, holding Western Michigan to 22 first half points on 26.5% shooting on the way to a 66-60 win on Sunday.
"We shot the ball really poorly in the first half," Broncos' coach Steve Hawkins said. "A lot of it has to do with Mizzou also. They've got a lot of length at those guard spots and some of your open shots, they've got good closing speed."
The Broncos didn't fare much better in the frontcourt. Their top player, 6-foot-11 Shayne Whittington, had a double-double with 16 points and ten rebounds, but missed 13 of his 19 shots.
"I think just executing our game plan,"
Ryan Rosburg
said. "They had a real good team. They're real solid, don't mess up much and we just had to execute our game plan."

The Tigers needed most of that defense on a night when they scored their fewest points of the season. The victory moved Mizzou to 10-0, just the third time in the last 32 seasons the Tigers have won their first ten games (and the second time under
Frank Haith
).
"I knew they were a capable team and the way they play we were going to have to be patient. We were not early in the game," Haith said. "It's good for us to have one of those types of games we have to scrap it out to get it done."
The Broncos cut the lead to one possession on multiple occasions early in the second half, but could never draw even. The Tigers scored nine straight points after it was 47-45 and the Broncos never got closer than five the rest of the way.
"I think this was good for us," Haith said. "I thought Wes Clark made some big shots. Jabari obviously obviously made some big shots. Whereas I said we didn't execute at the level we need to execute in some of those situations, we had some really good execution plays. We've just got to be consistently good."
Much of the year, Mizzou has been driven offensively by the trio of
Jordan Clarkson
,
Jabari Brown
and
Earnest Ross
. But Clarkson, the reigning SEC Player of the Week, struggled with just 12 points on 3-of-8 shooting. Brown and Ross combined for 27, but second half contributions from
Wes Clark
and
Tony Criswell
also loomed large in the win.
"I tried to bring as much energy as I could," Criswell said after a 10-point, four rebound night. "I thought we picked it up as far as energy as the game went on."
Clark wasn't without his blemishes, accounting for five of the Tigers' 14 turnovers on the night. But only one of those came in the second half and Clark scored seven of his nine points after the break.

"Wes is only going to get better and better," Haith said. "This is a young player. This is the way I look at it. He struggled in the first half. He had those four or five turnovers and then he finished the game making really big plays in a tight ballgame. That tells you a little bit about his toughness and his mental focus and his competitive spirit."
Missouri is now off for six days before facing Illinois in the annual Braggin' Rights game in St. Louis. The Illini enter the game 9-and-2 off a 71-64 loss to Oregon. Tip time is 4:30 on Saturday.
Nobody covers the Tigers like PowerMizzou.com. Click on the image below and get $99 in free gear.

Click
Here
to view this Link.