Tuesday Practice Report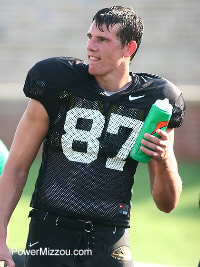 Just one practice remains before Saturday's Black and Gold game. PowerMizzou.com has the recap of Missouri's 13th spring practice on Tuesday:
*
Rolandis Woodland
joined the walking wounded at receiver. He sat out with a shoulder bruise suffered on Saturday.
Gary Pinkel
was not sure if he would be ready for the spring game. Pinkel was hopeful
Gahn McGaffie
would be back from an ankle sprain. In total, Missouri had seven players wearing red at Saturday's practice and six of them were either tight ends or wideouts.
"You just slide em over and slide em up," Pinkel said. "Really, what it's done, it's brought a lot of opportunities for other kids. Not only the young kids that are out there starting right now, but the backups. Everybody moves up a rung."
*On the offensive line, it looks like
J.T. Beasley
and
Travis Ruth
are getting reps at both center and guard. I'm not sure a position is settled for either one.
*During one-on-one line drills, the defense got the best of it while I was watching.
Brad Madison
,
George White
and
Jacquies Smith
all won matchups. I was talking to another reporter about the defensive ends.
Elvis Fisher
has had his hands full with both Jacquies and
Aldon Smith
, but the consensus is that's not a comment that Fisher isn't improving, but more of a statement how good the Smiths have been.
*Speaking of good defensive linemen,
Dominique Hamilton
won both of his matchups while I was watching and got some reps with the first team. I've heard some talk that Hamilton has really had a good spring.
*That said, Brinkley made a few nice catches. He has moved from tight end to wideout and has had a solid spring.
*Most of my attention focused on 11-on-11 drills in the latter half of practice. Here's what I saw:
Blaine Gabbert
and
Andrew Jones
hooked up for about four straight passes. One was a 30-yard strike down the seam where Jones just went uncovered. Just a blown defensive assignment. Jones also made a tough leaping grab in traffic in the end zone.
Gabbert made a real nice throw to
Jerrell Jackson
between double coverage as he was rolling left. Gabbert's arm strength just really, really stands out. Jackson has been good too, and caught a screen pass for about a 10-yard touchdown later in practice.
Sean Weatherspoon
came free on a blitz up the middle for what would have been a sack. I have noticed the Tigers experimenting with some different zone blitz looks. I won't go into detail because I want to be allowed back at practice, but this one worked.
Munir Prince
got a pick six as he jumped an out route from
Ashton Glaser
, who has really battled the turnover bug the last couple of weeks.
Play of the Day
: In the two minute drill, Gabbert completed a couple passed for about 30 yards before throwing three straight incompletions. On fourth and ten, he rolled right, threw off balance off his left foot and lofted a perfect 35-yard strike to the front corner of the end zone.
Wes Kemp
got the ball at its highest point and got both feet down for the touchdown. I don't want to hand Gabbert a Heisman or build him up too much, but the fact is, there hasn't been a quarterback that could make that throw at Missouri since, well, I don't know when. A big arm can cover up some other deficiencies. I'm not saying Gabbert has deficiencies, but he clearly has the best arm of any quarterback I've covered at Missouri. In my opinion, he's been as good as anyone could possibly have hoped this spring.
*One final note, the seniors asked Pinkel to let them wear black and gold jerseys for the spring game on Saturday. Whichever side of the ball wins the Tuesday and Thursday practices gets to don gold for the spring game.
Missouri returns to the practice field on Thursday at 3:30 and PowerMizzou.com will have complete coverage as always.
PowerMizzou.com's spring football coverage is sponsored by Pension & Benefits Live. Jesse Cox (stljesstx) and Tim Killday (Killer) would appreciate the opportunity to be a resource to you for company benefits and/or individual health and life insurance needs.
Click
Here
to view this Link.