Two quarterback system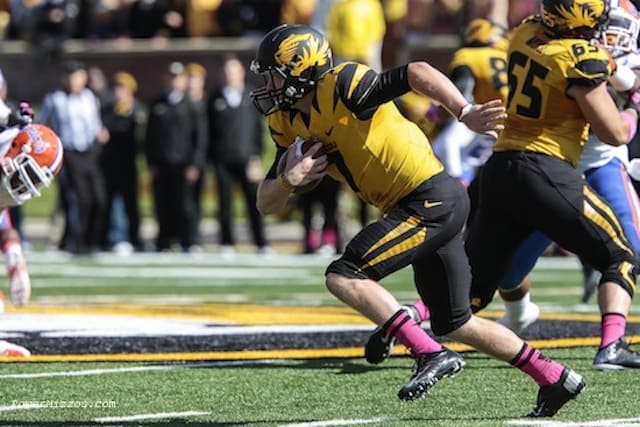 Within mere days of
James Franklin
's shoulder injury at Georgia on October 12th,
Gary Pinkel
made one thing crystal clear: When Franklin was healthy, he was going to be Missouri's starting quarterback.

That came to fruition on Monday when the Tigers released their depth chart for the Ole Miss game. Atop the list at quarterback was Franklin's name. Below it was
Maty Mauk
. But it turns out the decision might not have been as cut-and-dried as Pinkel made it seem five weeks back.

"I think it's always case-by-case basis," Pinkel said. "Our general rule for a starter is when a backup comes in and plays better than the starter consistently--better than--then we'll consider moving him and keeping him in that spot. If he doesn't, he just goes right back as the starter."
"Coach has always had the philosophy of you can't lose your position due to injury. Unless the guy that comes in is playing a whole lot better than you were. That's always what we do with all our players at all the positions," offensive coordinator
Josh Henson
said. "Once you come back, you're healthy, and if you're playing well, doing well, that's the way it is. That's been Coach's philosophy for a long time, and that's been kind of  his policy. That's how he does things."

So, the question becomes, was Mauk far better than Franklin? Obviously, the coaching staff did not believe so. Both have played all or parts of five games against Division One teams. The numbers against Murray State were not counted and both played some against Georgia. Here are the numbers: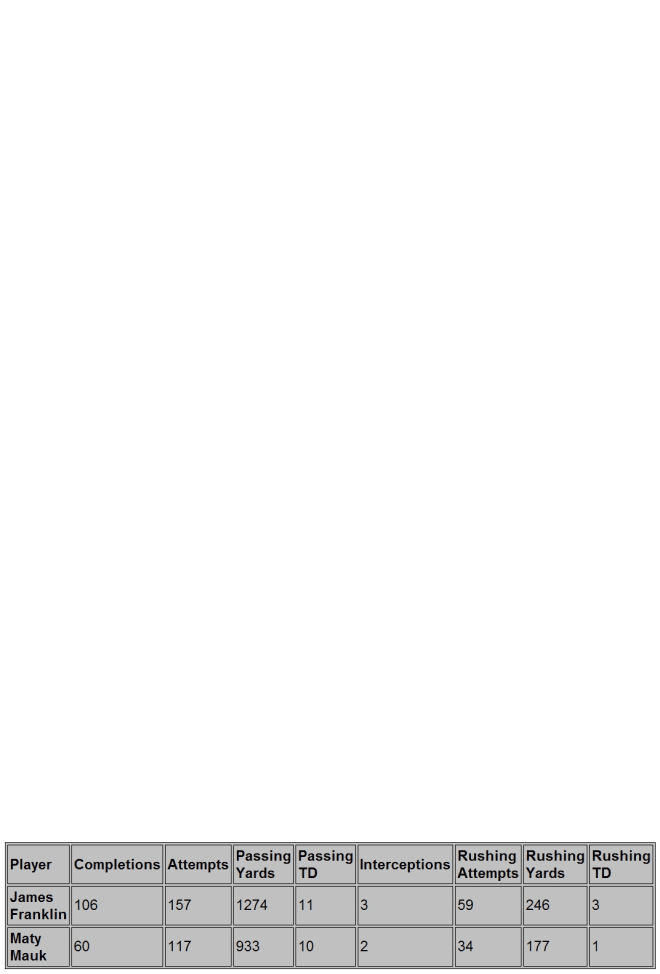 The biggest difference between the two is completion percentage, where Franklin holds an edge of more than 16 percent (67.5% versus 51.3%). Franklin averages marginally more yards per passing attempt and slightly fewer yards per rushing attempt. Mauk has averaged 7.35 yards per play, Franklin 7.03. The touchdown to interception ratio is pretty much identical. Franklin has scored 13 touchdowns and Mauk 11.
With Franklin at quarterback, Missouri averaged 43.2 points against five defenses with an average national ranking of 75.4. With Mauk taking snaps, the Tigers averaged 36.6 points per game against defenses with an average ranking of 49.8 (again, both are getting credit for the Georgia game here).
In looking at the numbers, the argument can easily be made that Mauk played as well as Franklin. It cannot be argued that he played much better, which is the standard Pinkel has set. So the decision is made, Franklin is "100% cleared to play" and will start this Saturday night in Oxford.
Mauk has known from the outset he would take a back seat when Franklin returned. While he has no problem with it, he admits it will be a little bit difficult to return to the sideline.

"It will be a little tough," Mauk said. "But I know my role on the team and I'm going to go out every day and give my best and be prepared no matter what happens."

Pinkel did say Mauk would play. How much will be determined later in the week. So does that change preparation during the week for Ole Miss knowing it has to be ready for two quarterbacks?

"I don't think there's much difference in them, that's the good thing,"
Hugh Freeze
told
RebelGrove.com
. "They know who they are. They've done the exact same things with their second guy that they do with their first one. It's not like you're preparing for two different schemes. They have confidence in both of them and have good reason to. The schemes are going to be the same. That helps in that regard."

"I think it does make it a little difficult," Mauk said. "Me and James are going to go out and hopefully we're going to have our best week of practice all year so we can give them some trouble no matter what we're doing."

"Only time it would change is if the two quarterbacks do something different," linebacker
Donovan Bonner
said. "You know what? I think they'll have to spend more time because now they have to go back and not only look at Maty, but they have to watch film of James. It's kind of confusing for the opposing team because our quarterbacks are a little bit different."

"It makes it a little more difficult," cornerback
E.J. Gaines
said. "Just a little bit more film study than usual."
The real question is this: What if Franklin struggles? Pinkel said that Franklin was playing "as well as anybody in the country" before he went down. But will five weeks off cause some rust? And if it does will Pinkel make a move to Mauk?

"I'm not commenting on that. If
Matt Hoch
's struggling, are we gonna put his backup in? I'm not going to go through that with all of our players," Pinkel said. "Maty's done a great job. We all know that. Who doesn't know that? Very fortunate to have a backup quarterback go in and play with the schedule we've had with so little experience at the level he has, we're very fortunate."
"Just trying to go out every week and prepare as if I was the starter," Mauk said. "Now that he's back, I'm going to prepare the same way and be ready no matter what happens. If they throw me in for a series here or there, I know I'm going to go out and give everything I have."
Missouri has two quarterbacks. Both have played well and both have won games. James Franklin will start. But Maty Mauk is a nice security blanket as the Tigers enter two games they must win to land in the SEC Championship Game.