Voice of the Scantlebury: Misjudging the Wave
With nothing really of interest coming out of Missouri's latest loss, I instead got transfixed on this remarkably honest, blunt quote by Derek Mason after Vanderbilt's loss to Kentucky on Saturday.
Mason said this to reporters:
"But I just think collectively there's a lot of talent here. And Vanderbilt's always going to go in waves. It just is. There's going to be cycles of bowl teams and opportunities. It's not going to be an every-year opportunity, unless, unless these guys get it young and we hit it hot.
"I mean, there's going to be waves and cycles in this deal, and I'm just in a wave right now. I'm just in a wave and cycle where we're not where we want to be, but we just got to continue to keep pushing."
It stuck out to me because of the level-setting done by a coach on the hot seat. Of course, on Tuesday, Vanderbilt's athletic director announced Mason would be back for 2020 — and Mason might have already known that, giving him more comfort in being blunt about the football program in Nashville.
Missouri's not in the same situation as Vanderbilt, but like 95-percent of the schools in the nation, the Tigers' program is going to go in waves. Those waves should peak every four or five years, buoyed by strong recruiting classes that manage to (1) stay healthy, (2) stay out of trouble and (3) stay in Missouri's program for their entire college careers. There's too much luck involved in recruiting at Missouri's level to assume that every recruiting class can meet those requirements, but when it does happen, there should be a two-year window where the Tigers can play above their historical level.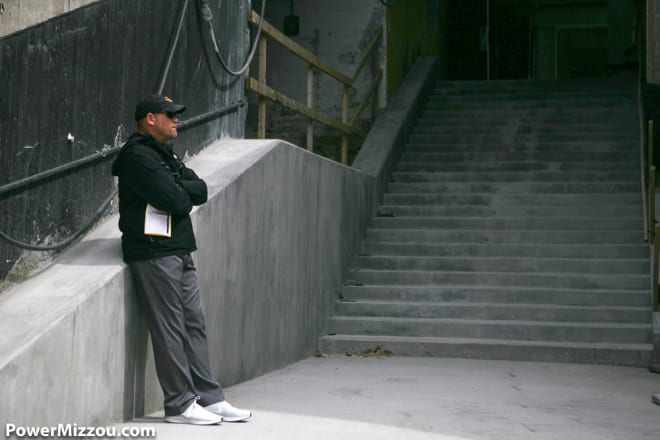 We've seen this already. The 2007-2008 run was led by the 2004 and 2005 recruiting classes, with key players from 2006 becoming stars. The 2010 10-3 season? That was largely the 2008 recruiting class, at the time the highest-ranked under Gary Pinkel. The 2013-2014 run was led almost entirely by the 2010 recruiting class (still the best for Missouri in the recruiting service era), with certain players from 2009 and 2011 playing well above their recruiting ranking. Those top recruiting classes always had one thing in common, too — a star quarterback (Chase Daniel, Blaine Gabbert, James Franklin).
Those are the crests for the wave for Missouri football. If the maturation of those recruiting classes can match up with favorable schedules, down years from traditional powers and some luck, Missouri can be a top-ten team and (best-case) make a run to the national championship (2007, 2013) or (worst-case) be a double-digit win team (2008, 2010, 2014).
The troughs of the wave, you hope, are seven or eight-win seasons. From 2005 through 2014, that was the case, with "low" points in 2005, 2006, 2009 and 2011. The bottom fell out in 2012, almost entirely because of injuries.
After the bottoms of 2015 and 2016, it looked like Missouri was finally getting back to a crest after an 8-5 2018 season and then a favorable schedule and experienced team for 2019. Of course, we know that didn't happen. At best, Missouri will win eight games and kick the can down the curb a little bit; at worst, Missouri will win five games.
The question on all our minds is: How? How did we get to this point, where Tennessee is essentially a do-or-die game to determine whether this season is simply very disappointing instead of a disaster?
For one, we mistimed Missouri's peak. That should have been last year.
The 2015 recruiting class -- Gary Pinkel's last -- finished 27th nationally. In 2018, that class was largely seniors, including Drew Lock (the aforementioned star quarterback); there are still a few players on this year's team (Richaud Floyd and Ronnell Perkins are still big contributors). But last year should have been a double-digit win type season; and it could have been, if not for some befuddling coaching and officiating decisions.
Maybe, all along, the 2018 season should have been the peak of the crest, with 2019 being a return to the cyclical nature of Missouri's program. This doesn't let Odom or the staff off the hook for what's happened this year; but it at least adds a little more perspective. If this was the end of the crest and not the beginning, then the regression makes more sense.
This doesn't explain the bottom falling out, and it isn't defending the staff. Because, what's most concerning is that there hasn't been a recruiting class in the last four that looks similar to 2008 or 2010 or even 2015.
Getting out of this potential trough might take some time, unfortunately.