What Eli Drinkwitz said on Media Day ahead of Week 2 and what it means
Missouri head coach Eli Drinkwitz met with the media on Tuesday to talk about some of his takeaways from the South Dakota game, naming his starter quarterback, Harrison Mevis' kicking struggles and more.
Here's a look at some interesting things Drinkwitz said with some insight to determine what it means.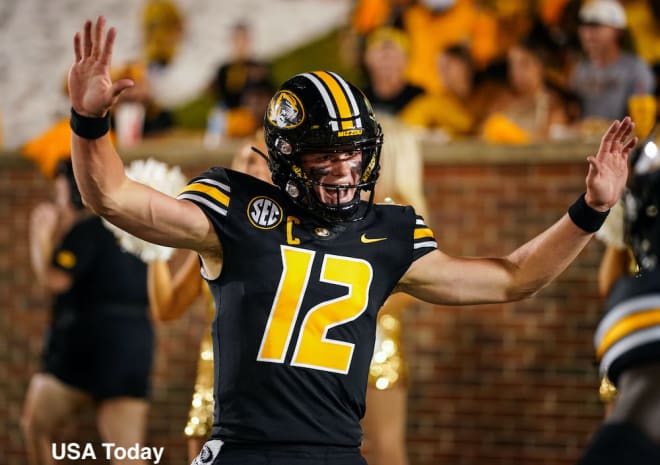 Takeaways from the South Dakota game:
Drinkwitz's quote: "Yeah, proud of the win after watching the tape. I think how we won as a team is important. And I thought we played efficiently in the first half specifically with the defense starting fast (and) getting going (with a) three and out. Special teams forcing a blocked punt right there. But that was a really good scheme by our special teams coordinator and really good execution by our special teams, which has been an emphasis for us all offseason. Then, obviously the offense. Scoring right there was complementary football at its finest and something that I really liked. I also thought the way we played at the end of the first half and the swing eight 一 going 14 points right there we call that going on a run where offense scores, defense gets a stop and then the offense scores again. I thought that was the deciding point in the game and very proud of the way that the first half played out right there. But still, a lot to improve on.
"I didn't think in the third quarter we managed the easy very well. And that's exactly what I talked about as far as defensively. On the first play of the second half, we got to tackle for loss and on the second play we were in a drop eight Cover 3 and gave up the field flat for a first down that kind of was indicative of that entire drive. And then the offense, got the ball and got down in the red zone and again, didn't execute or manage the easy. Then, special teams misses a field goal right there. So, obviously, those things have to get corrected. Can't mismanage the game right there. I think we only had one drive in the third quarter because of clock management, the way they were able to milk the ball.
What it means: In the first section, Drinkwitz is thoroughly pleased with how well the team came out to start the game. They were really clicking on all cylinders in the first half. Then in the second section, Drinkwitz basically alludes to how sloppy some of the play got in the second half. Overall, he was more positive about the win than some may have anticipated he'd be.
Quarterback performance and starting quarterback named:
Drinwkitz's quote: "After watching the tape, I thought Brady (Cook) played efficiently. I thought he had good command (and) was especially good in the two-minute drill which was a point of emphasis for us. Obviously, had a couple of misreads. (I) felt like there were one or two opportunities to move the ball down the field and in our play action game that we didn't take but overall a solid performance.
"I thought Sam (Horn) in his first extended period of college football was solid also. I thought the first throw he made on third down was an elite throw across the middle and I thought he continues to improve with his reps, especially proud of the way he bounced back after the interception. To continue to accelerate his growth and learning I thought the finish on a touchdown drive to end the game was really good and (I'm) really proud of him.
"We will be moving forward with Brady Cook as our quarterback and quarterback No. 1 while giving Sam opportunities to grow throughout the game. It won't look the same as it did this past week as far as maybe exactly equal first half and second half. But we're definitely committed to letting Sam continue to get reps and improve and grow. I think he's earned that opportunity but also think Brady Cook has earned the right to be quarterback No.1 and take the lion's share of the reps and so that's going to be how we move operate moving forward."
What it means: For Drinkwitz to name a starter entering Week 2, when we thought there was a possibility of Horn starting the Middle Tennessee State game is another indication that this competition was not as close as we were led to believe.
If the biggest knock on your quarterback is he missed a couple of chances for deep shots, but he led the team to 28 points in the first half, there's not much of a reason to not name him the starter. Especially, when the other quarterback led the team to seven points and had an interception that led to a touchdown.
This also probably means Horn was going to have to have a mind-blowing performance to keep this competition going. If it was truly neck and neck for the starting spot why would a starter get named this early?
Horn will play if the game gets out of hand, and they'll try to get him a series or two. But, like the Vandy game last season, if Mizzou isn't in a comfortable spot, he's not guaranteed to see the field.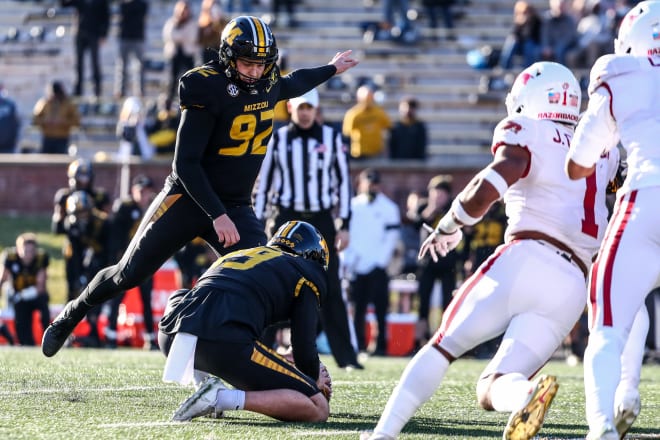 The quarterback room embracing Cook as the starter:
Drinkwitz's quote: "Yeah, I don't think it'll much change from the way it's been progressing so far. I think there's a pretty good feel for you know Brady as being the leader in that room and all those guys understand that how one quarterback plays is a reflection of everybody in that room, and they've got really good camaraderie and leadership and I don't think that'll change."
What it means: The quarterback room has probably known for a while Cook is leading this group. Maybe, they weren't told prior to Tuesday that Cook was going to be the starter, but based on his camp performance, being named team captain and his performance last Thursday, they probably figured who the guy would be.
Harrison Mevis' kicking struggles:
Drinkwitz's quote: "Yeah, I think it was a couple of things that we're going to try and make some adjustments on. We're going to change our short snapper to Trey Flint to try to get more continuity on the ball placement. The second placekick, the laces, were back. We still need to make it but that's a product of both the snapper and the holder 一 got to get that right for Harrison. And so, we all take responsibility for improving our jobs on that. I think we'll see if that makes a correction there. We still have confidence in Harrison."
What it means: Kicking PATs and field goals is a three-person job. Should Mevis have made the second field goal from 34-35 yards away? Yes, but the first two people didn't do their job properly on Thursday. The three involved in the kick and everyone who works special teams, including Drinkwitz, defensive coordinator Blake Baker, cornerbacks coach Al Pogue and special teams coordinator Erik Link also take responsibility for the struggles. But before everyone assumes it's all on Mevis. Let's see if the Tigers have the right snapper and holder combination first.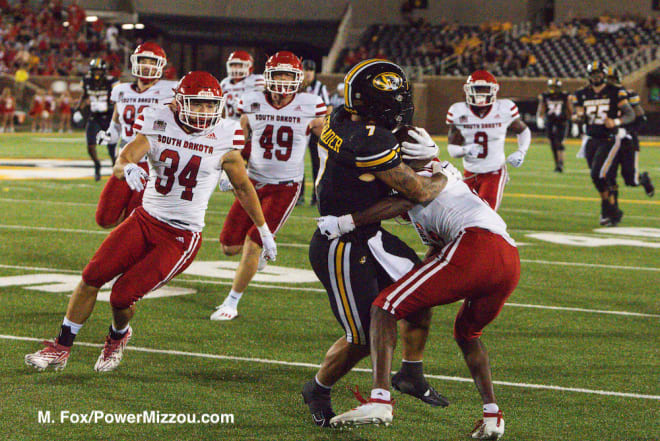 On how true freshmen tight ends Brett Norfleet and Jordon Harris played last week:
Drinkwitz's quote: "Yeah, I thought both Jordan and Brett played well, considering that was their first career game. Obviously, Jordon has only been playing football for two seasons with this being his second. Brett's physicality showed up in a good way. I think both of them had a consistency of performance. And that's the tail of the tape in college football, it's not about just the one play highlight. It's about consistently repeating that performance for however many plays you have in the game, and you're measured on that both as the quarterback and as the tight end or the offensive lineman. It's can you consistently be counted on to do your job, and those guys have got to continue to improve on their consistency."
What he meant: Those guys played well for their first career game, and they showed a lot of promise and consistency, but they'll have to be better if they want to see more than their 23 combined snaps.
However, reading between the lines, they'll start getting more and more reps by the week.
On not revealing enough of the playbook:
No, no, no, no. We only let things that occur during the game dictate the game. So we didn't save anything. We didn't hide anything. I know there's, 'Oh, we don't want to put this on tape.' You carry everything you need to win the game. But ultimately, the driving factor is to win the game and we're (up) 28-3 in the third quarter, and we have already got a field goal missed. Drive down and miss another field goal that could have easily been a different type of outcome. Come out to get a penalty. We're behind the chains, then we throw an interception and they score so it's 28-10 at that point, that's a really a 10-point swing there.
"At that point, you got to play to win the game. Alright, and whoever's in whether it's quarterback or scheme-wise, you got to understand the most important priority at this point is to win the game. And so how do you call that game at that point? It is what it is."
What it means: This means a few things. First, he's not telling the complete truth. Why would any coach say they exhausted their playbook? That would give a future opponent to see everything. Again, they could be lying when they say that, but for a coach to say something like that means they exhausted quite a bit of their playbook. Drinkwitz didn't say that, but why would he tell anyone if they did or didn't use all of their plays?
Secondly, if the game is 41-10 then a lot of different things change. The game was too close at 28-10, especially when you consider the opponent. However, they could win the game was how they were going to win the game.
So, if that meant staying with checkdowns and running the ball that's what they were willing to do. They're not going to jeopardize a win because they want to try new plays so badly or because they want to pop the fans. When the time is right, they'll reveal more. It didn't appear to be the right time on Thursday for one reason or another.