Wilson picks Mizzou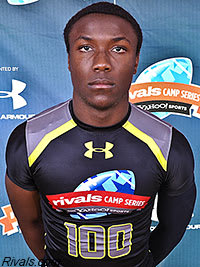 Buford (Ga.) athlete
Thomas Wilson
committed to Missouri on Tuesday. In the end, there wasn't any big fanfare or ceremony. Wilson's known he was going to choose the Tigers for a while.
On Thursday, in an interview with PowerMizzou.com, Wilson started to break down his top three of Missouri, UNC and West Virginia. He again said Missouri was his leader, but when he was asked if UNC or West Virginia were in any order, he paused.
"No, not really in any order," Wilson said. "It doesn't really matter because I'm probably going to commit to Missouri on Tuesday."
On Monday, Wilson again confirmed to PowerMizzou.com that he would commit on Tuesday. This morning, the commitment became a reality.
Wilson already spoke of his reasons for choosing the Tigers on Thursday.
"I like the program, I like coach Grinch and he's told me about the program himself," Wilson said. "I'm going to take an official visit as soon as I can.
"I like how it's on the rise and I could play against good opponents in the SEC. I just want to get there and see what I can do."
Wilson plays both ways for Buford, a perennial Georgia powerhouse program which has outscored opponents 147-7 through three games this season. However, Missouri recruited the 5-foot-10, 176-pound athlete as a safety.
Wilson said he's "fine" with playing safety in college, saying he brings "versatility and speed" to help "make plays on the ball."
The 5.5 three-star recruit is the 82nd-ranked player in the state of Georgia. He held 20 offers. In addition to UNC and West Virginia, Wilson was offered by Arizona, Georgia Tech, Illinois, Indiana, Kansas State, Michigan State, Mississippi State, Tennessee and Wisconsin, among others.
He becomes Missouri's 22nd-known commitment, and the third state of Georgia recruit to choose the Tigers in the 2014 recruiting class. He joins Suwanee (Ga.) receiver
Nate Brown
and Bleckley County (Ga.) athlete
Tavon Ross
. Ross is also committed to play safety for the Tigers.