Woods draws on unique experience to face new challenges
Looking back four years later, Casey Woods began to laugh. In a rare moment for Missouri's verbose new tight ends coach and recruiting coordinator, Woods couldn't find the words to illustrate the abnormality of his situation. He just chuckled.
Woods, who was hired from Alabama-Birmingham by new Missouri head coach Eliah Drinkwitz last December, had been asked about the start of his tenure at UAB. Why had Woods left his job at Auburn in 2016 to coach at a program with zero players on scholarship? Even harder to fathom, how did he and the rest of the staff manage to turn UAB into the Conference USA champions just two years later?
"I don't know," Woods said. "When I would get up and go into work every day in 2016, it didn't seem all that out of place. I was just getting up and going to work. But now that I look back at it, I'm like, what in the world? How in the world did we do that?"
Woods joined the staff at UAB about midway through the program's two year hiatus. Following the 2014 season, the school announced it would discontinue its football team. The following June, the program was reinstated, but it wouldn't play another game until the fall of 2017. Woods accepted his job as the Blazers' tight ends coach and recruiting coordinator in early 2016. He and head coach Bill Clark would spend the following 18 months trying to build a roughly 100-man roster from scratch. Not only did Clark, Woods and the rest of the staff manage to field a team, they led UAB to three winning seasons in a row after the program's rebirth, including a conference title in 2018 and a division title last season.
"That one was one of the most unique experiences I've ever heard of in college football," Woods said, "so to be a part of that was really something special."
Now, Woods and the rest of college football face another unprecedented challenge. Due to the COVID-19 pandemic, spring practices have been canceled, on-campus workouts temporarily banned. Perhaps more daunting for a new coaching staff like Missouri's, all in-person recruiting suddenly halted. It will remain that way until at least May 31 due to a dead period instituted by the NCAA.
While the situation is not exactly analogous to the one Woods inherited at UAB, the leader of Missouri's recruiting efforts has drawn confidence from the fact that he's overcome other daunting challenges in his young career.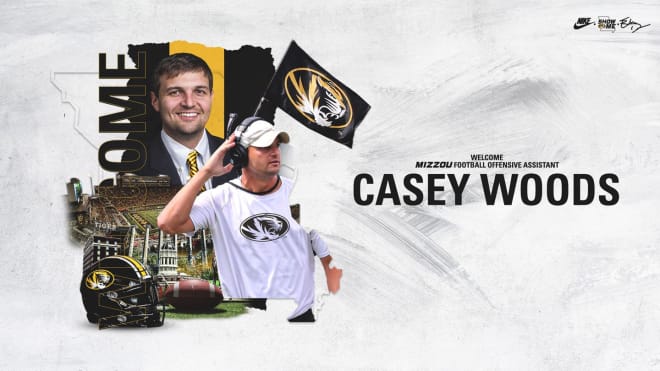 The son of coaching veteran Sparky Woods, whose 40-plus year career includes head coaching stints at Appalachian State and VMI, Casey Woods knew from an early age he wanted to follow in his father's footsteps. Yet he initially struggled to find a foothold in the industry.
The younger Woods played wide receiver at Tennessee under national title winning head coach Phillip Fulmer, and in 2008, when Woods' playing days concluded, Fulmer offered him a spot as a graduate assistant. After just one season in the role, Woods found himself looking for work. Fulmer had been fired and replaced as head coach by Lane Kiffin, who had cleaned house.
Woods initially interviewed for a GA position at Tulsa. He thought he had the job, but a budgeting snag delayed the hiring process. In the meantime, his former receivers coach at Tennessee, Trooper Taylor, told him about an opening at Auburn. Not knowing whether the position at Tulsa would work out, he drove down for an interview with first-year offensive coordinator Gus Malzahn. Malzahn wanted to hire Woods, but there was just one problem: they didn't have enough money left in the salary pool to pay him.
"He said, and I quote, 'Worst-case scenario, we'll put you in the dorm and you just kind of work for free,'" Woods said.
Tulsa wound up offering its job as well, but drawn by the allure of the SEC, Woods chose Auburn, even though it meant he wouldn't draw a regular paycheck. After the 2009 season, when a quality control position came open, Woods jumped at the opportunity. The job paid just $9,000.
"I thought I had struck gold," Woods said. "'Oh man, they're paying me to coach football, this is really something.'"
Woods worked alongside two other quality control assistants on the offensive side of the ball in 2010: Rhett Lashlee, now the offensive coordinator at Miami, and Drinkwitz. That season, quarterback Cam Newton led the Tigers to a 14-0 season and national title. When Malzahn got hired to be the head coach by Arkansas State two years later, he brought Lashlee, Drinkwitz and Woods with him. Woods coached receivers — his first job with on-field coaching responsibilities — and served as recruiting coordinator.
Malzahn returned to Auburn just one season later, and while Drinkwitz stayed behind at Arkansas State, Woods followed Malzahn. His role as director of player personnel, however, kept him off the field, and his experience at Arkansas State had affirmed to Woods that his long-term goal was to instruct players every day. So Woods kept an eye out for jobs that would allow him to do so.
Clark, who coached against Woods when he was the defensive coordinator at South Alabama in 2012 and Woods was at Arkansas State, became a regular suitor. After the 2013 season, Clark, then the newly-hired head coach at Jacksonville State, contacted Woods about joining his staff, though a position was never actually offered. A year later, Clark got the UAB head job and reached out again, but Woods declined (in part because he questioned UAB's commitment to its football program, which proved prescient). In his first season, Clark led UAB to a 6-6 record and the school's first bowl appearance in a decade, but shortly afterward, university president Ray Watts announced that the school would no longer sponsor a football program.
Clark remained at UAB through the turmoil. No surprise, after the school reversed course and brought football back, one of his first calls went to Woods. An outspoken Christian, Woods saw the offer as the third time God had knocked through Clark. Clark told Woods rebuilding the program from scratch would be "an unbelievable challenge," but Woods was willing to take the risk to get back to coaching on the field.
His father wasn't as enthusiastic about the move. Sparky Woods believed Casey would have better job security at Auburn — or, really, almost anywhere other than UAB. But Casey's mind was made up.
"I'm thinking about job security and things, which I thought, maybe get in administratively, raise his children there at Auburn and so on, so forth," Sparky said. "But he wanted to coach, and I remember that, too. I remember that in my life, that desire to coach the players. And frankly, he didn't ask me what my opinion was."
In order to rebuild the roster, Casey said he and Clark studied SMU's program after it received the "death penalty" in the 1980s. Clark believed SMU's biggest problem was that it wasn't able to get any momentum with a winning season early on, which is critical to attracting talent. His focus became winning early at UAB. So, Clark and Woods scoured the market for junior college players and transfers — players with experience who could win sooner than a roster full of 18- and 19-year-old newcomers. Woods said the experience changed his outlook on junior college players.
"If you're willing to go play football in some of these small, rough towns that play junior college football — and you talk about guys that are on planet Mars from the places that they come — then you love football," Casey said.
Woods' time at UAB also showed him the power of recruiting locally. The city of Birmingham and state of Alabama churn out Division I talent annually, but few prospects in a given cycle are good enough to attract offers from Auburn and Alabama. For the rest, UAB represented a chance to play close to home. UAB's roster from the 2017 season included 51 in-state players. Since arriving at Missouri, Woods and Drinkwitz have reiterated the importance of recruiting locally in nearly every public appearance.
For UAB, the recruiting approach worked. The Blazers went 8-4 in 2017, their first season in three years, before losing in the Bahamas Bowl. In 2018, they improved to 11-3, winning the Conference USA crown. Woods said last season might have been even more impressive. After losing more than 30 seniors from the 2018 squad — all those junior college transfers who Woods had helped bring in prior to 2017 — UAB went 9-5 and once again won the Conference USA West division before falling to Florida Atlantic in the league title game.
"We took these junior college players and we took a bunch of outsiders and we put them in there, but the reason that we won nine games and the division (in 2019) is because of the freshman class that we signed in 2016," Woods said. "That was built off of Alabama guys."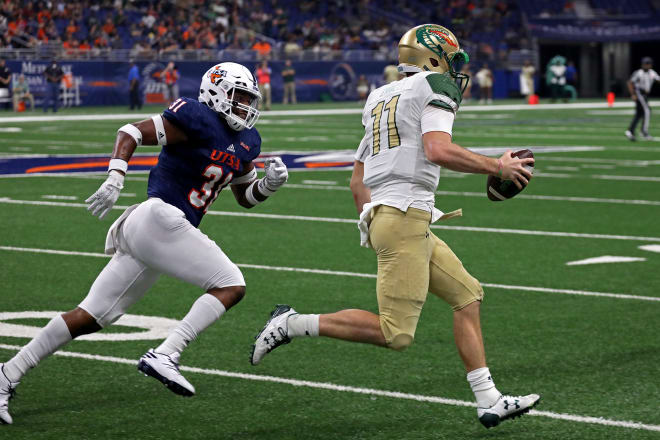 When Drinkwitz called Woods with an offer to join him at Missouri, Woods jumped at the opportunity. He said earlier this offseason that Drinkwitz offered him the job on a Wednesday and he was on a plane for Columbia on Friday.
Bad news came almost equally fast. Less than three months after Woods was hired, Missouri had to cancel its remaining 12 spring practices and its imminent recruiting visits. While the shutdown isn't unique to Missouri, Sparky Woods said it presents more issues for a first-year coaching staff, especially in recruiting.
"That first year, boy, you would like for this not to be happening now," Sparky said. " … It's a new staff, so it's an exciting time there, and they need to get that word out and get the players there and see it."
Casey Woods, too, acknowledged the challenges facing Missouri. One of his sayings is if you can get a kid on campus, you have a shot, and the new staff hasn't had as many opportunities to get prospects on campus as it banked on. As a result, they've tried to prioritize those players who made visits before recruiting was shut down, while organizing virtual campus tours and FaceTime conversations with others. Woods also said they have to be careful not to over-recruit. With a lot of staffs sinking more time and effort into recruiting, prospects can get burned out on the process.
Overall, though, Woods took a positive tone. He praised Drinkwitz for his leadership, equating him to Clark in his ability to get everyone on the same page. He also said his experience at UAB "absolutely" prepared him to recruit during a pandemic. The specifics of the two challenges differ, but Woods said the values of being creative and "cutting-edge" have carried over.
"I think that God was in control of a lot of those things," Woods said. "I think that he gave me the opportunities that I've had, I think he's preparing me specifically for this moment, ... putting me in an environment that kept me hungry and kept me creative for a long time."
Moving forward, Woods believes flexibility will be paramount. The staff has tried to prepare for all possibilities — it has a virtual recruiting schedules written out for the next two-plus months, but is also preparing in case the NCAA allows for "open season" starting June 1. Like at UAB, Woods also hopes to create some momentum for the new regime, even if it doesn't come in the form of wins on the field. Woods wouldn't betray specifics, but look for the Tiger staff to do something creative to energize the fanbase this week.
"April 15 is what would have been our day to go on the road for evaluation period," Woods said. "As we transition to that, I think there's going to be some excitement generated for not only our fanbase, but high school coaches, prospects. Working toward this ever-important class, just like that 2016 class was so important for UAB when they won the division last year after winning the conference the year before. This is that class."