Antar Thompson is ready to make it big once again
In the summer of 2012, everything was ahead of Antar Thompson. He had committed to Missouri in May of that year and planned to sign the following February.
The 6-foot-3, 295-pound defensive tackle out of Maplewood Richmond Heights was rated as the No. 5 prospect in the state of Missouri. The top player in that class was Ezekiel Elliott. Thompson was rated ahead of Anthony Sherrils, Eric Beisel, Joe Burkett, Aarion Penton and Alec Abeln, all of whom signed with the Tigers and have been starters at times.
Penton is currently in the NFL with the Los Angeles Rams. Elliott, obviously, is starring with the Dallas Cowboys. Sherrils, Beisel and Abeln are fifth-year seniors at Missouri. And Antar Thompson? He's never played a down of college football. Until recently, most who follow the sport didn't know where--or who--he was.
Thompson didn't qualify academically out of Richmond Heights. He was set to go to junior college in Mississippi. Even went down there and began summer workouts. In June of 2013, Isaiah Ernest Thompson was born.
"I tried to go off to school," Thompson says. "Just a short period of time of not being able to bond with him and be around with him, I decided to stay out of school."
Thompson returned to St. Louis to be with Isaiah and the child's mother. The following year, he went to Fort Scott Community College, ready to give it another go. He had trouble getting his transcripts to enroll in school and didn't see eye to eye with the coaching staff.
More than two full years out of high school, Thompson hadn't played a down of college football. His next stop was Highland Community College in Highland, Kansas. He said he showed up on campus weighing 350 pounds.
"Sometimes it was to the point I couldn't finish a workout because I was too overweight and out of shape," he said. "The coaches worked with me, they saw improvements, they could tell I was trying."
Finally in the fall of 2016, Antar Thompson was on a college football team. He worked his way into the rotation. He had 22 tackles, two sacks and started the last three games of the season for the Scotties. College coaches have taken notice.
We'll get to that part of the story. But there was so much more in the interim.
Thompson and his girlfriend shared a twin bed at Fort Scott. His parents watched Isaiah. There were times Thompson admits he made bad choices. He fell in with bad people. And, oh, by the way, his mother was spending "pretty much every other day" in the hospital with complications from diabetes and digestive problems.
"There were times I thought maybe this is it for me, maybe this is how it's going to be," Thompson said. "I just had to get away. I just wanted to be away. It just wasn't right. I started getting into trouble.
"Loving football, that kept me going. It kind of made me jealous. I wouldn't watch the game. When I saw the things Ezekiel Elliott was doing at Ohio State it just made me jealous. I didn't want to be a jealous person so I would turn the TV off and kind of unfollow sports pages. I wouldn't listen to anything that has to do with football just because I loved the game and I missed it so much."
There was another thing that kept him going.
"I really don't have anything. Still to this day I don't have much. I want to be able to offer things to my child," he said. "When I'm out there running gassers and I want to give up, I think about my son and I think are you going to let these people feed their family or are you going to feed yours and take what's in front of you. It just kind of lit a match in me."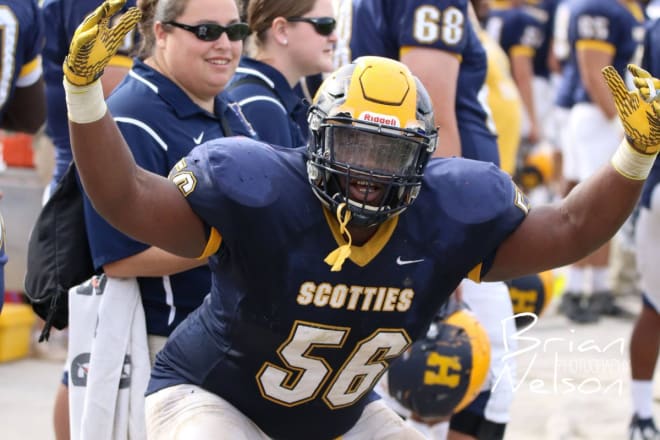 Thompson worked. And he worked. And he waited his turn. He played last season at Highland at 320 pounds. He says he's down to 305 today. And a funny thing happened. Once they figured out where he was, college coaches started taking notice of Antar Thompson again.
He claims 11 scholarship offers now. Alabama, Arkansas, Florida State, Ole Miss, South Carolina. The 11th came on Wednesday. It came from Missouri, the school Thompson was supposed to attend all those years ago. The Tigers have changed coaches. Heck, since Thompson committed originally, they've changed conferences. But Cornell Ford, who recruited Thompson out of high school in St. Louis, is still on the staff.
"I would always write Ford," he said. "I could go back on my Facebook now probably 15 times and even when he wouldn't reply I would tell him 'I'm sorry, I apologize, I really want to be a Tiger and I want to get my life back together.'
"One day he wrote me and told me 'what would interest us in you is if you have your degree.'"
Thompson is on track for that. He's supposed to graduate from Highland in December. He would do so with three years to play two at the college level. If he were to redshirt this year at Highland, he could still have three to play. And he'll have his choice of where to go from there.
"I used to think I'm gonna walk on here, I'm gonna walk on there, I'm gonna make everyone wish they would have offered me," Thompson said. "But I never thought I'd be back where I am today. It's just a blessing."
It should be obvious by now that Antar Thompson isn't a typical recruit. He says he can't really afford unofficial visits. He may not even take his officials because scheduling them around life with a four-year old isn't exactly a piece of cake. He says he has a few top schools he's looking at, but isn't ready to publicize which ones they are.
But in a little more than six months, Antar Thompson will sign somewhere to play Division One college football. And instead of a raw 17-year old, somebody's going to get a full-grown 22-year-old man who has taken everything life has to throw at him and fought through it. They're also going to get—according to Thompson—a much better defensive tackle than they would have five years ago.
"I feel like I'm much better. Back then I was a kid that would line up and I wanted to be the star. I wanted to be able to make that big play," Thompson said. "Now I know it's all about doing your job and working with the team. I'm huge on just staying in my gap and doing my job. I never would have done that back then. I was running around like a chicken with my head cut off."
Second chances don't come for everyone. Thompson knows he's fortunate to get his.
"I've been through stuff I don't even remember until people like you call," Thompson said.
The reason Antar Thompson thinks he's getting his second chance is the very reason he quit football in the first place.
"I love my son and I thank God for everything I went through. I wouldn't be the player or person I am without him. Maybe it happened this way for a reason," he says, sounding much more like a man with some life behind him than a teenager with his career in front of him. "I want to see him have a better life. I want to see myself have a better life."
A college team isn't signing Antar Thompson. At least not alone. It's signing the Thompson family. Isaiah's mom is still with Antar and his son.
"We're great. I'm hoping she's the one one day," he said. "She's been there with me. We had nothing. We started with nothing. When we first moved out to Fort Scott we were sleeping on the floor."
He's got a bed now. In a few months, he'll have a full scholarship to play football in a major conference. And, once again, everything is in front of Antar Thompson.