Camp Notebook: August 21
With Missouri's second scrimmage of fall camp in the books, a shift has occurred during the team's practices. During the first two weeks of camp, the coaching staff focused on identifying which players would start or contribute regularly as backups, as well as adapting the offensive and defensive schemes to those players. Tuesday, for the first time, the starting offense and defense matched up against scout teams designed to show the specific tendencies of the team's first opponent, Tennessee-Martin.
The change doesn't necessarily mean Missouri's two-deep is locked in place, however. Following Tuesday's practice, head coach Barry Odom said that the staff has a general idea of which players will play meaningful roles this season, but there are still some roles up for grabs. Odom specifically mentioned some uncertainty at wide receiver.
The top of Missouri's depth chart at wideout isn't a mystery. The team's two most productive returning receivers, Emanuel Hall and Johnathon Johnson, will start out wide and in the slot, respectively. Senior Nate Brown will likely occupy the other starting spot, although it wouldn't be a surprise if graduate transfer Alex Ofodile sees just as much playing time.
But behind those four, a group of players are still jostling to separate themselves. That group includes four of the five true freshmen the Tigers added at wide receiver during the offseason. Jalen Knox, who played a few snaps with the first team during the 11-on-11 portion of Tuesday's practice, appears to be most likely of the bunch to play significant snaps this season. But Dominic Gicinto, who looks destined to spend most of his time in the slot, as well as Kam Scott and Khmari Thompson, all worked with the second team on Tuesday. Plus, the unit will likely return Richaud Floyd, who broke a bone in his right leg last week, into the rotation at some point during the season.
Wide receivers coach A.J. Ofodile said the uncertainty of which receivers will play regularly is not a bad thing. Ofodile doesn't have a number in mind for how many players he wants to rotate into games this season, but he said the more guys he feels comfortable playing, the better. One reason for that is it would allow starters like Hall and Johnson to get a periodic breaks.
"You got the opportunity to roll a comparable guy out, then you do that, because it saves mileage on other guys' legs," Ofodile said. "Now you spread the wealth a little bit or you spread the workload a little bit, and you keep guys healthier for a long season."
The other benefit of having so many different options still in the running for playing time is it will allow some players to specialize in their roles. Ofodile said that could be especially beneficial for the group of freshmen, who are still getting comfortable in Missouri's offense, because it lightens their mental workload.
Brown said Ofodile and offensive coordinator Derek Dooley have already sought to put some of the freshmen in specific situations that best suit their skillsets, such as using the speedy Scott and Thompson to stretch the field vertically. As a result, Brown said the group could have "a lot of guys in the rotation."
"Coach Dooley has really tried to design some special stuff for them, and they've performed when they've had the opportunity," Brown said.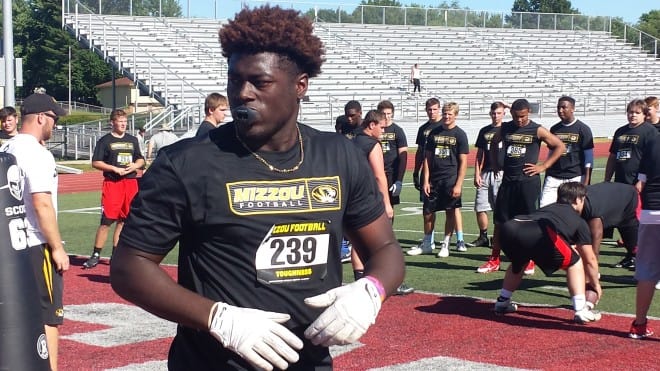 Parker Jr. takes snaps at tight end
Blue Springs native Daniel Parker Jr. spent the majority of his high school career playing on the offensive line before taking up defensive end as well and committing to Missouri to play there. Now, Parker could be moving back to offense.
Odom said Parker spent Tuesday's practice playing with the tight ends rather than the defensive line. The change isn't necessarily permanent, but Odom said Parker likely has a better chance to see the field at tight end than defensive end this season, so the coaching staff wanted to "see how he looked" on the offensive side of the ball.
"When we recruited him, he was a really good defensive end, but also had some ability on the other side of the ball," Odom said. "Just trying to, once we get guys here, find the best spot for them for what our team needs right now."
Parker told PowerMizzou earlier during camp that he would be open to switching to the offensive side of the ball if the coaching staff asked him to do so.
Downing earns a scholarship
Due to several offseason departures, Missouri dipped beneath the NCAA limit of 85 scholarship players. The staff opted to use one of those scholarships on former walk-on running back Dawson Downing.
Downing, a sophomore from Mission, Kansas, saw action in five games last season. Odom said Downing earned the scholarship based on his performance in the classroom and in a variety of roles on the field. Downing appeared at running back in four games last season and rushed for 121 yards on 20 carries.
"He's carrying a 3.8 GPA, or right around there," Odom said of Downing. "He's a valuable member of all of our special teams, and every time that he's been in the game at the tailback position, he's performed."
Injury report
The most important takeaway from the Tigers' scrimmage Saturday was that no new players were seriously injured. In fact, several players who had previously been limited in practice, including linebacker Terez Hall and Johnson, participated fully on Tuesday.
The only players who wore red, non-contact jerseys during Tuesday's practice were defensive back Jarvis Ware, who missed two practices last week while battling an illness, and tight end Logan Christopherson, who recently suffered a concussion.