Commentary: Lock should come back
The waiting game now begins for Missouri fans. Has Drew Lock played his final game as a Tiger? That's an answer we don't have yet. We will at some point in the next 18 days.
It's possible the final decision hasn't been made. But Wednesday night's 33-16 loss to Texas won't impact it.
"This game doesn't necessarily effect my decision," Lock said after the game. "We could have come out here and scored 150 points and it wouldn't have made a difference. We could have come out and scored zero. I still have things to evaluate. I'm going to take in the little more information that I can before the January 15th deadline."
The junior quarterback finished the night 18-for-34 for 269 yards with one touchdown and one interception. He was at times fantastic (see the 79-yard strike to Johnathon Johnson that will make NFL GM's drool). He was at times frustrating (see the fourth quarter interception that sealed Missouri's fate). And he was at times without much help (there were at least three drops that could have padded the numbers a bit more).
In other words, Wednesday night was the full Drew Lock experience.
At least once a week, he does something that no more than 10 or 15 other people on the planet can do. About once a week he does something that makes you want to ask "But seriously, what happened there?" (To be fair, that's armchair QB analysis and things we blame on the quarterback aren't always the quarterback's fault).
He is fantastic and unfinished at the same time. His career as a Missouri Tiger should be both of those things as well.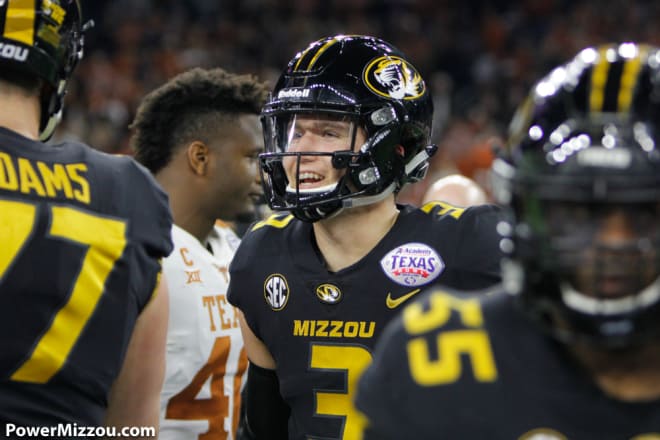 Before I say what I'm going to say, which is that Drew Lock should come back to Missouri, let me say this: This is not my decision. It is not really fair of me to encourage a 21-year old kid to turn down millions of dollars to live his NFL dream. And, so, if Lock ultimately decides to leave for the NFL, I will not say he is dumb, I will not say he is wrong and I will not say I don't understand it. But I still think he should stay.
There is no doubt someone would draft Drew Lock in April. Honestly, despite the fact that the Draft Advisory Board told him to stay in school, I'm not sure someone wouldn't draft him in the first round. Because when Drew Lock puts on shorts and a t-shirt and throws at pro day, scouts are going to flat out fall in love with his arm. He makes throws that at least 15 NFL GMs will see and say "My guy can't do that."
Plus, quarterback is the position that just keeps making people in the NFL do dumb things. Every day between now and the draft, quarterbacks will creep up the board. Teams will panic and be afraid they're not going to get their guy. They will do crazy things like draft Mitch Trubisky No. 2 overall or trade into the top ten to get Patrick Mahomes (for the record, those guys might be great NFL quarterbacks, but they're just the most recent examples of how quarterbacks almost always go higher in April than we think they will in December).
So, yeah, Lock might end up being picked pretty high if he were to leave. But is he ready? Not really. I mean, the NFL has told him he's not ready. They told him to stay in school. The fact that he hasn't yet committed to doing so leads me to believe one of the following three things is true:
1. He thinks he can change the scouts' minds during workouts.
2. He is waiting to see who Barry Odom hires as offensive coordinator
3. He wants to have a big announcement on his own timetable.
If it's No. 1, he's going to go. But if it's either of the other two, he'll be back. I can't see Odom hiring someone to replace Josh Heupel who doesn't have the Lock seal of approval.
Some will read that and say "You don't let the quarterback hire the offensive coordinator." I get it. And in a lot of scenarios I'd say you're right. Not here. I think Lock should absolutely have a say in who is hired…or at least be kept in the loop at every step along the way to hiring him.
That's really the smart thing for Odom to do. Because for his own future at Mizzou, he needs Lock back next year.
With Lock, I can see Missouri being a nine-win team that is an upset or two away from winning the SEC East. Without him? Another bowl bid wouldn't be a certain thing. The difference between Lock and whoever would start if he leaves could be as many as four or five wins. And four or five wins is monstrous for Odom.
Missouri gave Odom an "extension" a few weeks ago. And I use the quotes because really the extension was nothing more than cosmetic. It kind of gave him two more years…but not really. The buyout didn't go up. He didn't get a raise. The extension was done to tell recruits he's here for five years…but it's really not any more difficult to fire him than it would have been without the extension.
Through two years, Odom is now 11-14 as Missouri's head coach. He led a heck of a turnaround this season, but he had to lead it in part because he led the team to a 1-and-5 start. And if you don't admit that turnaround was at least somewhat schedule driven (Missouri didn't beat a team with a winning record this season), then you're not being honest with yourself.
In other words, Odom may be the man to lead Missouri for many years to come. But we don't really know that for sure yet. And if he loses Lock and goes 5-7 next year? His seat's gonna be real warm headed into 2019. That's just reality.
But if he keeps Lock and Lock is as good as many think he would be, Missouri wins eight or nine games (or more) and he's a top ten pick in the NFL Draft? That's a lot of equity Barry Odom can build in the next 15 months.
It's not all one-sided. There are benefits to Lock coming back too. He'll be mentioned as a preseason Heisman possibility. He'll be not just an NFL Draft pick, but a probably first rounder, a potential top-ten pick and maybe even a possible No. 1 overall pick. And he'll have a chance to build a legacy. If Lock leaves now, he's the guy that had a great couple of months and got Missouri back to a bowl game. If he comes back, he could break every record in the books and cement himself as a guy who will be remembered for a long time at the school where his dad and his grandpa played football. Call me romantic, but stuff like that matters.
I think Lock's coming back. But until he says it, a shred of doubt will remain. And until then we wait.