Commentary: Remember when it mattered?
College basketball games should be Events. With a capital E. Big deals. There are only about 20 of them on any campus in any given year. They should matter.
There was a time at Missouri they were just that. Believe it or not, it wasn't a generation ago. As recently as four years ago (check this video for proof), Mizzou Arena was packed with people that stood up and yelled and clapped and such crazy things you see people doing at games sometimes.
It isn't that way now.
Many times this year, I have been asked "Is this rock bottom?" And many times I have responded, "I sure hope so." I have been wrong every time. Rock bottom happens all over again every time I walk in Mizzou Arena.
Losing to Auburn—or LSU, or Ole Miss, or whoever comes to Mizzou Arena after that—is not worse than losing to Lipscomb or Eastern Illinois or North Carolina Central (all of those things have happened in the last calendar month or are likely to in the next two weeks). Not in and of itself. But every time Missouri tips off at home right now is a reminder of the current state of things. Every game is like ripping open an old wound all over again.
RELATED: Mizzou falls to Auburn | Post-Game Video | This Week's Mailbag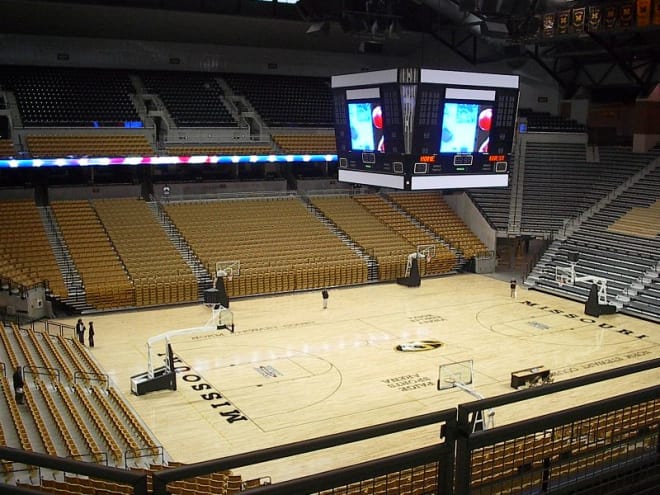 Anyway, on Tuesday night, I got to the arena 40 minutes before tipoff between Mizzou and Auburn. It was a six o'clock game on a weeknight in a town located two hours from both major population cities featuring two teams whose ceilings are about 12th place in the worst conference in major college basketball. In other words, hardly a major draw.
For the first time, I did something we joke about sometimes. I counted the people who were there. I didn't include those dressed in Auburn gear or the support staff on the court. For the record, the number got to triple digits. Not by a lot, but it did get there.
By the middle of the second half, Mizzou listed an attendance of 9,000-plus with an "estimated actual attendance" of 5,907. Not one of the significantly less than 5,907 people who were actually there thought the number represented anything other than "a number that is far higher than the number of people who are actually watching this game right now."
So, yeah, it's not really breaking news that nobody is paying attention to Missouri's unbelievably quick and deep dive to the very bottom of major college basketball (there are other programs you could argue are as bad or worse, but it's a short list and not a slam dunk argument). If you care enough to read this—or maybe to have turned a game on television or radio at some point—you kind of know that nobody's going.
It's also not a secret what's going to be done about it. We've passed the point of "if" and reached the point of "when" regarding a coaching change. For three years, various factions have argued about how much of it is Kim Anderson's fault and how much lies with various individuals who have already moved on from their posts related to Missouri basketball. At this point, I don't much care about that discussion. Whether it's 100 percent his fault or one percent doesn't matter. When things go wrong, the coach gets fired. And things have gone terribly, miserably, unimaginably wrong at Missouri. And you can't find anybody who doesn't anticipate we all know exactly where this is going.
Over the next few weeks we're going to be talking about how good a job this is, who might be interested, whether Jim Sterk is the right guy to make the hire and all that. And they're all worthy discussions.
But right now, I have only one requirement of Missouri basketball in the next ten months before the 2017-18 season tips off: Make me care again. Make us all care again.
Every game that Anderson coaches right now, a few more people forget his part in Mizzou basketball history. Frankly, the majority who remember Anderson as a player (and I'm not one of them) are far closer to retirement than graduation. That's not an insult to that fine generation, just a simple statement of fact that it's been a while. And as those memories fade, they are replaced by a generation of fans who will remember Anderson only as a coach who couldn't do the job in Columbia.
But this isn't really a column about Kim Anderson. There is a far more alarming problem with Mizzou hoops fans right now. Too many of them don't even remember the program mattering.
That might sound reactionary and alarmist. But a fifth-year senior at Mizzou has never seen an NCAA Tournament game. A sixth-year senior (there are some) has never seen an NCAA Tournament win. (Note: If you were a student at Mizzou the last time the Tigers won an NCAA Tournament game and you are still there and do not have multiple degrees, it might be time to pick up the pace a little bit). More and more, people are talking about "the problems of the last 20 years." Look, Missouri wasn't great from 2000-2012. I mean, it happened twice, but overall it was a good solid program. The true glory years of this program are now at least 23 years in the past. But Missouri basketball isn't a program that has never mattered.
When I grew up—when Missouri basketball is the one thing that made me a college sports fan—Mizzou was a top ten to top twenty program in America. It never quite lived up to that in March when most casual fans tune in for the only time, but if you actually paid attention to the sport all year long, Mizzou was in the discussion with a lot of really-good-but-not-quite-great programs.
Once Norm Stewart left, the lows were lower, but the highs were still pretty high. Quin Snyder came closer to a Final Four than any coach in school history. Mike Anderson put the most entertaining Tiger team in a generation on the floor and won a school-record 31 games in 2008-09. The Tigers vowed to "reconcile by winning" and then did just that in Frank Haith's first year in 2011-12. This program has had its moments in recent memory.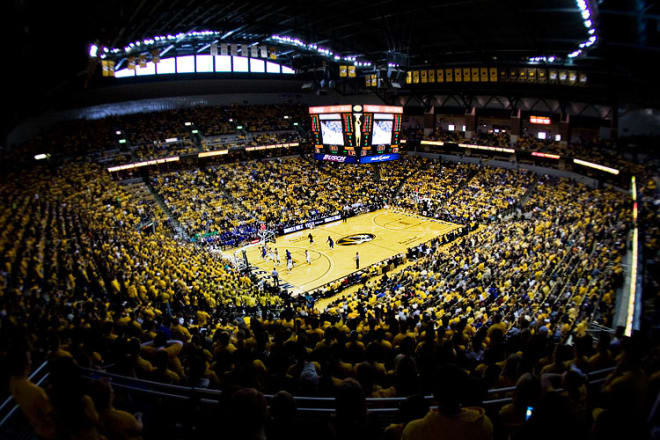 But it doesn't take long to lose the attention of a sports fan. Missouri's decline began with a turnstile program that faded from a No. 2 seed to out of the NCAA Tournament. It has continued—and accelerated—with 54 losses in 78 games in the last two-and-a-half seasons. And people have quit paying attention. The anger is gone. Even the most ardent fans aren't that angry anymore. This fanbase left anger and entered apathy at some point in the last 24 months.
I cover the games. I did it when they won almost all of them and I'm doing it while they lose almost all of them. And I'll keep doing it. But it used to be something you looked forward to. The games against Kansas in Missouri's final year in the Big 12, that Big 12 tournament, Anderson's style when it worked, Thomas Gardner torching the Jayhawks for 40 while Snyder lost 15 pounds in sweat by halftime, that wasn't work. That was something you looked forward to doing and thought, "Yeah, they're paying me for this. That's pretty neat."
Now? When's the last game you looked forward to all day? All week? When's the last time you looked at the schedule to make sure your wife's college friend didn't schedule her wedding or that your daughter didn't have a ballet concert when Missouri had a game?
If you're old enough, you remember when you did those things. But you don't do them anymore. For kids at Missouri now, they've never done them. Their parents might have. Maybe an uncle or an older brother. But they sure haven't.
I want that again. Walking into Mizzou Arena now is depressing. It should be fun. It should matter. We should look forward to it.
It's going to happen again.
Eventually.
I think.
I hope.