Inside Drew Lock's turnover struggles: Decision-making looms large
Drew Lock took the shotgun snap and began to shuffle toward his own end zone. Usually Lock would stop after three steps, plant his feet, and throw the football, but on this play Lock kept backpedaling, moving further and further from the line of scrimmage. Missouri was facing a third down and four at its own 31-yard line against No. 1 Alabama, and even though Crimson Tide defensive lineman Isaiah Buggs had torn through the offensive line and was chasing Lock, Lock kept his eyes downfield, straining to locate an open receiver and keep the drive alive.
Instead, Lock held onto the ball too long, and Buggs knocked it out of his right hand. Alabama recovered the fumble, then scored the following play, extending its lead to 27-10 and extinguishing whatever flicker of hope remained that Missouri could pull off an upset. The play had called for a pass to slot receiver Johnathon Johnson, but he was being covered by two Alabama defenders, so Lock looked for a second option. After the game, Lock admitted he should have thrown the football away before Buggs reached him, even if it meant Missouri had to punt.
"I just gotta burn it at (a receiver's) feet," Lock said of the play. "I waited too long to try to make that play."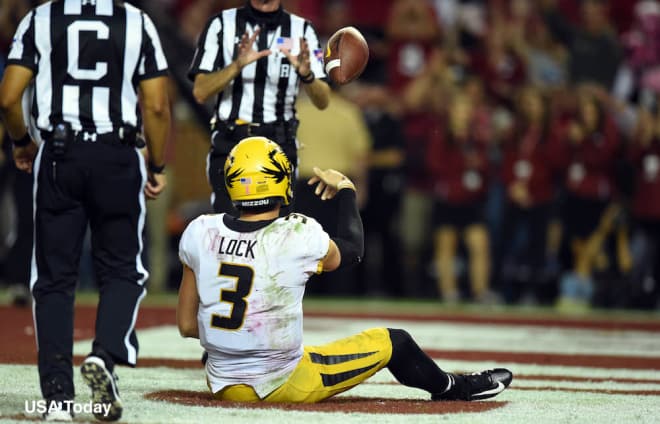 Lock's production has dipped in every statistical category since Missouri entered conference play, but perhaps the most damaging aspect of his performance during the team's current three game losing streak has been his lack of ball security. After turning the ball over just once during Missouri's first three games of the season, Lock has thrown five interceptions and lost two fumbles during the past three games. He also had another fumble recovered by a teammate. Saturday was the second time in as many weeks Lock has placed the blame on himself for a costly turnover. On a third down against South Carolina, Lock backpedaled, looking to toss a screen pass to running back Tyler Badie, but Badie slipped and fell to the ground. Rather than throw the ball out of bounds, Lock tried to pass to Badie anyway, and the ball landed squarely in the hands of a defender and was returned for an easy touchdown.
A number of factors have contributed to Lock's recent string of turnovers: Lock is still getting comfortable in a more complex offensive system, his favorite target has been hurt the past three games, he's faced three talented defenses in a row and his protection hasn't always held up. But his comments after the losses to South Carolina and Alabama point to the root of the issue: He needs to make smarter decisions with the football in his hands.
"Across the board, he's making three decisions a game in the last couple weeks that he needs to have back, and he just needs to turn the corner there," said Justin Hoover, the owner of Spin It quarterback academy who has served as Lock's private coach since his sophomore year in high school.
Lock has faced difficult decisions more frequently during the three-game losing streak because opponents have been more successful in pressuring him. According to Pro Football Focus, Lock was pressured on just 17 of 121 dropbacks — about 14 percent — during the first three games of the season. Since conference play began, however, Lock has been hurried on 41 of 118 dropbacks — close to 35 percent.
Like most quarterbacks, Lock has been less effective and more turnover-prone in the face of pressure. On the season, when he hasn't been hurried, he's completed 62.6 percent of his passes, thrown 12 touchdowns and committed four turnovers. Facing pressure, he's completed 44.3 percent of passes, thrown no touchdowns but still turned the ball over four times — in 120 fewer dropbacks. Those numbers have been even more pronounced the past two games. During that span, Lock has completed 26 of 47 passes for 299 yards, a touchdown and two interceptions when the pocket is kept clean. When he's been hurried, he's completed four of 17 passes for 47 yards. He's also thrown two interceptions and lost a fumble.
Following the Alabama game, left guard Kevin Pendleton, who got beat by Buggs on Lock's fumble, said the offensive line deserves some of the blame for Lock's recent struggles.
"When he struggles, it's because of us," Pendleton said. "I gave up a sack, a strip fumble, but the people in the crowd are going to say, 'Oh, he lost the ball, he folded under pressure.' It's bull."
Lock has also gotten little help from Missouri's receiving corps. After J'Mon Moore, the Tigers' top target each of the past two seasons, graduated, it looked like senior Emanuel Hall would be able to fill Moore's shoes as a versatile receiving threat who could stretch the field vertically. But Hall has been limited by a groin injury; he hasn't caught a pass since week three, and he's missed the past two games. Fellow senior Nate Brown has also missed the past two games with a groin injury. Junior Richaud Floyd hasn't yet recovered from a broken leg suffered during preseason camp. That has forced two true freshmen, Jalen Knox and Kam Scott, into the starting lineup.
Hoover said he's not only noticed opposing teams defending Missouri differently with Hall out of the lineup — the lack of a proven vertical threat allows opponents to play safeties more shallow, where they can better disrupt short routes — he's seen Lock struggle to develop chemistry with the newcomers.
"Sometimes when some of your weapons aren't in there, you start to think about having to be more perfect than you really do, so you start aiming and then you start missing," Hoover said. "Or you're holding on to it a little bit longer because you're not anticipating as well as if it's guys you're super comfortable with."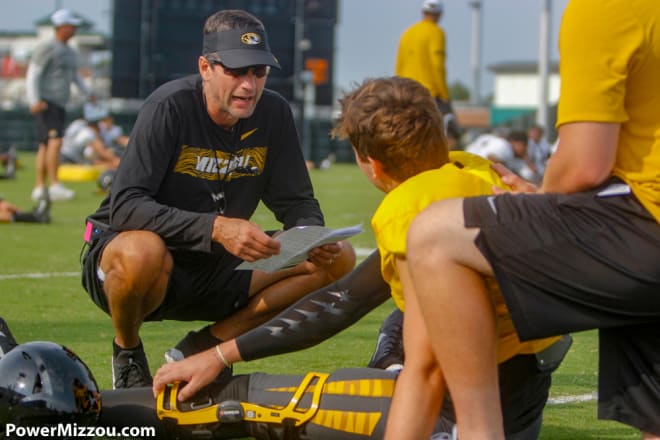 At least publicly, Lock has never attributed his struggles to Missouri's offensive line or receiving corps. But he has acknowledged that adjusting to the new scheme incorporated by offensive coordinator Derek Dooley has presented a challenge, particularly when he's facing pressure. A year ago, under Josh Heupel, the offense was simple: virtually every play contained the option to run or pass, and Lock would determine which to call based on the alignment of one or two defensive players. When he threw, the unit often used seven players to protect Lock, leaving just three players to run routes. Lock would look at one, sometimes two of those receivers to see if they were open, and if they weren't, he'd simply heave the ball downfield to a receiver running deep.
"Last year I could just chuck it as far as I could and it was either out of bounds or no one caught it," Lock explained. "That was the checkdown."
Under Dooley, Lock said he not only has more complex decisions to make, he often has fewer people protecting him, giving him less time to determine which players will be open and make a throw. Instead of max protection (seven blockers, usually including a tight end and a running back), Missouri is often using just five or six players to block this year. Lock has been nothing but complimentary of the schematic changes, calling this year's system "real football," but he said after last season, he's struggled to adjust his "mental clock," thinking he'll have more time to throw than he actually does.
"It's kind of like having answers around the field instead of kind of hoping someone beats them on a deep route," Lock said of the difference between the two schemes. "We have for sure things that are happening...We know where our checkdowns are, where our easy answers are if all you-know-what breaks loose on a play."
In the face of pressure, Lock's instinct is to hold onto the ball as long as possible and try to make as big a play as possible for his team. He said he hates feeling like the defense "can say that they got us." Even after Saturday's loss, Lock said he'd rather try too hard to make a play than throw the ball away at the first sign of covered receivers. But he acknowledged that mindset has led to multiple turnovers in recent weeks.
Dooley said that's not unusual for a developing quarterback. He said quarterbacks have to "figure out how to play winning football that fits your style." For quarterbacks with more conservative instincts, that entails finding the right time to extend plays or take shots downfield. For Lock, it means knowing when not to do those things, and throw the ball out of bounds instead.
"You always gotta anticipate that things might break down, and you always gotta have an answer," Dooley said. "And you gotta always know what your answers are. It might be the back, it might be throw it away. But the worst thing you can do is kind of lock up a little bit."
Dooley, Hoover and Lock all expressed confidence that Lock has learned from his mistakes the past three weeks, and his ball security will improve as a result. As Hoover pointed out, it's difficult to replicate in practice scenarios in which a running back slips on a flooded field, or a third down against the most talented team in the country beneath the deafening screams of 101,821 fans. He believes Lock will throw the ball away more readily when pressured in the future, and that Lock will come to view the changes in offensive scheme as a "blessing in disguise" once he reaches the NFL.
Lock, characteristically, hasn't said a negative word about Dooley's scheme, the offensive line or his unproven options at wide receiver. While all of those factors, weather, talented opponents and more may have played a role in his recent struggles, Lock believes his most costly mistakes could have been avoided had he simply fought his natural impulse to will a play into existence and instead tossed the ball out of bounds.
"It's a little easier watching it than doing it sometimes, especially how ignorant I can be, just wanting to make a play," Lock said Saturday. "But no, I'm going to keep learning and I'm going to make sure that doesn't happen again."