Developing: Cross out at Mizzou
After a year and two games, Missouri has fired defensive coordinator DeMontie Cross. The move was announced in a release from the program just minutes ago.
"I am very appreciative of all that DeMontie has done for Mizzou, and am sorry that this did not work out," head coach Barry Odom said in a statement. "However, after careful evaluation, I believe it is important to make this change now."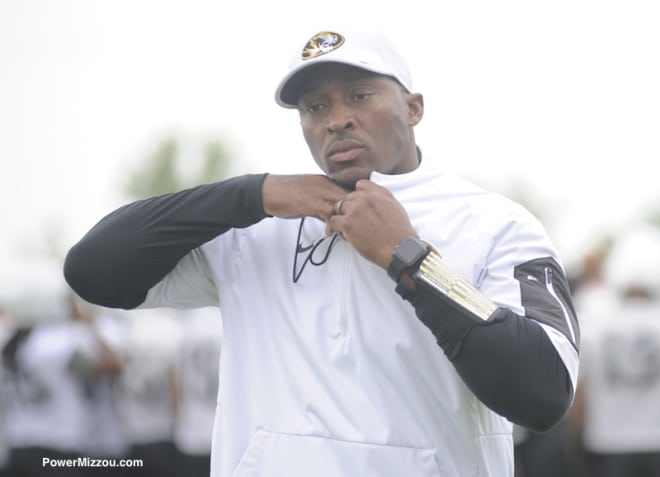 PowerMizzou.com has been told the move was not related to on field performance of the Tiger defense.
Cross is a graduate of Mizzou and was the school's all-time leading tackler for more than a decade after his career ended. He returned before last season, hired by Odom to be the defensive coordinator.
Missouri's defense took a nose dive in 2016. The 2015 Tigers allowed opponents just 16.2 points and 302 yards per game when Odom was the defensive coordinator. Last year, those numbers ballooned to 31.5 points and 479.7 yards.
Midway through last year, Odom took on an increased role with the defense. Just how much that role increased was never explicitly laid out, but Odom was largely in charge of the defense.
In the season opener against Missouri State, the Tigers gave up 43 points and 492 yards to an offense that ranked last in the Missouri Valley Conference a season ago. The unit improved in week two, giving up 359 total yards in a 31-13 loss to South Carolina.
"The outcome wasn't where we wanted it to be, but we still fought and we had a way, way better week than we had last week," defensive tackle Terry Beckner Jr. said after the game.
Ryan Walters is the co-defensive coordinator, at least in title, this season. There is no word at this time whether Walters will take over the role or Odom will serve as the defensive coordinator. Cross also coached inside linebackers. It is likely Brian Odom, who coaches outside linebackers, will take over that position until Missouri replaces Cross. Director of Recruiting A.J. Ofodile could also be promoted at least temporarily to a full-time assistant's role, which would allow him to be on the road recruit. That is the move Mizzou made when Chris Wilson and then Greg Brown left the staff until permanent replacements were found.
Outside of letting Cross go, though, there has been no word of any moves.
The school said Cross will be paid "based upon the terms of his contract." The contract states if Cross were to be fired without cause prior to the end of the deal, he would be due the remainder of the base salary up to a maximum of one year. He was earning $600,000 and was under contract through 2018. Cross is required to make reasonable efforts to seek other employment in order to receive that $600,000.
PowerMizzou.com will have more on this story as we learn more.