Everything Eli Drinkwitz said on Tuesday
Eli Drinkwitz met with the media for his weekly session on Tuesday following the Tigers' 62-24 loss to Tennessee and looking ahead to North Texas. Below is a full transcription of the press conference. We'll post video later this afternoon when it is available.
Opening Statement
"When I took this job, I knew it was going to be a process to build. I felt like it really started with trying to infuse some energy into the fanbase, I knew we needed to recruit at a high level and we needed to raise the level of energy and expectation going forward. I feel like that process had begun and was moving in the right direction. Obviously Saturday was not what we expected and was a step back for us. I am disappointed with how Saturday was played, performed, but I'm not discouraged. Anytime you're building something, there's always going to be processes. It's not a linear growth pattern. There's always ebbs and flows. We've got to work together to figure out what it is that needs to be fixed and why that occurred and how do we fix it? It starts with me and what I can control.
"After reviewing the tape, the first five games, it was clear to me that there was a disconnect at the line of scrimmage and I believed that change was needed. Jethro (Franklin) is a good coach, he is a man of character, but for whatever reason it didn't work out and wasn't the right fit. The timing is not good, but I believe it was necessary and needed to occur and so I made the decision. It was my decision, my decision alone and I made that decision to move forward in a different direction in the defensive line. Excited about Al Davis and the new voice stepping forward, a former SEC player and a team captain, a guy who I think knows defensive line play, can really get these guys going in the right direction for the remaining contests we have. With that being said, I'll open it up for questions."
When you say disconnect, do you mean the message getting from the coach to the players? Can you explain that word?
"It just wasn't, we weren't connected. When I watched the tape, what we're saying we're supposed to do and what we're doing isn't working. So whatever it is, it wasn't working so there was a disconnect between what we felt like should be happening and what was happening."
What can a new voice bring to a room midseason?
"Recharge us, re-energize us. Maybe a new focus. Try to rally and get everybody on the same page. I felt like this was something that I could do as the head football coach to try to create change."
What led you to Al Davis?
"Really once I made the decision to make the change and I had to figure out what was the best options available, Al was here and I've known Al from previous stops and reputations and so that was the decision."
What was the timeline of how this all happened?
"I don't really want to get into it. Sunday morning I made the decision."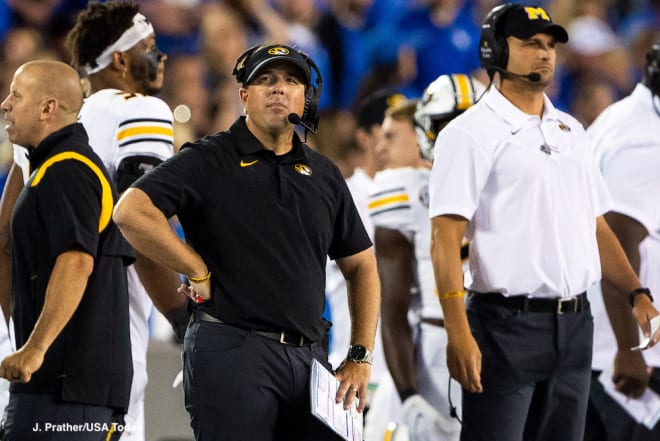 What's been the response from the defensive line?
"Well, I mean obviously disappointment, but understanding that that was the decision that I made."
You said after the game you didn't believe effort was an issue. After watching the tape, do you have any different opinion?
"Yeah, I mean I think there was a couple plays that effort was an issue. And so that's gonna be addressed and that will be addressed today. I think the cautious, not cautious, but the thing that's prudent to me is it wasn't just a defensive issue. We didn't play well enough on offense, we had too many penalties, we didn't block well on the perimeter, we self-inflicted wounds, turned the football over, things that were uncharacteristic. All of that stuff is stuff that needs to be fixed."
Coaches talk about confidence and the ability to play fast in a scheme. Do you feel like that's missing on defense and how do you rebuild that?
"It starts today. It starts today. It starts today in meetings. We need to have a good meeting, we need to go out there and practice, we need to compete, players got to feel like I've always believed that your confidence comes from your preparation. If you feel like you prepared the right way then you play fast on Saturday. Look, I can't speak, all I'm trying to focus on right now is what's right in front of us and we need to have a good Tuesday practice."
Do you use your knowledge on offense to try to help the defense?
"Absolutely try to but it's also, yeah, I absolutely try to."
What traits about Al Davis made you think he's the right guy?
"Al is a strong, charismatic leader. He has great work ethic, instant credibility from his time playing in the SEC, performing at a high level in the SEC. He's coached at a high level and I think he'll do well."
Are you a coach who drills the film more after a game like Saturday or one who throws it away and never looks at it again?
"Some of both. There were critical mistakes that have to be corrected. You can't bury your head in the sand and say they didn't happen, but there's also things that you just got to move on from. You can't dwell on it. I've told the team and the staff Tennessee doesn't have to define us or this season, but if we let it, it will. How you respond to Saturday is going to determine what kind of person you want to be defined as. This fight just started for me."
Is this a chance for guys on defense who haven't played a whole lot?
"Yeah. There's no depth chart. There's no depth chart. There's Tuesday's practice. After Tuesday and Wednesday we'll have a better feel for who is going to play. But there's no depth chart."
Is that different than any other week?
"I mean, yeah. Normally you go out there and the starters know who they are, the twos know who they are, you kind of go through practice."
Is that something you communicate to the team, like, hey, this is more fluid than it usually is?
"Well, we got a team meeting today to at 2, or 1:30. So that's when that message will be sent. But yeah, that's been communicated to them. It's not business as usual. It's not businesses as the previous five weeks as far as, you know, it's kind of like fall camp again. Whoever plays and practices the best is going to be who plays Saturday."
Do you view this as a chance to kind of reset after the first five weeks of the season?
"I think each week is an opportunity for you to reset. That's why we say, we talk about being 1-0. That's what each week is for. It's just a different way to approach it this week. But, yeah, each week is a different week to reset."
You mentioned the penalties. That hadn't been much of an issue, but the last couple of weeks it's kind of bitten you. Looking at those, any common thread?
"Yeah, hands outside on the perimeter, being late, in perimeter blocking, being late with our hands, which causes, when you're late and they get their hands inside, your hands go outside. Once they make a move, you'd have arms extended, which is going to be a holding call. Offensive line, there was three holding penalties, all three of them were correct calls. We have hands outside the framework of the body. So, those are things that we control. We've got to get it fixed."
Coach Wilks is a proven coach, he was a head coach in the NFL. Just what has been the issue, would you say? Is there a disconnect between what he's teaching the players, or what's kind of going on in your view?
"We're working really hard to solve that right now."
Missed tackles were fairly prominent on Saturday. Is that more of an issue of fundamentals, just guys missing tackles, or being out of position or a combination of both?
"Combination of both. Combination of bad angles, combination of not having the right techniques and skills, and something that, you know, again, we've got to continue to work and drill and double down on. We gotta double down on it."
Being a leader includes some mundane things in every job. How much responsibility and accountability comes this week with being that leader and steering this thing back where you need to go?
"Yeah, I mean, I love what I do. I mean, wins or losses, this is still an unbelievable privilege to be the head coach at the University of Missouri, and this is part of what I signed up for. And like I said, I'm not discouraged. I was disappointed. I knew there was going to be days like this. I knew they were going to be — obviously I didn't think it'd be like that, but I knew there was going to be tough times. Can't flinch. We got beat. Like I said, doesn't have to define us, and this fight just started."How much does the messaging have to come from players on the team, and on either side of the ball, have you seen anybody in particular kind of step forward the past three or four days?"Yeah, I think our team is trying, but right now, it's a lot of talk. We gotta quit talking. It's me, everybody. We gotta fix it."
It looked like Connor (Bazelak) was under a little bit more pressure in this game. Was that more missed assignments or just got beat one on one?
"We didn't do a good enough job protecting him."
Were you a little surprised by that? Because that had been a strength.
"Yep. I think we were all a little bit surprised by that."
How do you balance making sure confidence for the players on the defensive side of the ball doesn't get too low with making adjustments?
"Yeah, your confidence comes, like I said, it comes from your preparation. So it's all going to come down to how they prepare. And these guys are good football players, otherwise they wouldn't be in the SEC. They've got the talent, skill sets. We just gotta prepare at a high level and they they gotta go play with that confidence. That's on all of us, trying to figure it out together."
When you're talking about resetting, no depth chart, you're at the point in the season when a lot of these guys are at three, four games. Does maintaining redshirts factor into any part of thinking at this point?
"No. We're trying to be 1-0 this week, and whatever it takes to be 1-0 and whoever it takes to be 1-0 is what we're going to do."
What challenges do you see from North Texas this weekend?
"Yeah, they've got an aggressive, multiple front defense. Phil Bennett has been a defensive coordinator and a head coach, and he does a really good job of mixing in pressure with zone, and he's got both odd and even fronts, drop eight, zeroes. So it's always a difficult challenge to have an answer for all of it. Offensively, they run a similar style to Tennessee. Not as much tempo, but after what happened last week, I wouldn't be surprised if they didn't pick it up. RPOs, run pass options. And so it's a challenge. Every week is a challenge, but for us the biggest challenges is not going to be North Texas, it's going to be us, and making sure that we have the right frame of mind and play at a high level."
How much extra pressure is there after the events of last weekend?
"I think as a competitor, the amount of pressure you feel is what you put on yourself. There's not any extra pressure. I don't feel any extra pressure because of the previous game or the next game, I feel pressure because of the opportunity that I have to represent the great state of Missouri, the trust of the fans and the players, coaches, families have put on me to be their leader. That doesn't really have anything to do with the previous game, that's just what I own because of what I am."
Does anything about where you dedicate your time personally this week change as far as defensive meetings, during practice, or not?
"I mean, I got my hands full fixing the offense from Saturday. So I got to make sure that the offense is right. I'll still do normal head coaching things that I do as far as having team meetings and go to be where I'm at on the football field at certain times of practice, but I'm not going to change what we were doing. If I get distracted by that, we've got other issues."
It's almost a three touchdown spread this weekend, but looking at North Texas' strengths as a team, it seems to be on the offensive line and the running back, No. 3, Torrey. How much does that help you in figuring out how quickly things need to be reassessed on defense and overall?
"I don't ever worry about the spread. I'll worry about what I see on tape, and it's gonna be a difficult matchup. So it's gonna be exactly what our weaknesses are versus their strengths. That's what good coaches do. So we'll find out early."