Holmes eager to move past injury that cost him last season
Christian Holmes doesn't want to talk about the injury.
Every time he fielded questions from reporters during fall camp, Holmes was asked about the torn labrum he suffered prior to last season, which forced him to sit out all year. Every time, his answer was a different version of the same sentiment.
"I'm past that."
"It's in the past."
"I really don't think about it any more."
Holmes' teammates and coaches say the effect of the injury wasn't entirely negative. But in order for Holmes to return to the level of play he showed before the injury, he had to put it out of his mind. Saturday, when Missouri opens its 2018 season against Tennessee-Martin and Holmes takes the field for the first time in more than 18 months, he hopes everyone else will finally stop talking about it, too.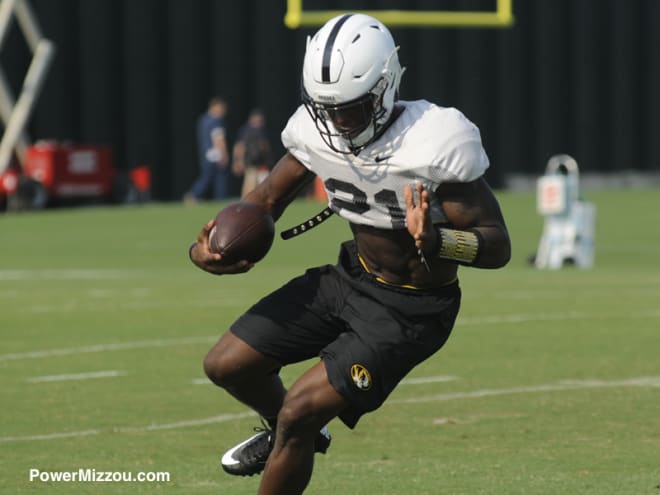 Head coach Barry Odom has been open about the fact that Holmes, who played mainly on special teams as a true freshman in 2016, was in line for regular action at cornerback entering last season. Sophomore Adam Sparks said Holmes' physical coverage style and ability to put coaching points into practice had him in competition to start by the midway point of fall camp. But during the team's second scrimmage of camp, Holmes tore the labrum in his right shoulder, and the injury required surgery.
Shelton Carleton, Holmes' former coach at McNair (Ga.) high school, said the fact that he was in line to play made the injury more difficult for Holmes to stomach.
"He was kind of in a dark place, kind of feeling very depressed, wondering 'why' to me," Carleton said.
Carleton said he encouraged Holmes to pour his frustrations into his rehab work, and at first, that seemed to help. At the time of the injury, Holmes clung to the hope that he might be able to recover in time to play the last few games of the regular season. Ultimately, he did recover in time to play, but the coaching staff decided playing him in two or three games wasn't worth losing a year of eligibility. Instead, the staff decided to redshirt him.
Holmes understood the coaches' reasoning, and he trusted the staff to do what was best for him. Still, he admitted he was a little bitter when he learned that the NCAA passed a rule this offseason allowing players to appear in up to four games and still redshirt.
"I was like, dang, I wish they had that last year," Holmes said. "It's cool now that they got it for some other guys, but yeah, I wish they had it for me."
That's not to say Holmes exhibited a negative attitude while he couldn't play. In fact, Sparks said Holmes was almost always positive around the other defensive backs. While he couldn't take the field, Holmes said he made it a point to expand his knowledge of offensive schemes.
Sparks believes the injury served as a reality check for Holmes and actually made him better appreciate the opportunity in front of him prior to getting hurt. He said Holmes became more driven during the season he sat out. Carleton agreed.
"It just reinvented his work ethic," Carleton said of Holmes' injury. "It was good (prior to the injury), but now he just took it to a whole other level. ... The injury just brings more drive to him, just brings more drive and dedication and commitment."
Despite the extra work he put in during last season, however, Holmes at times struggled when he finally donned pads again during spring practices. Odom and defensive coordinator Ryan Walters both said Holmes didn't trust his surgically repaired shoulder. That was evident as he didn't play with the same physicality he had displayed prior to being injured. Odom said that's natural for any player coming off a serious injury. He had to make a similar adjustment when he tore his ACL in college.
"Trusting in himself, believing that he is healed and he's going to go up and make a tackle and his shoulder's going to be fine," Odom said, "that's a big part of it.
Holmes didn't slip down the depth chart during the spring, but he didn't claim a starting spot, either. It was after the spring game that he decided to change his approach. Holmes made a conscious effort to put the injury out of his mind. Instead of focusing on the lost season, he would focus on the upcoming one. His refrain during media availability sessions matched that mindset.
The mental switch corresponded with improved play. Odom said Holmes is back to playing more physically, and "the game has slowed down for him" — partially as a result of the schematic knowledge he gained while injured. Holmes still isn't in line to start, but as the team's third cornerback, he'll see plenty of action in nickel and dime packages.
Carleton said Holmes was "the man" in high school. He never left the field, starting on offense, defense and special teams. But after spending an entire season on the sidelines, the role of third cornerback is fine with Holmes. That's the positive that came out of the injury: a sense of perspective. The downside was a dip in self-confidence that corresponded with a lack of trust in his surgically repaired shoulder. But, Holmes said he isn't nervous for Saturday's game. In his mind, the struggles of spring practice are as far behind him as the injury itself.
"I'm way past where I was before I got hurt," Holmes said. "I'm better than what I was before I got hurt. Confidence is up there. So it's just letting everything play out."