It's time for the Tigers to start looking ahead
Cuonzo Martin thought it was obvious after Missouri's last game. Following an 89-85 overtime win against Mississippi State on Saturday Martin said there was "no doubt" he was the coach of an NCAA Tournament team.
"I never debated whether or not we were an NCAA Tournament team," Martin said. "If you say there are 64 teams, are we one of the 64? Without question.
"That's not a debate. We are one of those teams."
A 62-58 win over Texas A&M on Tuesday may have convinced the rest of the world.
The win over the Aggies was Missouri's sixth Quadrant 1 win of the year, according to the Selection Committee's new formula. Home wins over top 30 RPI teams, neutral court wins over top 50 teams and road wins over top 75 teams fall in this category. Missouri's six Quadrant 1 wins rank sixth in the country, behind only Virginia, Xavier, Villanova, Kansas and North Carolina. The Tigers have played 12 Quadrant 1 games, more than any team in America except Kansas.
Mizzou is also 4-1 in Quadrant 2 games and has just one "bad loss," the Braggin' Rights setback against Illinois.
In addition, the Tigers are now 8-5 in the SEC, the country's third best conference according to the RPI. They will enter the weekend's games as one of the top four teams in the league and in position to get a double bye in the league tournament.
"You look at our resume, I think we're past that unless some major collapse happens," Martin said, before rapping his right fist on the table behind which he sat. "You look at the resume. I think that part speaks for itself."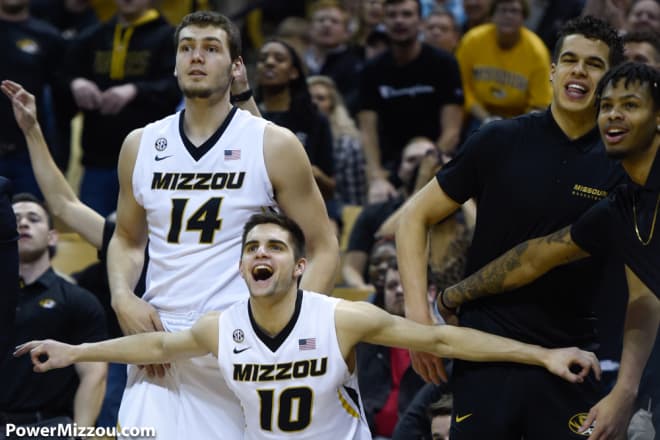 So, yes, let's take a moment to acknowledge that Missouri has won as many SEC games this season as it did in the last three. To discuss Martin as a conference (or national) coach of the year candidate for adding talented newcomers and blending them with five players that were part of last year's 8-24 debacle under Kim Anderson. To say that no team has had a bigger turnaround from last year than Missouri.
And, now, let's bury it. Because how much better this team is than last year is no longer the story.
This is (like Martin said, barring a collapse, because the word "lock" can be a little misleading with two-and-a-half weeks left in the regular season) an NCAA Tournament team. The question now becomes not "How much better are they than last year?" but "How good can they be?" What is this team's ceiling?
If it gets the Jeremiah Tilmon it got on Tuesday night (14 points, three rebounds, two blocks, just three fouls against one of the best frontcourts in the country) and the Kassius Robertson (SEC player of the week two weeks in a row) it now seems to get every night along with the Jontay Porter and the Jordan Barnett we've seen at times this season, it's high. Very, very high.
If it gets the return of Michael Porter Jr., a consensus pre-season all-American before being sidelined with back surgery, feeling better than he has in three years without nearly 30 games of wear and tear on his body? Well, to quote Michael Jordan, "the ceiling is the roof."
Missouri has five regular season games left. It will be favored in at least three. The Tigers can further bolster that resume. Prior to Tuesday, most analysts had Missouri between a seven and a nine seed. The win over the Aggies will help that. Three or four more wins in the regular season? The return of Porter? A run in the SEC Tournament in St. Louis?
"In terms of the SEC race and trying to get a good seed for the tournament, it's everything," Robertson said of the Tigers' five-game winning streak. "We're beating tough teams. We had a pretty rough stretch with Kentucky and Alabama and Texas A&M, really good teams. We weathered the storm for sure."
They didn't just weather it. They thrived in it.
For 11 months, the story has been the miraculous ongoing turnaround of the Missouri basketball program. No more. The turnaround is complete. How far down the road are they gonna go?