Lock will have to wait another day
NASHVILLE--Drew Lock and his family met with a group of local reporters on Thursday afternoon at Nashville's JW Marriott Hotel. Everyone there believed it was a matter of hours before NFL Commissioner Roger Goodell called Lock's name as a first round pick in the 2019 draft.
The reporters had come to see that. The questions were all based on that. The answers were all based on that. There were nerves, sure. But there wasn't any belief that 32 names would be called and not one of them would be that of the Mizzou quarterback. Not really. Not from anyone.
"Definitely a little anxious, I'm nervous," Lock said around 1:15 Thursday afternoon. "You're told as a football player, control what you can control, I literally can't control anything. Trying to adapt that mindset, but it's pretty hard in this situation."
But at 10:55 local time, after some six hours on Broadway, the first round ended. And Drew Lock still didn't know what his future held.
The most prophetic quote of the day, as it turned out, came from Drew's mother, Laura Lock. She had spent the last two weeks arranging for 60 to 70 friends, family members, former teammates and coaches to descend on Nashville for a celebration of the greatest night of her son's football life. Laura began calling it "The Draft Wedding" because the invite list was so extensive.
"We just don't want to be left at the altar," Laura said. "Please, please."
There is no shame in being a second round draft pick, which Lock almost certainly will be on Friday night. But that's not what they expected. That's not why they came to Nashville. When he had arrived late on Wednesday night, Mizzou head coach Barry Odom sent Lock a text. He asked his quarterback if he wanted to meet the coach. Lock declined, choosing to stay in his hotel room and play Yahtzee with Mizzou teammate Jack Lowary.
"It would be a bummer to go out and even like trip walking up some stairs," Lock said. "I have one more day to get through."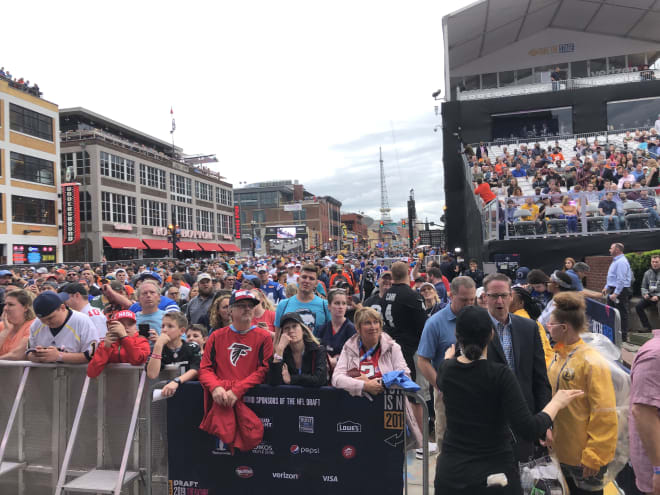 It turns out, though, he's now got another one. Kyler Murray went first overall to Arizona. The New York Giants drew audible gasps in the media tent when they selected Duke's Daniel Jones at No. 6. Dwayne Haskins went nine picks later to the Washington Redskins. Lock was thought by nearly everyone to be the quarterback that would round out a first round quartet on Thursday.
But Denver traded back and then took a tight end. Oakland had three first round picks and opted for a defensive lineman (Clelin Ferrell), a running back (Josh Jacobs) and a safety (Jonathan Abram). There were some thoughts that Miami or the Los Angeles Chargers or the New England Patriots would take Lock to groom him to take over for the starter in the next few years. It did not happen.
"This day is only 24 hours, but going to a good fit can be multiple years," Lock said earlier in the day. "If I have to sit a little longer to get to a good fit, so be it. I don't know what a good fit is. The first pick could be a good fit. In the end, I think things will work out."
He did not expect "a little longer" to be overnight. But Lock will now set his sights on proving everyone wrong. Plenty of NFL quarterbacks have had good careers being drafted somewhere outside of round one. His goal is now to be the next one. It's an approach that Odom thought might have had Lock going pro a year ago.
"The information that he got back, Drew's such a competitor, most of it was stay in school, but a couple organizations had said no, you're gonna be a second round guy," Odom said. "He's like 'Coach, I'm going to go in and light it up.' They come in and meet me, you know, the bring it on mentality. Even though he made the right decision there was always moments that I thought I don't really know because number one, wherever, he's going to go make it because that's the type of person he is, but number two, there was enough information out there that as a competitor, screw this, I'm gonna go, that team, we're gonna go prove that they're right."
And now he'll be going to do just that. Lock's path has hardly been a straight one. There have been bumps and detours all along the way over the last four years.
"He was a boy when he came to Mizzou and now he's certainly a man," his father, Andy Lock, said. "He was the face of a program in Columbia that had some adversity for a while. He dealt with it and did a good job with it."
What's a little more?