Cuonzo Martin's oldest friend is his newest assistant coach
Vintage Huskey is an environmental exploration clothing brand that uses symbolism to subtly represent us and our interactions with our environment. The company is run by two Columbia natives and Mizzou students. Visit their site and shop online today. New this week, pre-order Vintage Huskey's newest shirt by clicking the logo above.
Hang around Cuonzo Martin long enough and you're going to hear a couple of words. The first is "toughness." The stories have been told and retold. Martin grew up in the Norman Owens apartments in East St. Louis, known in the area as "The Hole." He got out, became a standout basketball player at Purdue, played professionally for a while, beat cancer and is now entering his 12th season as a Division One basketball coach. Martin embodies toughness. If you're going to play for him, if you're going to be a part of his program, you're going to be tough.
"It's not an option," assistant coach Marco Harris said. "You ask anyone that's from our area, that's going to be the first thing that they say."
The second word may not be quite as common as the first. But there's no lack of it in the way Martin builds a program, or even the way he attacks every day.
"One of the things in our profession that you might hear floating around or take for granted is loyalty," Missouri's third-year head coach said.
The combination of the two words explain why Harris, entering his ninth season as part of a program headed up by Martin, is a full-time assistant for the first time in his career.
Cuonzo Martin's story is Marco Harris' story. One cannot be told without the other.
"I really don't remember when we met," Harris said. "The Hole, that was where we met. But I don't know what year. I don't know when. We were five or six years old."
Harris and Martin became fast friends. They ran around the neighborhood together. They played basketball together. They were "basically inseparable." In fact, from the time they were about 12 years old through high school, they even stayed in the same house, with Harris' father, Norman Stevens.
"Both our moms were able to take care of us, but it was probably, I guess, more fun," Harris said. "We had a little bit more freedom with my dad; along with one of our other friends, Jason Rogers. All three of us stayed together."
The two split when Harris went to Southern Illinois to play baseball and Martin to Purdue to play hoops.
"Nothing changed," Harris said. "When I had breaks, I'd go to West Lafayette to visit him. He would come home in the summer. Every time I had a break or something, instead of going home from school I'd go to West Lafayette and hang out."
Martin remembers six or seven boys in their friend group in East St. Louis. Others have gone on to be teachers, principals and businessmen. Martin and Harris have found their calling in basketball.
"There are several guys that are brothers. Not biological, but brothers," Martin said. "We have one or two that's no longer with us, the other guys different paths. 'Co and I, the path was more basketball. It wasn't like me and you and nobody else. There's a lot of us. This is the path that we chose."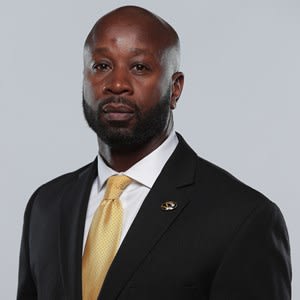 That path kept them close. Not always together, though. Harris would end up transferring to Southwest Oklahoma State University, where he played point guard and graduated in 1994. Martin finished up his eligibility at Purdue and played pro basketball for a few years. He earned his degree at Purdue in 2000 while coaching at West Lafayette High School. Over the next few years he worked his way through the ranks as an assistant while Harris coached high school and AAU ball in Oklahoma. Harris' coaching career peaked at that level with an undefeated state championship season at Booker T. Washington High School in Tulsa in 2011. The same year, Martin was in his first season as a head coach, at Missouri State. Harris wasn't a part of the staff in Springfield.
"I just said it wasn't the time," Martin said. "And it was more for me the timing wasn't right to have him on the staff. I needed to lock in on what I was trying to do, to lock in on my identity."
Three years later, Martin would get the job at Tennessee. It was then that he called his best friend.
"He called me and asked me to check with my wife about how we'd feel about moving to Knoxville," Harris recalled. "I told him we were good before I checked with my wife."
Harris was Martin's Director of Basketball Operations for three years at Tennessee and three more at California. When Martin got the job at Mizzou, Harris followed, taking on the role of Director of Player Development.
"It's a combination of being a construction worker, part of a maintenance crew, a custodial staff, building a program," Martin said when asked to describe Harris' role the last two seasons. "You name it, he's been a part (of it)."
"I couldn't get on the basketball court, so most of the things I did with the guys were character development," Harris said. "Trying to help them be prepared for the real world once they left Mizzou. Giving them nuggets, giving them jewels on things they'll have to face in the real world."
College programs can have four coaches on the road recruiting at once. When Martin and his staff were away, Harris was the point man in Columbia, helping players stick to their off-court responsibilities and handling any problems that might arise when the full-time assistants were out of town. The topic that comes up most often when players talk about Harris is the "Real Talk" sessions, so named by Tennessee players when Harris did the same thing in Knoxville. Harris would bring in a banker to talk about finances, or a clothier to tell players how to dress for job interviews and teach them how to tie a tie.
"Once a week, we met as a group," Harris said. "We talk about everything from date rape to how to treat a woman to alcohol. We talk about everything but basketball."
"He had us talking about what makes you a great teammate and what makes you a leader, stuff like that," junior Jeremiah Tilmon said. "He had us in a room talking with each other to open up as brothers and get more in depth about what's going on in each other's lives."
"We did a lot of community service together," sophomore Javon Pickett said. "We just sit and talk with each other, basically learning each other more, expressing ourselves on thoughts that we have on the topics that we bring up."
Though he couldn't be on the court during practice, the two years as the Director of Player Development gave Harris a chance to get to know every player on the roster, maybe as well or even better than the full-time coaches did. They built up a relationship and a trust with one another.
"Coach Marco's always been a guy that had my back," junior Mark Smith said. "He's always looking out, not afraid to tell me — Coach Marco and I just got a great relationship. When he feels I can do something better, he can come up and tell me, and he knows I'm going to listen to him and try to get better.
"That's why I love him."
So when Martin decided to reshuffle his staff, moving Michael Porter Sr. from the third full-time assistant to Director of Player Development, he didn't do a search. He didn't look outside the building. He promoted his best friend that he's known for more than 40 years.
"You're looking at loyalty," Martin said. "A guy that's qualified for a job. You've got to be a good human being. Character's intact. If you had a child, son or daughter, and you would want their schoolteacher or their coach to be, then he would be that. Good character person. He's coached on both sides, boys and girls. Accountable. He's a truth teller when it comes to young men. Whether you like it or not, it's the truth."
Martin doesn't want you to get it wrong, though. Harris isn't getting his shot as an assistant coach simply because he is the head coach's best friend. If that was the case, he'd have gotten it a decade ago.
"When I got to Tennessee, we brought him in slowly," Martin said. "Though we're family, you still have to earn it. It's not like, okay, I bring you on. No, you've got to earn it. You have to be accountable to do your job. If you're on staff, you're one of the other guys. It's all work."
Harris appreciates the opportunity and doesn't take it for granted. At the same time, he hasn't been counting down the days for the last 11 years.
"I always wanted to coach," Harris said. "You've got to play your part. I didn't put a lot of stress into it. I just did my job and if it's meant to be, it will be. I just came in and did my job and here I am.
"I enjoyed doing what I did as a DOBO at Cal and at Tennessee, I enjoyed being Director of Player Development here, but I like coaching basketball more."
And that's now what he does every day. He was on the road recruiting for most of the summer, something he had done sporadically at Cal and Tennessee to help bridge gaps during staff turnover. He is on the court at practice every day, something he couldn't do as the Director of Player Development.
"He does a great job with us, always making sure that we're doing the right things on and off the court. Especially during practice, whatever he sees, he speaks up on it," Pickett said. "It's been great working with him. He brings a lot of energy to practice every day."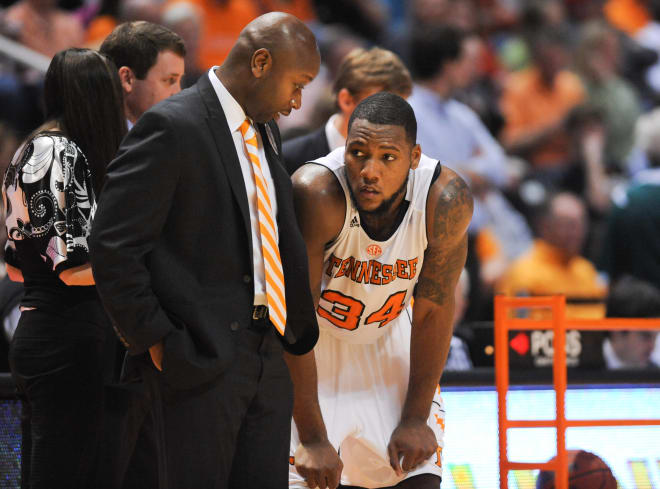 Tonight, Harris will take his spot on the Missouri bench. He's been there the last two seasons, too. College benches tend to have as many guys in suits as in uniforms. He insists it won't be any different. He'll just be sitting a little bit closer to his lifelong friend.
"I take the same approach," he said. "I gave my input from the sideline. I think the excitement and all that is long gone now. It's work time.
"Everybody gives their input. It's up to coach to decide if he wants to use it or not. If I see something I may tell one of the assistant coaches and they'll relay the message to coach. Now, I'll probably just relay it myself."
Stevens, Harris' dad who housed him and Martin growing up, will likely be in the stands when the Tigers tip off against Incarnate Word. His brother probably will be too. That's one of the things that drew Harris — and Martin — to Missouri.
"Being out in California, it was a good place to live. Great place to live," Harris said. "Probably the best place I ever lived with the weather, with all the things to do out in the Bay Area. But I was seeing my parents probably once a year. I'm big on family and that was the furthest I've ever been away from my family. I was excited to get back and be close."
But when the ball is tipped, Harris will do what he's done pretty much every day for the last couple of decades. He'll coach basketball.
"I think we have similar philosophies," Harris said of Martin. "Being on this staff, I have no choice but to be what he wants. This is his program. I definitely bought in a long time ago, but some of his philosophies are similar to mine."
From The Hole to Knoxville to Berkeley to Columbia, Harris and Martin have always been connected, if not always together. Some day, they may split again, if Harris has his way. There are footsteps of his best friend that he hopes to follow to being a head coach himself some day.
"I don't think anyone gets into this just to be an assistant," he said. "I just stay the course. Do what I'm supposed to do as an assistant coach and what's meant to be will be."