Missouri's Pro Football Focus grades from Week One
We are excited to announce that the Rivals network has teamed up with Pro Football Focus, the go-to site for player grades and advanced analytics in both college football and the NFL. We will incorporate PFF data into stories regularly going forward, and one thing you can look forward to each week is a grade for all of Missouri's players from the previous game.
Below is a grade card showing how the top 20 offensive and defensive players fared during the team's 51-14 victory over Tennessee-Martin. But first, an explanation from PFF on how the grading scale works:
On every play, a PFF analyst will grade each player on a scale of -2 to +2 according to what he did on the play.
At one end of the scale you have a catastrophic game-ending interception or pick-six from a quarterback, and at the other a perfect deep bomb into a tight window in a critical game situation, with the middle of that scale being 0-graded, or 'expected' plays that are neither positive nor negative.
Each game is also graded by a second PFF analyst independent of the first, and those grades are compared by a third, Senior Analyst, who rules on any differences between the two. These grades are verified by the Pro Coach Network, a group of former and current NFL coaches with over 700 combined years of NFL coaching experience, to get them as accurate as they can be.
From there, the grades are normalized to better account for game situation; this ranges from where a player lined up to the dropback depth of the quarterback or the length of time he had the ball in his hand and everything in between. They are finally converted to a 0-100 scale and appear in our Player Grades Tool.
Season-level grades aren't simply an average of every game-grade a player compiles over a season, but rather factor in the duration at which a player performed at that level. Achieving a grade of 90.0 in a game once is impressive, doing it (12) times in a row is more impressive.
It is entirely possible that a player will have a season grade higher than any individual single-game grade he achieved, because playing well for an extended period of time is harder to do than for a short period, Similarly, playing badly for a long time is a greater problem than playing badly once, so the grade can also be compounded negatively.
Each week, grades are subject to change while we run through our extensive review process including All-22 tape runs and coaching audit, so you may notice discrepancies among grades published in earlier articles compared with those in the Player Grades tool until grade lock each week.
One further note: We didn't include Micah Wilson in the rankings even though he would have been among the top 20 offensive players because three of the five snaps he played resulted in kneel-downs.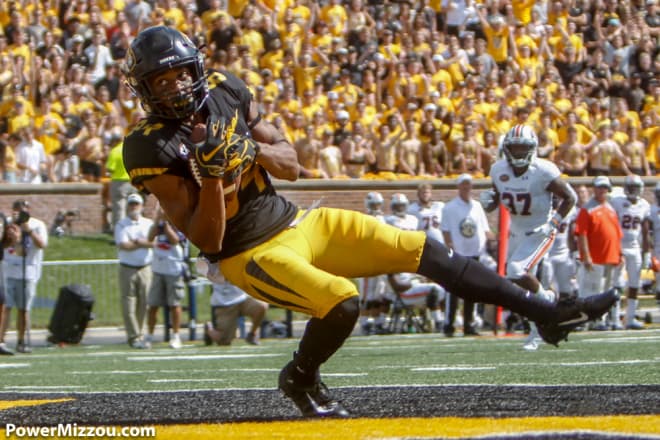 Offense Week One Grades
| Player | Position | Grade |
| --- | --- | --- |
| Emanuel Hall | WR | 85.4 |
| Johnathon Johnson | WR | 77.4 |
| Drew Lock | QB | 77.0 |
| Jalen Knox | WR | 76.5 |
| Kam Scott | WR | 76.0 |
| Taylor Powell | QB | 75.7 |
| Yasir Durant | OT | 74.7 |
| Larry Rountree III | RB | 74.0 |
| Damarea Crockett | RB | 73.9 |
| Case Cook | OG | 69.6 |
| Trystan Colon-Castillo | C | 68.3 |
| Samson Bailey | OG | 68.0 |
| Paul Adams | OT | 67.6 |
| Hyrin White | OT | 64.5 |
| Tre'Vour Wallace-Simms | OG | 64.1 |
| Larry Borom | OT | 63.4 |
| Dominic Gicinto | WR | 60.7 |
| Khmari Thompson | WR | 60.6 |
| Daniel Parker Jr. | TE | 60.1 |
| Xavier Delgado | OG | 59.7 |
Takeaways: It's no surprise that Emanuel Hall wound up Missouri's highest-graded player — by a wide margin — after catching four passes for 171 yards and two touchdowns. But the high grades for the rest of Missouri's receiving corps is a bit of a surprise. Having four wideouts among the top five offensive players and six wideouts on this list bodes well for the group going forward.
Clearly, the folks at PFF were impressed with Taylor Powell. Powell made a few nice plays, most notably a deep completion to Hall along the sideline, but I was surprised to see him graded just 1.3 points below Drew Lock.
The most notable exclusion: tight end Albert Okwuegbunam. Okwuegbunam finished with just two catches for 14 yards, but he was also only targeted three times. Perhaps the graders felt he could have done more to assert himself.
Finally, if you're wondering which offensive player drew the worst grade of the 32 who saw action, that distinction belongs to tight end Logan Christopherson, who received a grade of 29.7.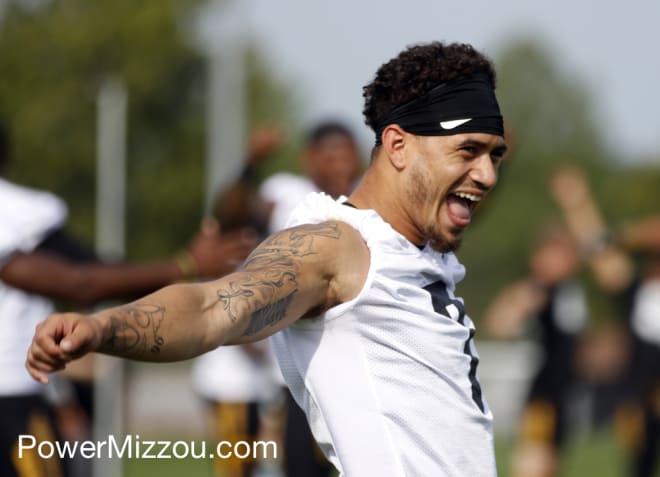 Defense Week One Grades
| Player | Position | Grade |
| --- | --- | --- |
| Cam Hilton | S | 80.2 |
| Jacob Trump | LB | 78.3 |
| Kobie Whiteside | DT | 75.4 |
| Jordan Elliott | DT | 74.2 |
| Joshuah Bledsoe | S | 74.1 |
| Jatorian Hansford | DE | 73.4 |
| Walter Palmore | DT | 72.7 |
| Nate Anderson | DE | 71.2 |
| Terry Beckner Jr. | DT | 70.0 |
| Brandon Lee | LB | 68.7 |
| Tyrell Jacobs | DT | 68.2 |
| DeMarkus Acy | CB | 68.2 |
| Cale Garrett | LB | 68.1 |
| Terez Hall | LB | 67.4 |
| Chris Turner | DE | 66.6 |
| Trajan Jeffcoat | DE | 64.1 |
| Jarvis Ware | CB | 63.9 |
| Jamal Brooks | LB | 63.7 |
| Tyree Gillespie | S | 63.7 |
| Jordan Ulmer | S | 63.2 |
| Tre Williams | DE | 63.2 |
Takeaways: Lots of surprising names near the top of the list. Cam Hilton, often the defensive whipping boy in the past, likely got a boost by recovering a fumble for the Tigers' only turnover, but he clearly impressed the graders all game. Joshuah Bledsoe graded out well, too, which should comfort Missouri fans as he will likely start if Khalil Oliver can't play next week as a result of the sprained ankle he suffered during Week One.
Seeing backup linebacker Jacob Trump second came as a bigger surprise than Hilton being first, although that might be in part because Trump played just six snaps and therefore provided a small sample size.
The list clearly illustrates Missouri's depth on the interior of the defensive line. Five of the top 11 defensive players are defensive tackles. The fact that Kobie Whiteside graded out higher than Jordan Elliott is a bit unexpected.
Freshman linebacker Nick Bolton brought up the rear in the defensive gradebook with a score of 45.0. Clearly the graders determined that the coverage lapse that resulted in UT-Martin's second touchdown was Bolton's fault.

Overall
The Tiger offense finished the game with a cumulative rating of 75.9. That ranked 38th nationally last week. Each facet of the offense was ranked as follows:
Pass Blocking — 87.1
Passing — 79.5
Running — 70.3
Receiving — 69.1
Run Blocking — 62.4
The fact that the Tigers' biggest weakness was run blocking comes as no surprise, as the unit's 3.5 yards per carry average left a bit to be desired. The sub-70 receiving score, on the other hand, is a bit mystifying considering the high grades earned by several individual receivers. It will be interesting to use these numbers as a benchmark moving forward and see how the unit is graded when it keeps its starters in all game.
The defense narrowly outperformed the offense, earning a 78.8 cumulative grade. That tied for 40th-best nationally (with Kansas!). Here is how the unit broke down:
Run Defense — 82.4
Tackling — 81.5
Coverage — 75.7
Pressure — 68.7
While generating pressure was the defense's obvious weakness during the game, the grade shouldn't cause much concern because the Tigers only sent players aside from the defensive linemen into the backfield on two snaps, and one of those came when the UT-Martin quarterback scrambled and Terez Hall recorded a sack. Once again, it will be interesting to see how these numbers evolve when Missouri faces a better opponent and expands beyond its most basic defensive package.