{{ timeAgo('2021-10-13 05:00:00 -0500') }}
football
Edit
Notebook: Mizzou defensive front shows progress, not perfection
Even though Missouri bounced back from consecutive losses by handling North Texas on Saturday, some fans evidently found Eli Drinkwitz's postgame press conference a bit too chipper. Speaking to reporters Tuesday, Drinkwitz let slip that some people took to social media to express their displeasure with the latest performance from the Tiger team, and particularly the defense, which Drinkwitz said after the game "took a big step in the process."
While Drinkwitz agrees that the unit still has a lot it needs to address, he also maintained that the performance represented improvement from the previous week, when Missouri got gashed by Tennessee to the tune of 452 rushing yards, 667 total yards and 62 points. Now, Drinkwitz hopes the defense can continue to build on what it did well when a more formidable foe from the state of Texas travels to Faurot Field this weekend: No. 21 Texas A&M, fresh off an upset of then-No. 1 Alabama.
"Was it perfect? No," Drinkwitz said of his defense. "Believe me, I got plenty of DM's and all that, mentions, that it's not perfect. I get it, okay. I get it. We all want it to be perfect. We'll get there. We'll get there. But what was good was the effort we played with, was the mentality we had. We were ready to go when the ball was kicked. So that's the start, and we gotta build on that."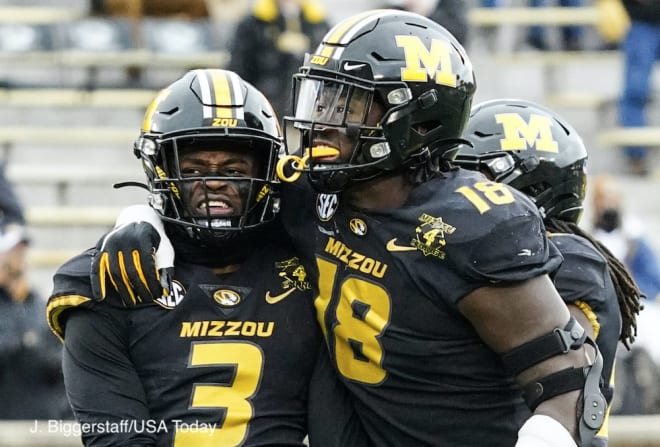 Most of the improvement shown by Missouri's defense against North Texas emanated from the front six, which had experienced the most change in the week leading up to the game. The day after Missouri's loss to Tennessee, Drinkwitz fired defensive line coach Jethro Franklin. Then, after he declined to release a depth chart last week, proclaiming that playing time would be divvied out based on practice performance, both the defensive line and linebackers saw their starting lineups shuffled. True freshman Mekhi Wingo made his first start at defensive tackle, while Chad Bailey replaced Blaze Alldredge as the starting weakside linebacker.
Thanks in part to the contributions of Wingo and Bailey, Missouri slowed down North Texas on the ground and generated a few key negative plays. A Tiger defense that ranks last in the nation against the run and entered Saturday allowing more than 300 yards per game on the ground actually held North Texas below its season average in rushing yards at 186. The defense also recorded three sacks and 10 tackles for loss, as well as contributing to a pair of interceptions, which led to 14 points.
Defensive coordinator Steve Wilks, speaking to the media for the first time in two weeks, said the defensive line did a better job of "creating a new line of scrimmage" against North Texas than it had against previous opponents.
"I thought we did a great job of getting off blocks," he said. "There's times that we may be in our gap. Being in our gap is not enough. We've got to strike and shed and we gotta make tackles. You saw that up front with the guys creating TFLs, tackles for loss, right here and creating negative plays. And that's exactly what we've got to have this week."
Jeffcoat and fellow defensive end Isaiah McGuire said the key to the performance was simply playing with more energy. A week ago, Drinkwitz admitted that his team lacked effort and intensity at times against Tennessee, and the defensive line in particular felt embarrassed by the performance.
"We knew what we put on film was nowhere near our best," McGuire said. "We want to contribute to the team, and we want to represent not only Mizzou but the name on our back, so those things lead into it."
McGuire and his coaches pointed to Jeffcoat and Bailey as two players that helped create that spark. Jeffcoat, a first-team all-SEC selection last season, had been quiet in the four weeks leading up to the North Texas game, only recording 10 tackles across that span, with none coming behind the line of scrimmage. Against the Mean Green, Jeffcoat sacked quarterback Austin Aune, pressured him into throwing a pass that was intercepted by Kris Abrams-Draine, and deflected another pass, which Wingo picked off and returned for a touchdown.
Wilks called Jeffcoat's performance his best of the season. He actually started to see Jeffcoat make an impact days before the game kicked off, singling him out as a player who took on a more vocal leadership role following the loss to Tennessee.
"He just had a different spark about himself," Wilks said. "That one play with (Abrams-Draine), when he got that interception on the sideline, you saw him and Mekhi Wingo, that effort, really forcing the quarterback to throw an ill-advised throw, I thought, was great. And then, again, it really doesn't go down in the books, but he was a major factor on the tipped ball and the interception with Mekhi. So I thought he was very active throughout the game."
Coaches and players alike also credited Bailey, who finished the game with five stops and combined with fellow linebacker Devin Nicholson to record a tackle for loss. McGuire said Bailey brings "swag, energy and personality" to the defense. Drinkwitz said Bailey epitomized the unit's performance: While he made a few mistakes, he demonstrated the physicality and effort the coaching staff had demanded.
"I thought he played well, answered the bell," Drinkwitz said of Bailey. "Again, not perfect. Had a couple of MA's (missed assignments), had a couple of things that got to improve on, but I thought he was more downhill, I thought he was physical, I thought he was trying to take away yardage from the offense. When you play at a linebacker depth at five yards, you cannot be making contact with blocks at five yards. You have to be constantly taking ground from the offense, and he was able to do that. And, again, some of his angles on his fits and some of the angles are going to have to continue to improve and be tighter, but I thought he played well."
Both Drinkwitz and Wilks said several other aspects of the defense still need to improve. Missouri allowed North Texas, which had thrown for less than 200 yards and scored 23 total points across its previous two games combined, to pass for 172 yards and score 21 points in the fourth quarter alone. The Mean Green eclipsed 300 yards through the air on the day. Wilks chalked that up to "a lack of fundamentals and technique."
The Tigers will need to address that quickly, as Texas A&M quarterback Zach Calzada comes to town fresh off throwing for a career-high 285 yards and three touchdowns against Alabama. Wilks said two of the keys to slowing down Calzada will be disrupting receivers with press coverage, throwing off their timing with Calzada, and making Calzada uncomfortable in the pocket.
"We gotta do a great job of trying to disrupt timing with those receivers and throw things off in our press man," Wilks said. "We've got to get our hands up at the line of scrimmage. And most importantly, we gotta get to the quarterback. We gotta beat one-on-ones up front, create a new line of scrimmage and not give them all day to throw the football."
Drinkwitz content with passing explosiveness
It's been oft-repeated by football coaches and commentators that turnovers are the game's "great equalizer" — the single factor that carries the most weight in determining an outcome. Drinkwitz revealed Tuesday that he doesn't necessarily subscribe to that line of thinking.
Drinkwitz identified explosive plays, not turnovers, as the chief determinant of which team wins a game. He defined explosive plays as runs of 12-plus yards and passes of 16 or more.
"The number one indicator in wins and losses, in my opinion, is actually not turnovers," he said. "It's explosive plays. Whoever wins the explosive play battle wins the game, usually."
Missouri's offense has caught some criticism at times this season for its lack of explosion, particularly through the air. That was especially true against North Texas, when quarterback Connor Bazelak completed just one pass that went for 15 or more yards: a 41-yard touchdown to JJ Hester. He only threw seven passes that traveled more than 10 yards downfield. But Drinkwitz said he's content with the offense's downfield passing at the midway point of the season.
"I think we've hit deep balls," he said. "I haven't gone into it and said we're just not an explosive enough offense."
On the season, Missouri has had 32 completions go for 16 or more yards. Saturday marked the first time the offense has had fewer than five such plays in a game. The Tigers are tied for 69th nationally in passing plays of 20-plus yards, but that ranking jumps to 18th in passing plays of 30 or more and 12th in passes of 40 or more.
Drinkwitz said it doesn't matter to him whether the chunk plays come through the air or on the ground. His goal is to have 10 per game. The Tigers were averaging above that number through the first three games of the season but have since lagged a bit. Missouri had 12 plays each that fit Drinkwitz's definition of explosive in wins over Central Michigan and Southeast Missouri. The Tigers logged nine such plays against Kentucky. But in the past three games, Missouri has generated six explosive plays against Boston College, seven against Tennessee and seven against North Texas.
While Drinkwitz would surely like to see those numbers rebound, he also noted that he can't simply call for deep balls on every play. The defense can take that away with its alignment, and he doesn't want to constantly risk going three-and-out and putting a struggling defense back on the field. (Explosive plays have certainly contributed to the Tigers' defensive woes; Missouri ranks 120th out of 130 FBS teams in plays allowed of 10 or more yards, 119th in plays of 20-plus and 114th in plays of 30-plus.)
Ultimately, Drinkwitz said generating more chunk plays will come down not to calling more downfield throws but the offense executing when opportunities present themselves.
"I think we've had opportunities in every game except for maybe Kentucky just based on the style of defense that they played," he explained. "We still took a couple of shots at the top and missed, had one late in the game there. I think we've tried. I think we've got to continue to take what the defense gives us if they allow that opportunity. I don't think it's a scheme issue or necessarily a player issue, I think we've just got to continue to execute. Obviously we hit JJ last week."
No. 2 RB spot still up for grabs
Unlike the defensive front, Missouri's offensive personnel didn't look too different last week, despite the lack of a depth chart. But one player who did see his role expand against North Texas was true freshman BJ Harris. The Chattanooga, Tennessee product operated as the backup to Tyler Badie at tailback. After carrying the ball just six times across Missouri's first five games, Harris turned 14 touches into 39 yards against the Mean Green.
Drinkwitz said he was pleased with what he saw from Harris Saturday, saying he showed some burst and "did a nice job covering up the football." However, he noted that the No. 2 position in the backfield is not necessarily Harris' to lose.
Harris saw an expanded workload in part because walk-on Michael Cox didn't play at all due to a hamstring injury. Cox has carried the ball just six times but scored two touchdowns on the season.
"Mike (Cox) actually tweaked his hamstring," Drinkwitz said. "We were gonna go into the game with a little bit more Michael Cox rotation, but just didn't feel like that was fair to him."
Drinkwitz pointed to pass protection as an area in which the Tiger backfield as a whole and Harris in particular needs to continue to make strides.
"We've got to improve in our protection pickups. That's really, for (Harris), something that he's got to work on to make sure that we protect the quarterback and face up blitzes and know who he has to pick up, but that's why you play the game so you can make mistakes and correct them and learn."