Notebook: Odom sees a blueprint
ATHENS, Ga. — In the midst of Missouri's 53-28 loss to No. 4 Georgia on Saturday, head coach Barry Odom saw a model for what he wants Missouri football to look like. That example was the team he lost to, Georgia.
"That's what I want Mizzou to be," Odom said. "From a gameday atmosphere to a roster to all the above. That's my vision on where we're going. It's going to take time. I absolutely (think) that can be done."
Entering Saturday's game, Georgia was ranked No. 4 in the country. Its defense, which limited Missouri to 312 total yards, was ranked third in the country. Missouri played the Bulldogs close for a half, but Georgia pulled away in the second half, and Missouri's defense gave up 696 total yards.
Odom, who has a defensive background, has previously expressed goals for the program and asserted Missouri will win while he is the head coach, particularly in a speech following Missouri's 51-14 loss to Auburn. Though his team lost for the fifth time in a row on Saturday, Odom insists he has seen improvement.
"We're making some progress in a lot of areas that I was waiting to see," Odom said. "We're far from being where we need to be, but I'm also excited about playing at home for Homecoming and making push for these last six games."
Odom said Missouri's defense has improved on first and second down. On Georgia's first drive, the Tigers forced the Bulldogs into two third downs. However, it then surrendered passes of 28 and 21 yards. The rest of the game was much of the same as Georgia finished 13-of-18 on third down.
"We got to have some heart," linebacker Terez Hall said. "That's the main thing. We got to go out there and believe you can stop somebody. If you don't believe you can stop somebody, that's what you get."
Odom also said that, within Missouri's locker room, the Tigers are "where we need to be as far as guys working together." Offensive lineman Paul Adams agreed, and so did quarterback Drew Lock.
"I think we got a lot of guys stepping up that you wouldn't necessarily think would be stepping up vocally-wise," Lock said. "I think that's big. I think the one thing you can't do is start turning on each other. If you start turning on each other these six games can start going downhill really fast."
Lock declined to say who is being more vocal in Missouri's locker room.
"It's not all rainbows and butterflies in there either," Lock said. "There's a lot of things being said that needed to be said."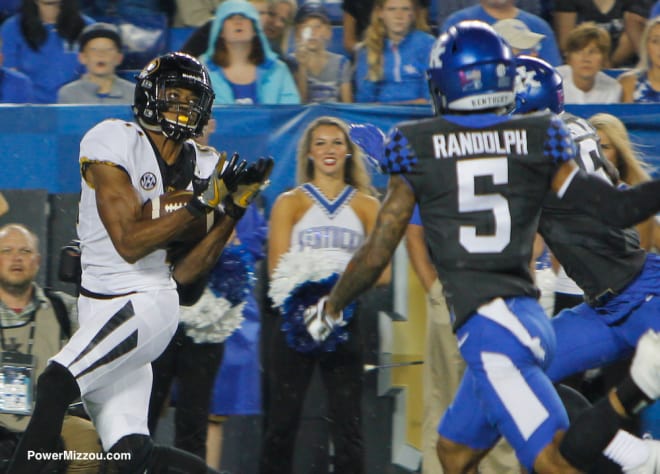 HALL STANDS OUT AGAIN
Building off an impressive first start at Kentucky, wide receiver Emanuel Hall ended Saturday's game with four receptions for 141 yards and two touchdowns.
In the first quarter, with Missouri trailing 14-7, Hall ran uncovered down the right side of the field. Earlier in the game, quarterback Drew Lock had overthrown Hall on a deep pass down the middle of the field. This time, Lock put the ball right on Hall for a 63-yard touchdown. On the ensuing extra point, Missouri tied the game with the No. 4 Bulldogs at 14. It was the longest play on Georgia's defense this season.
"That was a play I was waiting for," Hall said. "We had practiced it real well during the week. I was waiting on it to be called, and he called it and we executed it. Drew threw a great ball."
On Missouri's next drive, Hall scored again. The coverage was tighter this time, but Hall completed the catch and ran for another 63-yard touchdown. Before this game, Georgia's defense had not allowed more than 20 points in a game. With Hall's second touchdown and the extra point, Missouri tied the game at 21.
Over his last two games, Hall has eight catches for 270 yards and three touchdowns.
"I saw the safety wasn't playing me that hard," Hall said of Georgia's coverage early in the game, "so I knew the deep ball would be there."
"I'm happy for him," Odom said. "He's got a unique skill set. He's got good to great linear speed, and he has made some plays, made some tough catches."
After Hall's second touchdown, Georgia's defense played further off of him in an effort to limit a potential deep ball. The adjustment worked, as Hall caught two passes for 15 yards the remainder of the game. After Hall's second touchdown, Missouri didn't score again until the fourth quarter.
"We need to work better at getting that first, first down," Hall said. "I feel like when we get that first, first down we move the ball pretty well and the tempo helps out. I think that was a little bit of the issue."
                                       CROCKETT EXITS WITH INJURY
Damarea Crockett, the Tigers' leading rusher this season, exited the game in the third quarter with a right shoulder injury and did not return. Crockett tried to get up but sat down on the field before medical staff tended to him. After the game, Odom said he did not know the severity of Crockett's injury. Odom said tests, including an x-ray, would be done on Crockett's shoulder.
                                 SECOND EJECTION IN TWO WEEKS
Safety Tavon Ross was ejected in the fourth quarter. On the kickoff following Missouri's final touchdown, Ross collided with Georgia returner Mecole Hardman. The referees reviewed the play for targeting and determined Ross had led with the crown of his helmet on the tackle. Ross will have to sit out the first half of Missouri's game next week against Idaho. It is the second ejection in two weeks after DeMarkus Acy was flagged for targeting against Kentucky. Cam Hilton was also ejected earlier in the season for the same offense.