Notebook: Tigers ready for Razorbacks' best shot
Paul Adams remembers where he was when he got the news.
"I looked at my phone and I was like, 'All right, Derek Dooley, the guy who coached Tennessee," Adams said. "I was in middle school at the time and it was kind of unreal."
Adams is from Tennessee and one of his friends at Mizzou grew up a Vols fan. Adams was at his friend's house when the news broke that Dooley had been hired as Mizzou's offensive coordinator and his buddy offered up some advice: "He said 'Good luck to you.'"

Barry Odom knew his replacement for Josh Heupel wasn't incredibly popular at the time.

"One thing I wanted to do at the beginning of the year was for everybody to just give him a chance," Odom said. "Let's judge it on 12 opportunities being on display."
But last weekend, Dooley returned to Knoxville and led an offense that scored all but seven points in a 50-17 shellacking of the Vols. It was an identical score to last season, marking the first time a team has scored 50 points on Tennessee in consecutive meetings. But the Tigers' offensive coordinator wasn't taking the bait when asked if it was a little sweeter than any other win.

"I was just really happy for our players and I mean that sincerely," Dooley said. "It's what makes you really feel good as a coach. I was proud of them. Certainly you had some emotion going back there. I hadn't been back there since then. Saw some people and everybody was great. But really when the ball kicks off, it's just a game between an opponent and the guys you've been bleeding with and sweating with and crying with for the last ten months."
Missouri's offense is 16th in the country in total yards. It ranks 43rd running the football, 27th throwing it and 21st in points per game. Drew Lock isn't surprised.

"Just in a couple phone calls here and there, my eyes were opened up to a different type of football," Lock said. "By the intelligence that I felt from him, the know-how to run a productive offense that will help the defense as well, the know-how in just two or three phone calls, that made me really excited to come in as a quarterback.

"We definitely gave him a chance and he's proving us right."

"Since January, when I've known him, I've learned the game so much more," Adams said. "He's done an incredible job with this entire offense."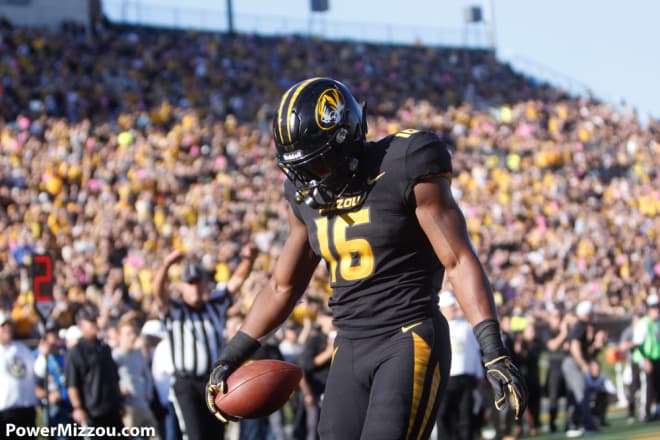 CROCKETT HOPES TO FINALLY FACE ARKANSAS
The Tigers' offensive coordinator isn't the only one involved in a revenge game of sorts this month. Junior running back Damarea Crockett is a Little Rock native who wasn't offered by the Arkansas Razorbacks out of high school.
"I had mail, I talked to them a lot," Crockett said. "I just didn't ever get an offer. It's all good, though. Things work out for the best."
Mizzou and Arkansas play every season, but Crockett has missed the first two games against his home state team. As a freshman, he was serving a one-game suspension a week after running for 225 yards at Tennessee when the Tigers beat the Razorbacks. As a sophomore, Crockett missed the final seven games of the season after shoulder surgery. He's itching to return from an ankle injury suffered in Saturday's win in time for Friday's game.

"I'm trying not to focus on that. I'm trying to give myself like a real input. I'm not trying to focus on the fact that we play Arkansas and the fact that I haven't played them yet. That's bothering me really bad right now, but I'm trying to swallow that pride and go day by day right now."

"I know he's spending a lot of time to have an opportunity to go play," Odom said. "I think he's going to be ready to go do that. I hate it for him being banged up the other day because he was playing so well."

Crockett was wearing a walking boot on Monday, but the team seemed optimistic he will be able to return and keep a streak alive that's important to him.
"The two years I've been here we haven't lost to Arkansas," Crockett said.

                            GROUND GAME HAS BECOME A STRENGTH
Even if Crockett can't go, the Tigers will have a full complement of tailbacks with which to attack the Arkansas defense. With Crockett limited after the injury in Knoxville, Larry Rountree III ran for 135 yards on a season-high 26 carries. That boosted his team-leading total to 893 for the season.
Freshman Tyler Badie chipped in 17 rushing yards and 36 receiving. Fellow freshman Simi Bakare handled the Tiger's final drive, running nine times for 41 yards and the Tigers' final touchdown.
"It's very bad when you know what's coming and, like, you can't stop it," offensive guard Tre'Vour Wallace-Simms said. "That just breaks a person's will and I think that's kind of what happened."
When Dooley arrived, Missouri was known for its flashy deep passing game. And while Lock has continued to garner headlines, it's really the added weapon of the rushing attack that has allowed the offense to hit its full stride in the last few weeks.
"It's not just about the stats. It's not really about the number of yards rushing, it's just about running it when we want to run it," Dooley said. "It's really about maintaining some control in the game, not putting the whole game on the quarterback every snap and creating some balance to where the defense has to defend everything at all times."
While it all looks good now, it didn't start out that way. The Tigers averaged 3.3 yards per carry in the season opener against Tennessee-Martin and 4.4 in a better, but not great, week two performance against Wyoming.
"I told them, we're not going to be any good if we can't run the football in this league," Dooley said. "It could have been easy to say we can't run it, we're going to chunk it and win. That's our guy, Drew. That's not how you win in this league. It was a little bit we're gonna be stubborn and we're gonna run the ball. The line needs to know it and the backs need to know it, we don't run the ball, we're gonna lose."
"I kind of feel like it was just a gut check," Crockett said. "He told us what we needed to do and sat on the table and was like 'What are you going to do about it? Because you've got to do something about it."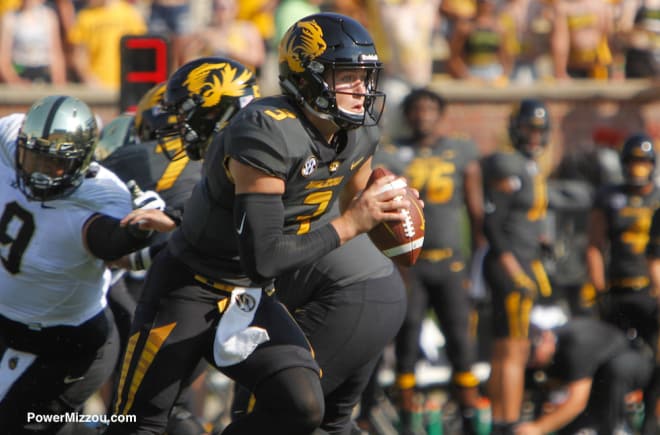 SENIOR DAY MARKS FINAL HOME GAME FOR 19 TIGERS
Friday marks the final home game for 19 Mizzou seniors. Barry Odom has talked a lot about 'players always remembering their final home game…even if his own memories aren't so great.
"Mine wasn't very good," Odom said. "Got my tail kicked by (Texas) A&M and I tore my ACL. So it was awesome."
Most notable among those seniors playing at Faurot Field for the final time this week is the quarterback. Drew Lock was named the SEC offensive player of the week after his performance against the Vols and enters his final home game as the SEC's second all-time leading passer.

"It might hit me that day," Lock said. "My mom's going to tear up, that's for sure. I'm going to try to get her not to. I'm going to talk to her on Wednesday, be like, 'Hey, let's try not to tear up on Friday.' But we'll see how well she does with that. It will probably hit me almost the end of the fourth (quarter).

"I definitely don't think I'm the man I am today without Mizzou and football. People always talk there's so much more to football, there's a lot of life lessons you can learn and it kind of becomes a cliche that I'm learning these lessons through football but it's true."

"To Drew's credit, he never stopped really believing in who he was and what he thinks he's capable of becoming and what I think he's capable of becoming so he stayed the course," Dooley said. "Probably one of the proudest I've ever been as a coach, here he was, he had his last chance probably to shake off the narrative that everybody tries to put on him. And he probably played his best game ever at Florida and since that time has been playing at an incredibly high level."

We will have much more on Mizzou's senior class later in the week.

                    MIZZOU EXPECTS ARKANSAS' BEST EFFORT
Two years ago, Missouri came into the regular season finale sitting at 3-and-8, facing a bowl bound Arkansas team. The Tigers came out winners in a game that few outside the locker room probably put much stock in, but that served perhaps as some foreshadowing for a team that would not give up on its coach or its chances when so many others had.
This year, it's Missouri that knows it's going bowling, but doesn't know where and the Razorbacks that tote a 2-9 record, including a winless mark in seven SEC games under first-year head coach Chad Morris.

"Are you saying that the roles are reversed?" Tiger linebacker Cale Garrett said.

Indeed they are. And that's why Mizzou is doing everything it can to ensure it doesn't let up despite being a three-touchdown favorite even before Monday's news that starting defensive backs Kamryn Curl and Ryan Pulley have been suspended for the game.

Following that game, Lock had gone to eat at Chris McD's and ran into some Razorback fans who had partaken in some beverages during the day.

"One of them was like, 'have fun at your bowl game this year,'" Lock said. "Obviously we weren't going to a bowl game, but we won and that was the only comeback they had that day. That still resonates in my head that we do have the bowl game bragging rights, but that's nothing compared to winning the actual game."

"We've talked about that to our guys. I'm sure they're going to cut it loose," defensive coordinator Ryan Walters said. "They've got nothing to lose right now. This is going to be their bowl game, their Super Bowl and we're going to get their best shot.

"I trust that our guys won't cheat the process and will respect the game and prepare the right way."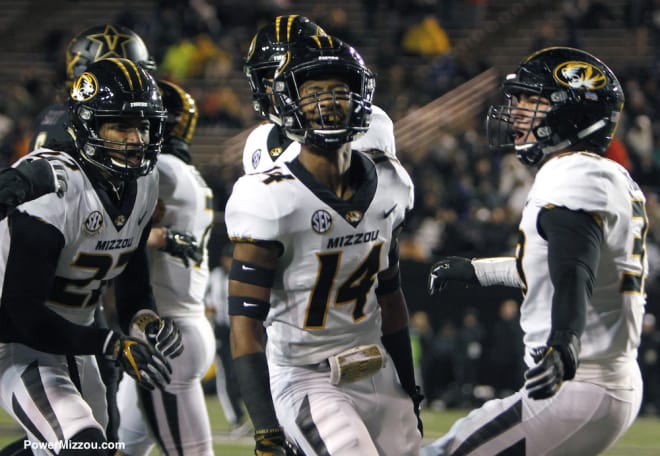 INJURY REPORT
On the injury front, Odom said that Richaud Floyd was able to return to Columbia on Sunday after spending the night in Knoxville, but he will not play this weekend against the Razorbacks.
*Odom said that tight end Albert Okwuegbunam, who has missed the last two games with a shoulder injury, would be evaluated at practice on Tuesday before a decision was made. Okwuegbunam was named one of three John Mackey Award semifinalists on Monday, given to the nation's top tight end, despite not playing the last two-and-a-half games.
*Adam Sparks has missed three straight games with a bruised shin, but Odom said he got an encouraging report on Sparks Monday night and the sophomore cornerback could return this weekend.

*Senior receiver Nate Brown was not on the depth chart released on Monday morning and looks likely to miss his final home game. Linebacker Brandon Lee did not play at Tennessee, but was listed on Monday's depth chart as was wide receiver Jalen Knox, who sat out in Knoxville after suffering a concussion.