Notebook: White impressed teammates, coaches in relief of Durant
After Missouri's win against Purdue on Saturday, offensive coordinator Derek Dooley ran into Hyrin White's mother and told her that he hardly noticed White on the field. White played left tackle after starter Yasir Durant injured his left ankle during the second quarter.
Dooley thinks White's mother was offended. He meant the comment as a compliment. For member of the offensive line, anonymity is generally a good thing.
"We didn't have to change anything," Dooley said. "Didn't have to change our calls. He went in and I was real proud of him."
White finished the game without committing a penalty or allowing any pressure on quarterback Drew Lock. Pro Football Focus issued him a grade of 75.8 for the performance — the highest of any Missouri player.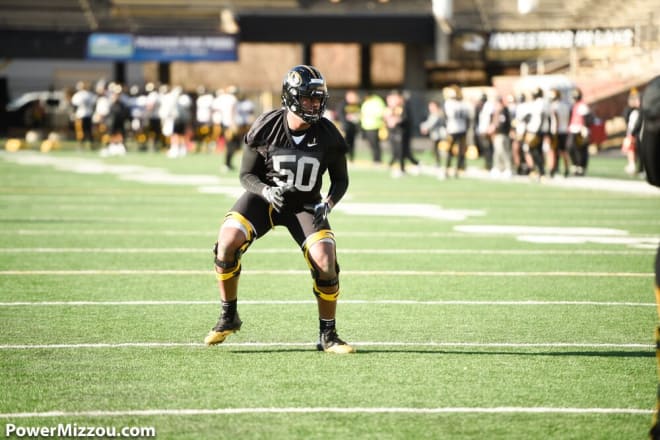 Several of White's teammates on the offensive side of the ball also complimented White's performance, but unlike Dooley, they definitely noticed his presence on the field. Lock and right tackle Paul Adams both said almost as soon as he entered the game, White started exchanging trash talk with Purdue defenders. That's how Lock knew White, a redshirt sophomore playing in just his third college game, wasn't going to be overwhelmed by the moment.
"I think his first play he got in there, I forgot what he did, but he was really pumped up after the play, and we were trying to go quick tempo and I look around and I think everyone is set and I look at Hyrin and he's like two yards down the field jawing at somebody still," Lock recalled. "… Hyrin's kind of about that (trash talk), which makes him fun to play with. It's nice to have some nasty o-linemen."
White credited the coaching staff for preparing him to seamlessly step into the first team offense. He said everyone on the offensive line gets coached the same way, and he and Durant study film together, so he knows what to expect from the first-team offense. He also said that Durant offered him advice on the sideline during the game.
"He was really helping me out throughout the game on what to do and what to look for," White said. "Just technique issues, remembering the calls and the defensive fronts."
Head coach Barry Odom said it is important that White be able to contribute because, aside from him, the Tigers don't have a proven backup tackle. Odom joked that on the depth chart "it's him and then air." Durant said he's confident that if he or Adams ever misses playing time in the future, White will be able to fill in without a hiccup. He didn't need to see White's performance against Purdue to believe that, either.
"I know what he's capable of," Durant said. "Me and him study each other, we work with each other, and I knew he was going out there to perform. I didn't have no worries how he was going to do."
Dooley to put aside UGA ties on game day
Dooley admitted Tuesday that he's long been fond of the Georgia football program. But his loyalty to the program his father coached for 25 years and where he got his first coaching job, as a graduate assistant in 1986, only extends so far.

Dooley's father, Vince, coached Georgia from 1964 to 1988, then served as the Bulldogs' athletics director until 2004. Dooley's son, J.T., is a redshirt freshman wide receiver for Georgia. Plus, Dooley is friends with Georgia head coach Kirby Smart. Smart played on the 1986 Georgia team that Dooley helped coach, and the two worked together under Nick Saban in both 2004, when both were assistants at LSU, and again in 2006, with the Miami Dolphins.
Because of those connections, Dooley said he spent the past five years cheering for Georgia, while he worked as the wide receivers coach of the Dallas Cowboys. Once the ball is kicked off Saturday, however, his full focus will be on upsetting the Bulldogs.
"I was a Kirby fan and a Georgia fan when I was with the Cowboys," Dooley said. "But that's not where I am now. I've put a lot of hard work and sweat and tears with this coaching staff and this team, so that's where your heart is on game day."
Lock tells story of stolen sign
After Missouri's win over Purdue, a picture emerged of Lock holding a sign brought to the game by a Purdue student. The sign featured an image of a downtrodden Lock during Purdue's 35-3 win over Missouri in 2017 along with the caption "Mizzou still sucks."
Apparently, the sign now hangs above Lock's locker in Missouri's locker room. Tuesday, Lock told the story of how he came to acquire it.
Lock said someone in the front row of the Purdue student section called out to him before the game and asked him to autograph the sign after Missouri lost. Following the Tigers' victory, Lock found the student and told him he still wanted to autograph the sign. When the student handed it over, Lock took it.
When Lock emerged from the visiting locker room after the game, he found the Purdue student waiting for him. Lock apologized for stealing the sign, and snapped a selfie with the student to repay him.
"I was like, 'Yeah, man. My bad. It was kind of the heat of the moment,'" Lock said of his conversation with the student. "'But yeah, we can take a selfie.'
"It was all fun. I'm glad that he took it light-hearted."
2019 schedule released
After Missouri players and coaches had met with the media, the SEC released the 2019 schedules for each of its member schools. Missouri's is a bit unusual.
The Tigers begin the season on Aug. 30 with a road game at Wyoming — a rare trip by an SEC team to a Group of Five school. The Tigers then play their following five consecutive games at home, including their first two conference games, against South Carolina and Mississippi.
That sets up a difficult second-half of the schedule. Four of Missouri's final six games of the season, all against SEC foes, will be played on the road. That includes a trip to Georgia and the regular season finale against Arkansas, which will be played in Little Rock.
Missouri's bye weeks will come on Sept. 28, between the fourth and fifth games of the season, and on Nov. 2, between games eight and nine.
Injury Report
The injury news was largely positive for Missouri on Tuesday. Cornerback DeMarkus Acy, who left Saturday's game after the first defensive snap with a concussion, wore a red non-contact jersey during practice, but Odom said he still participated, including playing every snap with the first-team defense. Odom expects him to be able to play Saturday.
Durant did not practice Tuesday, but he believes he will practice on Wednesday and be available to play against Georgia. Durant characterized his ankle injury as a "little sprain" and said he is "feeling great."
Wide receiver Emanuel Hall, who missed most of the Purdue game with tightness in his groin, practiced fully. He, too, said he expects to play on Saturday with no limitations.
"I think in football in general there's always wear and tear, but the injury stuff is not really something I'm too worried about," Hall said. "You've just got to block it out of your mind, keep playing, keep practicing. I'll be ready for Saturday when the time comes."
Missouri will be without two players against Georgia, although neither absence is new. Wide receiver Richaud Floyd, who broke a bone in his leg during fall camp, donned pads on Tuesday, but he did not participate in practice with the team. Odom said Floyd worked out and was able to change directions, which he could not do last week, but Floyd will not be ready to play by Saturday. The Tigers have a bye the following weekend, so Floyd will likely make his season debut against South Carolina on Oct. 7. Finally, after not traveling to the game at Purdue, defensive tackle Rashad Brandon was not present at Tuesday's practice. Odom told PowerMizzou that Brandon is currently away from the team dealing with a personal matter, but he is still on the roster and is expected to return at some point this season.