Odom looks back and ahead
A small group of local reporters sat down with Missouri head coach Barry Odom on Monday afternoon.  Odom looked back on his first year and ahead to his second.  Below is the entire transcript of the Q&A session.
At this point, obviously things can change with individuals, but are you planning to bring everyone on the staff back?
"Yeah. We've got eight guys on the staff right now, you can have nine assistant coaches. I'm hopeful that the eight we have right now are all back next season. We've got a group of guys that, fortunately, we were able to hire that I knew all of them in some aspect last year putting the staff together and I feel really good about them. It's still enjoyable for me going into work knowing who is there to get it done together. It hasn't always been perfect this year. I do like our makeup of our staff. All competitive guys that are wanting Mizzou to be great and they're good leaders and mentors for young kids, for our student-athletes. First and foremost for me, I just want to make sure that those guys continue to do that. The X's and O's, that's going to be a biproduct of having those good people. I'm excited about the offensive side, the way that they've meshed and worked well together. Defensively I'll be as involved as I was in the last few games of the season going forward on how we're going to do it defensively."
READ: 2016 POSITION REVIEWS | ON THE ROAD RECRUITING | WEEKEND RECAP
Do you know yet whether you're going to go back to the read and react defense that you started the season with?
"No, I think for us, again we've got to do, as a staff, we've got to build both sides of the ball on what our kids can do best and I think for us with the numbers of guys that we've got coming back on both sides of the ball, specifically defensively, we've got to do things that our kids can do and do well. I like this group we've got coming back on the defensive line, the defensive front, we've got to add a couple bodies there and change the roster a little bit, but we'll be more of mix of an odd and even front like we were the last couple weeks of the season. Going to try to get up the field."
Did you have any indication during the spring and summer that they would struggle to pick that up like they did?
"No, we had success at some points during the season. They just weren't doing it consistently enough. There were times that we would have throughout the course of the game, a series where we did some good things, but it wasn't always 11 guys doing it together. We've got to get those guys that had experience from the 2015 season, the guys that came back, you've got all the experience in the world, it doesn't matter if you don't get better. So we've got work to do. I'm excited about having a chance to mold that defense into what we think it can be."
So you'll call the defense?
"Yeah, together. This year, when I kind of got into that, whatever game it was, still throughout the course of the week we'd build the defense together and throughout the course of a game. I'm not making every call. There's constant communication going on with Ryan (Walters) and DeMontie (Cross) and Greg (Brown) on what do you like in this situation, what do you like against this? We ended up working pretty well together so I'm excited about that moving into the spring and the offseason and into fall camp and the season."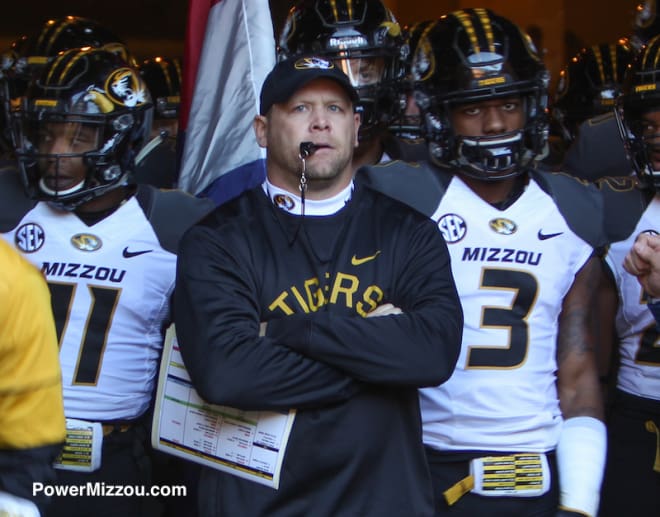 How close are you on a defensive line coach?
"I talked to a handful of guys and I don't want to rush into it. I've got to make the right hire and again I want the right fit for a staff. More importantly I want the right fit for our kids. Here in the next few days I'll probably have a guy in place, but I also learned last year, you get a guy in place and get off a plane and go into a home visit, turn on your phone and find out that you lost him. Anyway, I'm probably going to take a little more time with it to make sure I get the right fit."
Have you had any players at this point tell you that they're going to transfer?
"No. I talk to guys all the time. Next week, a week from today I'll sit down with every kid in the program and go through, during finals week, we'll have a chance to kind of evaluate where we are and who we are and who's going to choose to stay with us and who's going to move on if that's going to happen."
How did Tre Williams do during practice when he was redshirting this year?
"He's got a really bright future. Athletically he's gifted. There's a difference in being athletically gifted and being able to related it to playing consistent. It's easy when you're reading a scout team card, go rush the passer, stay outside, it's easy to do that. So there will be a lot of teaching that goes on in the spring, but I am excited about he's developed physically. He's in the 260s. He's used this year the right way with Cutchlow and his staff. He's taken advantage of it."
Have you thought about in year two some things you're going to do differently?
"Yeah, I mean I've looked at what I thought was really good that we did and things that I didn't think were very good. I've had a little bit of time to look back at it. We'll get more into that next week as a staff. I told them the last few days, when we start back together staff-wise on Monday, I want to go through not every minute of every day, but everything that we've done and I want to hear what everybody liked and did not like and make adjustments if we feel like we need to. Then also if something didn't work that I really, really believe in, dig in and find out their opinions on why it didn't."
Can you call the defense and coach special teams and be the head coach?
"I know I can be the head coach and call the defense. I'm going to have to lend some of the special teams out a little bit. I still want to be involved in it because for me it's a chance to coach some offensive guys. I think that's important that they don't always just see me over on the defensive field. That's initially one reason I did it special teams wise because I wanted to have interaction. I knew where I would spend most of my time anyway going into it. But I knew if I was a lot more involved special teams wise that I'd have a chance to coach a receiver that's on the kickoff team or a running back that's on the punt team, I'd have a chance to be involved with that as well."
So it will be more like what Coach Pinkel did?
"That's one thing we'll talk about next week. I've got guys on staff, they've got special teams experience and I'm going to lean on that a little bit too. I really like that I coach Corey Fatony. We'll keep that going."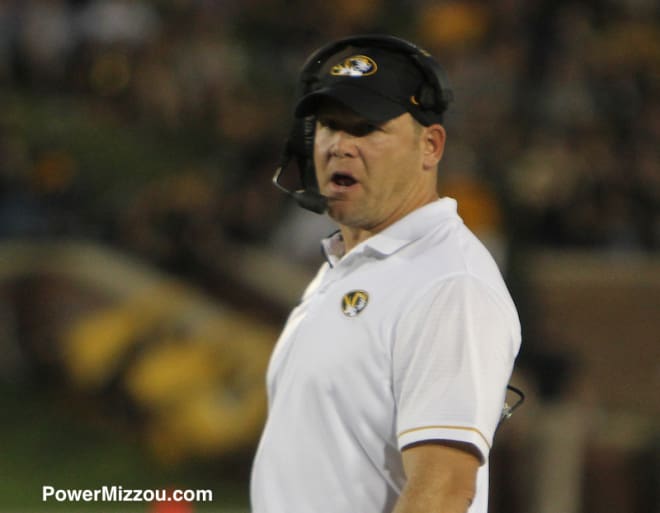 Have you felt working with the offense have you felt that chemistry carry over?
"Yeah, and it's up to me every day to make sure that I spend time with them. You're a little bit a creature of habit. I've got a checklist of defensively when I call it, what you've got to do every day to be ready for Saturday so you've got to adjust, or I've had to adjust my time a little bit to make sure in the locker room or during stretch lines throughout practice that I do get over to the offensive side."
With the stats that the offense put up, what's kind of the next step for those guys?
"Just to play more consistent and not turn the ball over. We're just scratching the surface really on that side on what they're going to do. You've got ten guys back that were starters, again I've learned that we better become better. They've got a lot of pieces in place coming back, but everybody on that side of the ball can become better."
Did coming back and winning that last game change the way you looked at the season?
"Not significantly. We won two out of the last three which obviously helps. The Tennessee game is going to stay with me for a while because we played so well offensively and then couldn't get a stop defensively. That's hard. That one was difficult to stomach. But I knew we were close in a lot of different areas so I'm glad that we were able to find a way to win two of those. I think there's learning moments for me out of all of them on why we won and then you look back at a call here or there against Georgia, it came down really to the last play. Middle Tennessee we really didn't play, not even close (to good) enough to win it, so those things will drive us into the offseason and then you look at why you didn't prepare enough play well against LSU. Defensively did some really good things early against Florida and didn't finish the right way and didn't play well at all offensively in that game. There's so many things within the game that we're looking at that I think is going to really lead us into the offseason and help us out."
Did you have any feeling in that losing streak that you were going to lose the locker room?
"No, maybe I haven't been in it long enough, but I sure didn't think so. I stayed the course. I still felt like I knew what I had in the locker room. I still felt good about them, they were working hard. You're always going to have, winning or losing, things that come up and issues. But I didn't ever think we were going to lose them. I feel like I've got a closer relationship with them than that."
Is the Georgia game the most disappointing one?
"I was excited about the way they competed that game. You look at the fourth down and ten where the ball was, situation of the game. Defensively you're out there you've got to get that stop. Called the timeout to talk through it and didn't come up with it. That one bothers me a lot. Tennessee bothers me. I mean, they're a good football team, but could not get a stop. I haven't had that feeling. We'll continue to work on all of them, but those two stand out and then Middle play one John Gibson goes down, doesn't come back. There's maybe five or six injuries defensively that game which really still you should win the game. I'm not saying that. But there's a lot that happened that day. We didn't tackle worth a damn and just didn't play very well. Those three specifically stand out to me as far as things that will motivate us."
How do you fix the tackling?
"It's technique and it's desire. The fundamentals of tackling. We did tackling drills in practice because of our depth or lack of. We didn't do very many, didn't even go to the ground in tackling when we were going good against good during practice once we got to about week three in the season. Just couldn't afford, we finished the season offensive line wise, we had five guys basically. I mean we had six but it would have been tough. And the defensive line would have been a lot better off. Once Terry went down I was a little bit hesitant. I won't say scared, but I was. Linebacker depth wasn't, I don't know, that's where we were. We'll solve some of those things. Another recruiting class willl help us obviously, but I've got to do a better job of coaching the techniques and fundamentals of tackling. There's very rarely a true form tackle. That's great to teach safety, I get that part of it, but that's not real life. Find me one of those in a game. Usually you're at an angle, there's so many parts of it. On the defense we tried to set those up as close as possible to game like. We worked it and I wonder if we worked it too much. The year before we were a pretty darn good tackling football team. We didn't do as many drills and as much on it. Got to find a balance there somewhere on where we can get better."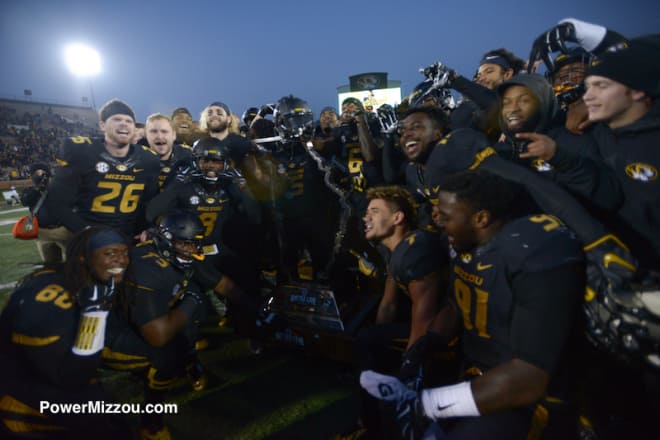 I know your focus is always going to be on the field, but how much of your job is it to fill some of the empty seats and what can you do to fix that other than winning?
"I've got to do a great job within the state of putting a brand and a program that people want to follow. And believe me I know how many are in the seats and not in the seats. I see it and understand that's part of my job. Everybody wants a winner and if we do our part on and off the field than I know the people of Missouri will follow us with great support. Very well aware of it and I'm continuing to be in the community as many times as I can across the state. I think it's important to build relationships, rebuilding relationships and showing how valuable that is to our program."
Were you surprised or disappointed in how quickly that attendance dropped?  This program has been pretty good for quite a while and it only took the one year
"I wanted to win for them also. How important it is for our locker room, absolutely, but also for fans of Mizzou, I want them to have something to support and be proud of. Because I've seen it when it's one of the best venues that there is at night. We'll get back there. I've got to make it happen overnight. I understand that's not going to happen, but I want it to happen quickly. Our program needs fans and support and I look forward to getting it back."
Was this roster in worse shape than you realized when you took over?
"I knew where it was at. You always want to go draft a couple more guys but that's not where we're at. Then through a couple dismissals you get a little more thin at a couple spots. But I'm also a firm believer in getting 11 guys out there and you coach them and teach them to play winning football. This recruiting class will help. This last year's recruiting class had a lot of freshmen that played which I think is good. We'll have another group coming in this year that will be ready to go and we're going to try to get them ready to go play as freshmen. If they're not then they'll redshirt and if they are then they'll help us win."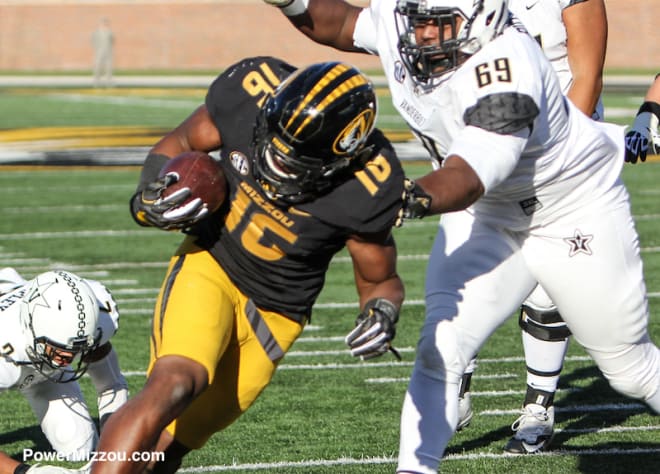 You had a decision on Keyon Dilosa last week.  When it involves a woman, is that an automatic dismissal for you?
"There's a few things in our program that there's no gray area. That's one of them."
Do you feel like that will be a hard precedent to follow?
"No. Our guys know. We had speakers come in and talk about all societal issues and that was one of them. As a program, we've got to stand for certain things."
Is that culture something you've had to work on in the locker room?
"I think you've got to constantly talk about issues in society, you've got to constantly talk about decision making. And then you've got 115 guys that you've got to get the message to them every day and they can't hear it enough. Every issue that, if anybody has kids, what they talk to them about, and want them to live by, I'm doing the same thing every day with those guys. It takes a little bit of me when we make a mistake. I haven't gotten it across to every one of them yet and that's a big part of this job is giving them the platform to be successful in every area of their life and you're not ever going to be perfect. I understand. I made plenty of mistakes and still do. Did when I was a student-athlete, but we've got to get to the mindset that every decision that we make we're putting the team first. Every one of them. When you do that, you've got a roster full of guys that will put the team first, now you're going where you need to go."
With Drew what do you feel like is the next step in his development?
"We're going to focus a lot on protecting the football. He did a lot of really good things this year. He's still learning the game. His football IQ has increased tremendously in the last year. I think he's got another step yet to make and will make it just through the ability to offseason train. We've got virtual reality stuff that he can get so many reps in this offseason without actually throwing the football. All those teaching tools for him and all of our quarterbacks, that position's so important on wins and losses. I think he'll make another step like he did this year."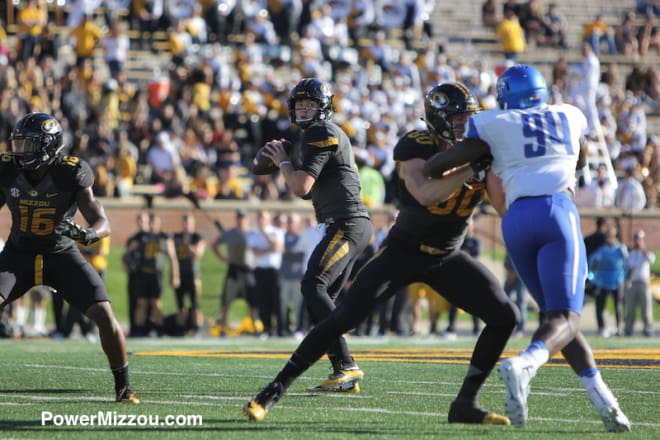 How important is another year in the same system for him and I know you can't see into the future, but do you expect Josh Heupel will be here next year for him?
"I think another year in the system is vital for what we're trying to do on that side of the ball. He has a chance with the receivers that we have coming back, they have a feel for it now on parts of it. We had like four plays last year during spring ball that we ran offensively, concept-wise and receiver routes. Really four different concepts. That's about it. Really for them now with the offensive line back, with the tailbacks, wide receivers, all the different parts that are coming back, they should be able to pick up during winter conditioning and go out there and run, when the coaches aren't around they can go run a practice and everybody's on the same page terminology wise. It's pretty exciting. Obviously like I said earlier, like to keep the eight coaches we have here. Trying to keep them. Not only recruiting this year, but for the head coach, you get a lot of phone calls because we have really good coaches at our place and they're attractive coaches. I understand that's part of it too. I know the last really three years, this time of year, really from Thanksgiving week up until the next couple weeks, there's a lot of moving going on, so I hope it stays away from our place."
If missed tackles were the biggest problem on defense, were dropped passes the biggest problem on offense?
"There were times I didn't think we started fast enough getting the first first down. You guys are tired of hearing me say that, but getting going within a drive. Once we did that, now we're able to go. We've got to be able to learn to overcome that. So if you don't get your first down, forget that, let's go get some yards the next time. And I thought we got better at that as the year went on, especially late in the year where guys grew up a little bit just from a maturity and game management standpoint and competing, being competitors. I thought their competitive spirit grew up quite a bit as the year went on. Early on in the year if we didn't have success early offensively, it wasn't very pretty. We battled through that a little bit. Credit to our guys on getting better in that area."
Where did that come from guys getting down?
"I don't know, probably cause they struggled so much the year before. I wasn't really interested in the year before."
Was it Drew, or other guys?
"No, it was everybody out there. You just have to learn to be a mature competitor and the mental toughness that it takes when you're not having success to keep battling and trusting that it's about to happen. The thing that I want to work on so much this offseason is play the next snap. It doesn't matter what happened. Actually it does matter, but you can't control once the play's over you can't control it. Go to the next play and let's go play. Good, bad or ugly, let's go play. Some of those things that we've got to get instilled in our thought process."
A lot of the teams that play at your tempo have a head coach with an offensive background.  With your background on defense was that hard to get on board with?
"No, we spent a lot of time talking about the good and the bad of it. I don't think we would have had the success offensively if we wouldn't have gone fast because we were able to wear some guys out. Just from a speed standpoint. I don't think we would have had a 1000 yard rusher if we were playing slower. I don't think offensively we would have had the success we did if we were trying to slow it down. There were times in the Vanderbilt game we'd like to have in the Tennessee game, but we weren't awarded that luxury, and then Arkansas they did take time off the clock and played smart."
How much effect did the offense have on the defense and wearing down?
"Zero. I will not. You get a chance to go compete and play. No."
How do you approach the kicking situation and finding a guy who can make field goals?
"I liked where we ended the year in our kickoffs. Obviously one of the biggest frustrations was kicking an extra point or a field goal. We've got a lot of work to do there. I do think Tucker (McCann) can do it. I've seen him do it. I'm glad he finished the last game kicking the way that he did. I've got to build on that. We're trying to get better at every spot. If we can get a kid in here that can kick a field goal and an extra point better than what we have on our roster, then we'll add him."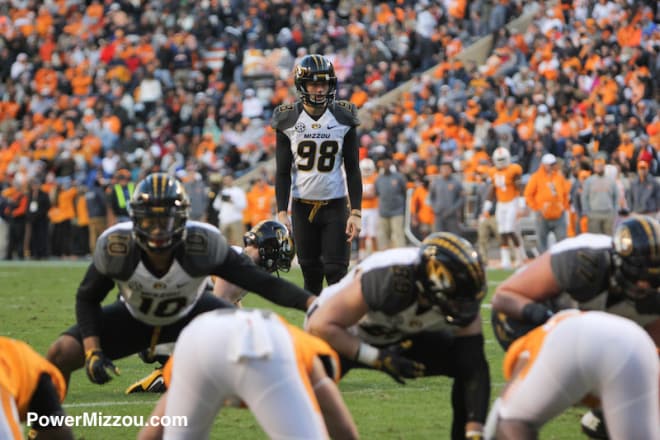 Do you have any better feel the last couple of weeks for where the academic investigation is?
"No. I feel really confident in the job that our academic support staff does. If you look at the track record of having academic success, whether it's graduation rate or APR or progress that we've made toward degrees, it's pretty strict and thorough guidelines on what it takes to be a tutor. I'm sure there's going to be a lot of people to talk to and interview and go through the process. At the end of the day, I trust in the people running the academic center and how that process is going to take place with the NCAA. Got a lot of guys that have been able to change their life because they've gotten a degree and that's going to continue. We're going to graduate kids, we're going to do it right. It will be nice to get through it. I don't know what the time frame's going to be."
How much more comfortable are you going out on the recruiting trail with 15 or 16 commitments versus last year at this time having to build a whole class in two months?
"I didn't have a staff last year on this date. I was looking around for a recruiting plan and it was me talking to myself so that part's easier. I've got a plan and a vision for what Mizzou is and what it's going to be. I enjoy having the opportunity to talk about that. It's great to build relationships and be in a house with a family and they know that your'e going to be there and they know that you care deeply about the place that you're working. They know what they're getting from the head coach and everything that their kid wants academically, athletically and socially, you can achieve every goal that you want at the University of Missouri. That's fun to talk about. When we get a kid on campus, they're able to see it with their own eyes. That's been one of the most enjoyable things for me is walk around and do a campus tour and you sit down and talk how we're going to play offensive football or defensive football and they get around our current team and have a lot of good kids that are happy and proud to be a Missouri Tiger."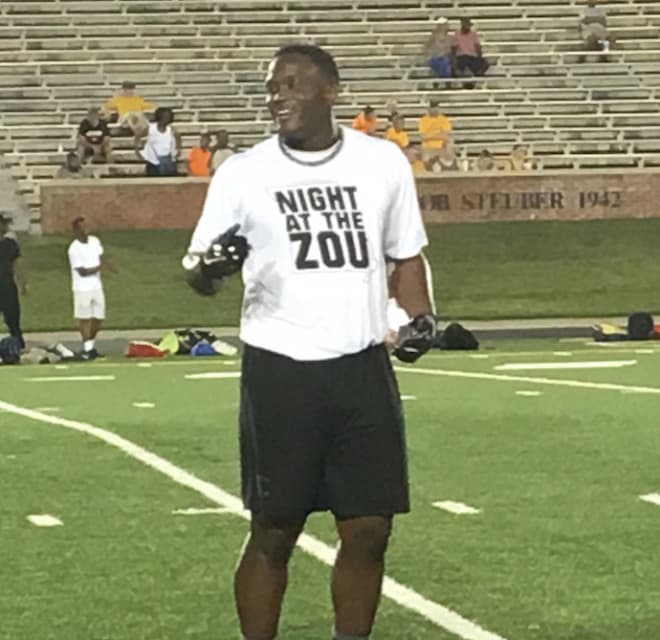 Have you guys rebuilt the ties in Texas the way you wanted to?
"It's going to be an ongoing deal. We have a lot of guys on the staff that have long lasting relationships there in the state. We've got to continue to work it every day really. We're never there, but we're a lot better off now than we were last year at this time."
Is junior college a route you're going to go more frequently?
"You've got to look at the depth at each spot and project kind of where you think guys are coming in that position. I'd rather not, you've got to be selective on how many you take. Because if you get in that cycle, two years you have to get another one or have a high school kid that's ready to go. There's a balance there that we've got to continue to work on. There's obviously some needs on our team right now because of different reasons that we've got to get maybe a more mature experienced guy so we'll continue to work that by position."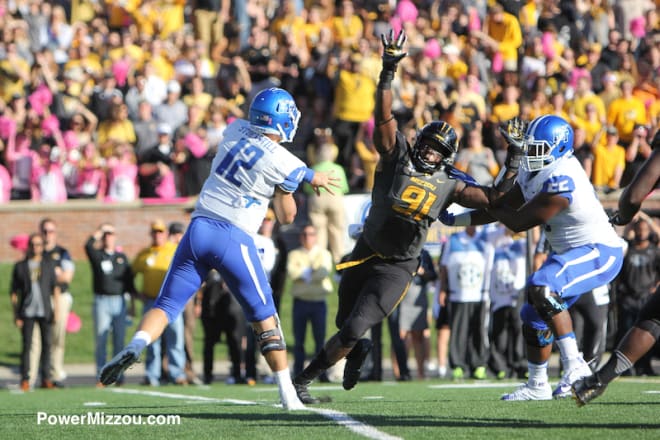 With Charles Harris entering the draft, did he make the right decision?
"I'm happy for him, proud of him. He's done a great job on putting himself in position to be really successful. Really early on in the year, I wasn't really counting on him being back anyway, but then as the season went on and we'd sit down and talk, he'd say, 'Coach I haven't really decided yet.' I respected him because he was very open with me the entire time on what he was thinking. Plan A was he's probably not going to be back so let's recruit knowing he's not going to be on the board. Then Plan B, which I liked a little better than Plan A, then he might be back. But I'm happy for him and support him 100 percent."
Do you anticipate a 25-person class or even more?
But there are loopholes and ways around that as far as counting guys backwards right?
"On signing day you can sign 25 and if you can get creative beyond that and make it work, then you find a way to get it done."
What about grad transfers?  Would you go back to that market?
"I had a couple at Memphis that worked out great. The guys that we had this year, I enjoyed being around them and they did a good job working. It's got to be the right fit on both sides. I'm sure here in the next couple weeks some of those will reach out and you just have to decide if it's something that your current team needs."