Porter's season likely over
A week-and-a-half of rampant speculation finally ended shortly after 1 p.m. on Tuesday afternoon. But not the way Mizzou fans had hoped. Freshman phenom Michael Porter Jr. is likely out for the entire season.
Statement from #Mizzou:

Michael Porter, Jr. will undergo surgery on Tuesday, Nov. 21, in Dallas, Texas. The procedure, a microdiscectomy of the L3-L4 spinal discs, has a projected recovery time of three-four months and will likely cause him to miss the remainder of the season.

— Mizzou Basketball (@MizzouHoops) November 21, 2017
Porter started the season opener against Iowa State on November 10th and made a layup to give Missouri a 4-0 lead. Twenty-eight seconds later, with 18:40 to play, Porter went to the bench. He would not return.
During Missouri's 99-55 win over Wagner three days later, Porter watched from the locker room. He did not travel with the team to a 77-59 loss to Utah last Thursday. As the Tigers beat Emporia State 62-57 on Monday night, Porter had flown to Dallas with his mother, Lisa, to see a specialist.
Throughout that time, as recently as last night, Missouri told everyone Porter was day to day. Cuonzo Martin offered no details, saying after the game Monday night, "We'll see if he's going to Orlando with us" for the Advocare Invitational.
Then came Tuesday's bombshell.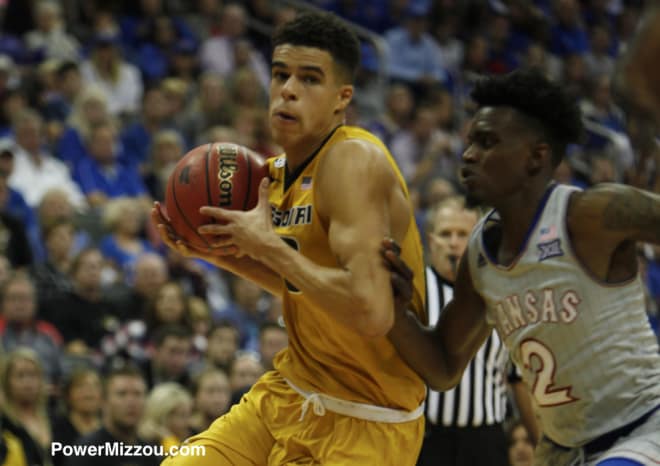 "Our top priority as a program is the well-being of our student-athletes," Martin said in a statement. "Michael beginning this process to be 100% healthy is important to all of us. Our focus has been on Michael's well-being, just like every other player in our locker room. We will continue to work every day to build Mizzou Basketball into a program to be proud of. We're preparing now for a trip that is a tremendous opportunity. I'm excited to get after it in Orlando."
"I really appreciate the support of my family and the Mizzou Men's Basketball program as I begin this process," Porter Jr. said in a statement. "I'm thankful for all the kind words and messages I've received from fans. Those mean a lot to me. I cannot wait to be completely healthy and playing the game I love, once again."
Porter was the No. 1 player in the country in the Class of 2017 according to Rivals.com. It was a foregone conclusion he would play just one year in college, although he has hinted at the possibility he could come back for a second year.
He will be eligible to enter the 2018 NBA Draft. How much the injury and missing his entire freshman season would hurt his stock remains to be seen.