Practice Notes: August 17th
Better late than never for Rashad Brandon. The junior college transfer made it to Columbia last January and even went through spring football with the Tigers. Then, suddenly, he was on the sidelines watching the first week-and-a-half of fall camp.
"I was practicing the whole spring and then the day before fall camp I was told I was ineligible," he said. "It was really tough for me."
The frustration did build for Brandon, but at this point he's focused on looking forward rather than back. With a full semester and summer under his belt, he was able to hit the practice field a little further along than the typical newcomer.
"He left off spring really in a good spot as far as understanding the playbook," head coach Barry Odom said. "The thing that I've cautioned about with our staff and with him...there's a lot of folks that think defensive line, there's not much to it, but the way that we're teaching with reading blocks and getting vertical up the field he's going to have a little bit of catch up here.
"He's got fresh legs since he missed the first ten days."
"He's real physical. Violent player, quick hands," Terry Beckner Jr. said. "(The defensive line is) a whole lot better. Not everybody's too spent. Now you got a spare for each group and everybody rotates."
Brandon joins a defensive tackle group that has gone from sparse to relatively deep in the last few months. Missouri brought in six players at the position in the 2018 class, though Malik Young going to make it and Akial Byers is playing more defensive end than tackle.
"We're going to be able to play a lot of guys inside on the defensive line and I don't think there's going to be much dropoff," Odom said.
Speaking of Young, the Tigers got news on Wednesday that he will not make it to Missouri.
"We're going to help him go somewhere else," Odom said. "He won't meet the qualifications to get here. Hate it for him because he's been patient, he's done a really good job trying to get everything worked out.
"He's got a lot of options. He's not going to look for long on places to go because he's a great person and such a high-level player."
Odom said the issue is a combination of Young's eligibility clock and a Southeastern Conference rule.
                                    SORTING OUT THE SAFETIES
One of the more muddled positions on the roster might be safety. The Tigers have plenty of available bodies, but figuring out who is separating themselves during camp is more difficult.
The Tigers return four safeties (Cam Hilton, Thomas Wilson, Anthony Sherrils and Ronnell Perkins) who started at least four games and played in all 12 a year ago.
"We just created a bond. We just want to make the team as good as we can and help each other get better and better," Perkins said. "Of course it's a lot of competition, but we always keep it professional. It's always about the team first. The best two guys are going to be on the field."
They also have Anthony Hines, who played in 12 games largely on special teams. Tyree Gillespie, Jordan Ulmer and Joshuah Bledsoe joined up in the 2017 recruiting class.
"All of them are going to be good players," secondary coach Ryan Walters said of the freshman trio. "Ulmer's a big, tall, rangy guy. Very physical. Gillespie, he's very athletic. He's our heaviest safety right now so physically he's there. We've just got to get all of them up to speed schematically and we're going to see how they progress throughout fall camp. I'm looking forward to it."
Odom said on Thursday that Ulmer has an excellent chance to play as a freshman.
"He's just real smart," Perkins said. "He gets it quick. When I first came, I didn't get it this fast. He's getting it real quick and he's learning. I think by the first game he'll be ready to go."
Who is on the field on any given play may have more to do with which package the Tigers are running than anything else.
"They got me and Ant (Sherrils) doing a couple different things," Hilton said. "We could have all four of us out there at once. We could do that on third down."
"We all got different stuff that we're good at so the coaches are going to use us for different things," Perkins said. "We're all going to be able to play so it's all going to work out."
Mizzou has its second scrimmage of fall camp on Saturday, which is generally the line of demarcation for sorting out the depth chart prior to the opener. Perhaps at no position will that sorting be more intriguing than safety.
"We just want to go out and give it our best shot," Perkins said. "We want to let everybody know what type of team we are and what type of defense we're going to be."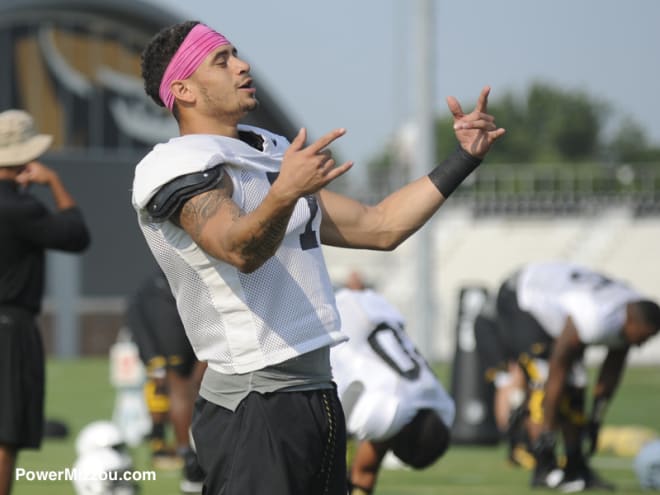 FLOYD IS MAKING MOVES
One of the consistent names that comes up when asking about offensive standouts in camp is wide receiver Richaud Floyd. The redshirt sophomore caught just four passes for 94 yards last season, but did see his time on the field increase toward the end of the year.
"I think like you saw a little bit of him last year," quarterback Drew Lock said. "The South Carolina game he had a couple big ones. I think Richaud's going to be big for us."
"Completely different player," offensive coordinator Josh Heupel said. "I think he's become a serious player. He walks into the building and he's got purpose every single day. He's probably one of the most mature guys we have in that wide receiver room. He's led in a really good way. And that's all on top of his play, playing at a much higher level."
But Floyd now looks to have established himself solidly in the rotation behind returning starters J'Mon Moore, Johnathon Johnson and Dimetrios Mason.
"I don't feel like I had a breakthrough, but I feel like coach Heupel has pulled out the most I can compete. I've competed at a higher level than I ever did in my entire life," the redshirt sophomore from Gulfport, MS said. "I feel like he's brought that out in me challenging me every day.
"Cut down my weight to 190, cut down on fat and basically just more the mental aspect."
Heupel met with every offensive player when the team returned to campus in January. That meeting struck a chord with Floyd.
"Just challenged him in who you want to be and what do you want your legacy to be? Where do you want to be three years from now?" Heupel said. "To get to where he wanted to go it was a challenge every single day."
The Tigers will likely play up to eight receivers on a regular basis and Floyd has cemented himself in the thick of that conversation.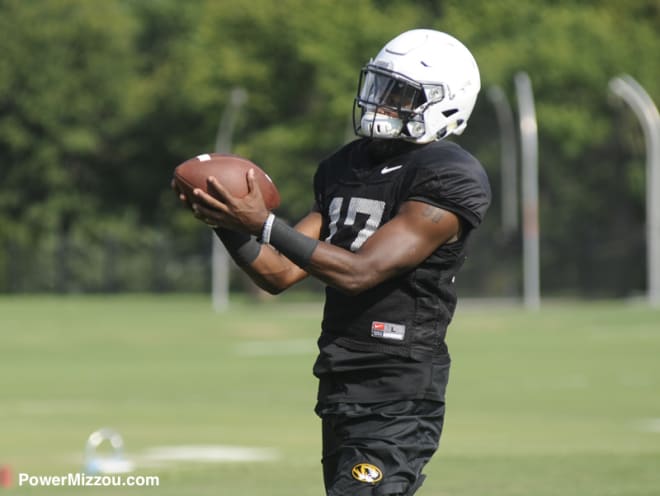 SHEDDING THE REDSHIRT
Missouri played eight true freshmen a season ago. From the word around camp, that number will likely be similar in 2017.
Akial Byers, Larry Rountree and Chris Turner seem almost certain to see action. Odom said last week that tight end Logan Christopherson was a strong candidate to see time. Linebackers Aubrey Miller and Jamal Brooks, cornerback Adam Sparks and potentially one of the three safeties could see the field as well.
Those final decisions will be made in the coming days following Saturday's scrimmage.
"I think (Jordan) Ulmer would play for sure, I think Jamal Brooks would play for sure and it would be really hard to keep Rountree off the field from what I've seen him do," Odom said. "Chris Turner, there's some things on third downs that he's got a different gear than most guys. That would be another freshman that, if we were playing tomorrow, he's going to play."
                                              INJURY UPDATE
The Tigers remain remarkably healthy. Walk-on offensive lineman Adam Roland was the only player in full red during the open portion of Thursday's workout. Tight end Jason Reese and wideout Justin Smith had been upgraded to red pullovers, meaning they practiced, but were limited.