Robertson the hidden gem of Mizzou's class
Mere seconds after missing two free throws that he worried would force him to "lock myself in my room for a week," Kassius Robertson redeemed himself. Stephen F. Austin brought the ball across midcourt with less than ten seconds left trailing by a point. Robertson and Jontay Porter both chased the ballhandler, leaving the screener open. Robertson left his feet, deflected a pass, dove on the ground, corralled the loose ball and called a timeout.
An inbounds pass, a couple dribbles and 2.7 seconds later, Missouri had survived the Lumberjacks' upset bid to move to 10-and-2 on the season.
"He made a great play," SFA coach Kyle Keller said. "Just an unbelievable play."
"I had to do something," Robertson said. "I mean, shit, I don't know what to say."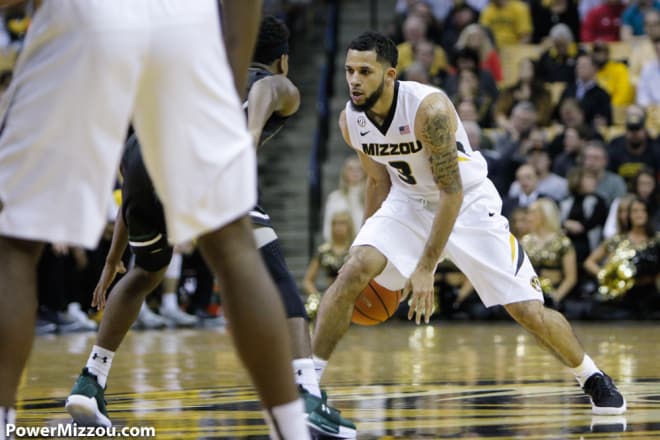 Eight months ago, Missouri signed a class that Rivals.com ranked as the fourth-best in the country. It was headlined, obviously, by Michael Porter Jr., the nation's No. 1 player. Younger brother Jontay Porter reclassified, point guard Blake Harris followed the brothers from the Washington commit list and talented but raw big man Jeremiah Tilmon flipped from Illinois to the Tigers to cap off the additions to C.J. Roberts, who had committed under Kim Anderson's watch and hung around once Cuonzo Martin took the job.
But Martin wanted one more piece for his class. So he went hunting for a graduate transfer.
"We're calling guys in Canada, everywhere, just trying to build a relationship with him," Martin said. "We got him on a visit, he's a good kid. He was a need for us because he can make shots and his experience. Not that we guaranteed him any starting position, but he felt like there was a tremendous opportunity."
On May 3rd, Robertson announced that he had chosen the Tigers over Georgia Tech. It was perhaps the least celebrated announcement of the Tigers' 2017 class. Robertson had toiled for his first three years at Canisius, shooting 40% from three-point range and averaging 16 points a game in the obscurity of the Metro Atlantic Athletic Conference.
"He comes from Canisius, never played in the NCAA Tournament," Martin said. "Not that we talk a lot about that, we just talk about every day getting better. That's probably a goal of his."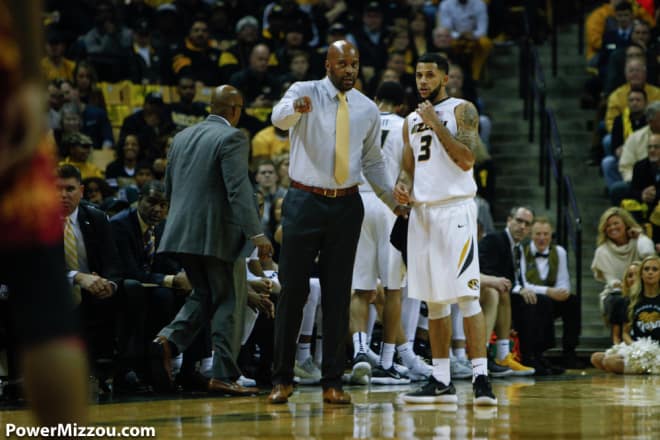 Now, 12 games into his final season of eligibility, Robertson has become not just the hidden star of the recruiting class, but the rock of the new-look program. It was Robertson on Tuesday night, with two minutes left and Missouri up six, reminding his teammates of the West Virginia game and yelling "It's not over!" It was Robertson in the locker room after the nail-biting win telling his teammates how proud of them he was.
"I kind of seen it coming that they were going to fight. That's a tough team," Robertson said. "I tried to make sure I was doing everything I could to win this game. I mean, I do that every game, but when it comes clutch like this, I tried to do as much as I could. I didn't ice it with the free throws, but I did with a defensive play."
"They have a great relationship with each other. This is one of the better locker rooms I've been around," Martin said. "They want to see each other have success."
It was also Robertson that had gotten them there. He poured in a game-high 23 points on 5-of-9 shooting from three-point range. He played a team-high 38 minutes. He made all four of his free throws...until he missed the two with 13.5 seconds to play.
"I was so shocked that I missed those free throws," Robertson said. "I had to kind of forget about it to be honest, make sure we didn't lose the game because then it would have been a lot worse."
"He better have moved on from that," Martin said. "He did a good job making a play on that ball."
And so, for the ballyhooed freshmen that came into this program, as much as they have improved this team and contributed to the rebirth of Missouri basketball, it has been the mid-major player looking for a team that could help him get to the promised land of the NCAA Tournament that looks like he just might lead them there himself.
"We're getting better, that's for sure," he said. "Every time they tried to punch us, we came right back. We're not where we need to be when it comes to SEC play, March time. But we're getting there for sure."