Spring football reset: What we have learned, and what we'll keep watching
Missouri's spring football practices are already more than half over, and the annual Black and Gold game is less than two weeks away. So far, spring football has given us glimpses of the Tigers' new offense under coordinator Derek Dooley, revealed a backup quarterback taking reps with the wide receivers, and provided a first look at newcomers like quarterback Lindsay Scott Jr. and receiver Harry Ballard III.
The team was off last week for spring break, so before practices resume on Tuesday, here's a recap of our biggest takeaways so far, and the storylines we will continue to monitor during the next couple weeks.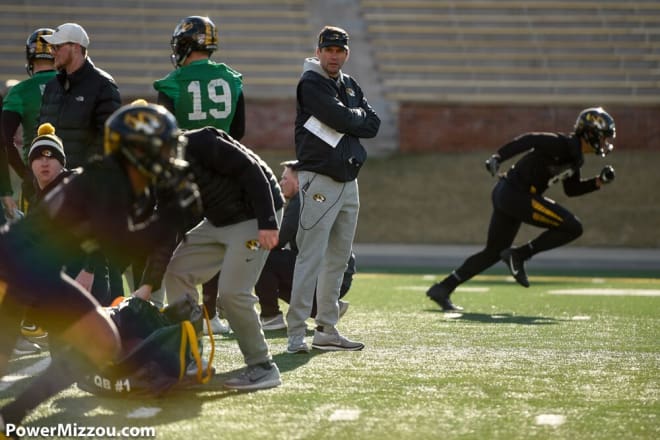 Three things we have learned:
1. The new offense really does include "pro-style" concepts — but a lot of spread, too
After Missouri's first practice of the spring, Dooley described his offense as "Wikipedia," meaning it is being authored not just by him, but by former coordinator Josh Heupel and others. The sneak peeks we have seen in practice supports that description. While the team has yet to hold a full, 11-on-11 scrimmage in front of media members, we have seen that Dooley's scheme really does include components of the "pro-style" offense he was expected to bring to Columbia. Drew Lock has taken snaps under center, running backs have lined up in the I-formation, and the team has even shown a couple sets with three tight ends on the field. However, for the majority of the spring, Lock has lined up in the shotgun with four or five receivers spread across the line of scrimmage, much like he did last year under Heupel. In sum, there are some changes being implemented, but don't be surprised if the spring game rolls around and the offense looks pretty similar to a year ago.
2. Damarea Crockett is healthy and "chiseled"
After Crockett underwent shoulder surgery last October, Larry Rountree III proved to be a capable replacement. But Rountree has never quite showcased the same explosiveness as Crockett, who set a Missouri freshman record with 1,062 yards in 2016. As we detailed earlier this spring, Crockett is back to full health. His weight dipped to about 205 pounds last fall, but he said he is up to about 225 now, and he looks the part — running backs coach Cornell Ford called Crockett "chiseled." Plus, Crockett has expressed excitement about his role in Dooley's offensive scheme. If Crockett can regain the form he showed as a freshman, he and Rountree could create a potent one-two punch.
3. Defensive tackles getting reps at end
Missouri earned its reputation as "D-Line Zou" thanks to a parade of dominant pass-rushing defensive ends. This year, the Tigers feature a talented defensive front once again, but the majority of that talent resides on the interior. Due to the graduation of Marcell Frazier and Jordan Harold, Missouri will have two new, unproven starters on the edge for the season opener. Meanwhile, Terry Beckner Jr. headlines a deep, talented group at defensive tackle. Defensive line coach Brick Haley has said he is preparing certain defensive tackles to help out on the outside this season. Jordan Elliott, a talented transfer from Texas who sat out a season ago, Caleb Sampson and Akial Byars are among those Haley has said could move from their usual interior spot to defensive end. Don't be surprised to see one or more of those guys jump back and forth between tackle and end during the spring game.
Three things we'll be watching in the next two weeks:
1. What will the offense look like in a game setting?
You can argue that the spring game doesn't count as a true game setting, but it's the best chance we will get between now and fall camp to evaluate the changes Dooley has made to the offense. We know the team has practiced some new concepts, but will it be comfortable enough with them to run them consistently? Perhaps more importantly, we will get to see how the players have adapted to their new responsibilities — how Lock looks taking snaps under center, or how the tight ends perform running new route combinations, for instance. Of course, the spring game is different from the fourth quarter of an SEC contest, but it should provide the first real indication of how drastically the Tiger offense will differ from a season ago.
2. Will Cam Hilton and Ronnell Perkins hold on to the starting safety spots?
One of the most glaring weaknesses on Missouri's roster is at safety, due to the graduation of Anthony Sherrils and suspension (and likely dismissal) of Kaleb Prewett. At the outset of spring camp, Perkins and Hilton, two upperclassmen, appeared at the top of the depth chart. However, the past performances of Perkins and Hilton don't inspire a ton of confidence that they are SEC-caliber starters. The problem for the Tigers is that they don't have a ton of depth at the position, either. As a result, defensive coordinator Ryan Walters has talked about cross-training a few cornerbacks to be able to contribute at safety as well. The next two weeks could provide a clue as to whether Perkins and Hilton are up for the task of starting, or whether Walters will actually move a corner, such as DeMarkus Acy, to safety if one of them struggles.
3. Who will emerge as Lock's go-to target?
One thing that is difficult to glean from watching practices, where players rotate in and out constantly, is who the offense will turn to in a do-or-die situation. Last year, that player was most often wide receiver J'Mon Moore, who has since graduated. Currently, there are a few candidates to fill Moore' role, but none has yet shown to be an every-down receiving threat. Emanuel Hall tallied 817 yards and eight touchdowns a season ago, but he was primarily a deep threat. Johnathon Johnson eclipsed 700 receiving yards and had six scores, but he also had seven games in which he was held to two or fewer receptions. Tight end Albert Okwuegbunam caught a whopping 11 touchdowns but did little damage outside of the red zone. The coaching staff has talked about each of those players expanding his role this spring. Whichever does so most consistently will likely earn the trust of Lock and become his favorite target when he is under pressure or the team needs in a first down.