This week in SEC hoops: Winter weather further complicates schedule
Eight days ago, the SEC announced that the opportunity still remained for every SEC team to play all 18 league games this season, despite most teams seeing at least a game or two postponed due to the COVID-19 pandemic. In the next few days, a wave of almost unprecedented winter weather knocked out power and made travel impossible throughout much of the south. As a result, with the conference tournament set to tip off in just over two weeks, the SEC basketball schedule looks more complicated than ever.
Four SEC games were postponed last week, which brings the total number of postponed games in league play to 14. Every team except Georgia has had at least one league game postponed, with half the league having missed multiple matchups. Seven of those postponed games have involved Texas A&M, which has not played a game during the month of February due to a COVID-19 outbreak and which already called off its Tuesday game at Kentucky. The Aggies are currently scheduled to travel to Missouri on Saturday, but that game appears to be in jeopardy.
The result of the rash of postponements is it would now be virtually impossible for every team to play the same number of regular-season conference games. The SEC was prepared for that, with commissioner Greg Sankey telling reporters on Jan. 30 that the league would seed its tournament by winning percentage. What remains to be seen, however, is how the conference will go about choosing which games to play on the lone weekend set aside for make-ups, that of March 6. Missouri, for instance, has missed games against both Vanderbilt and LSU. Those two teams have each had at least one additional game postponed, as well. The league could theoretically ask those teams to each play two games in a three- or four-day span before heading to Nashville for the SEC Tournament, but that seems unlikely, and no plans have been made public for how the league will determine which games should be made up.
There were still 10 games played last week, however, and the league standings are getting a bit more clear. Alabama needs just one more win to secure an outright regular-season title, while Arkansas and LSU each stayed hot and are tied for second in the standings. Here is our weekly review of the past week's results as well as a look forward at the matchups to come.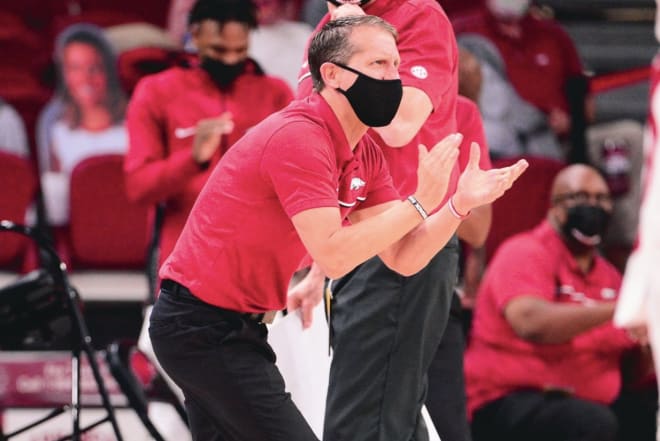 SEC Standings
| Team | Overall record | League record | Last week | NET Ranking |
| --- | --- | --- | --- | --- |
| Alabama | 18-5 | 13-1 | won vs. Vanderbilt | 8 |
| Arkansas | 17-5 | 9-4 | won vs. Florida | 26 |
| LSU | 13-6 | 8-4 | won vs. Auburn | 27 |
| Florida | 11-6 | 7-5 | Lost at Arkansas, won vs. Georgia | 29 |
| Tennessee | 15-6 | 8-6 | won vs. South Carolina, lost vs. Kentucky | 17 |
| Missouri | 14-6 | 7-6 | lost at Georgia, won vs. South Carolina | 39 |
| Ole Miss | 12-9 | 7-7 | lost vs. Mississippi State | 62 |
| Kentucky | 8-13 | 7-7 | won at Vanderbilt, won at Tennessee | 64 |
| Mississippi State | 12-11 | 6-8 | won at Ole Miss | 84 |
| Georgia | 13-9 | 6-9 | won vs. Missouri, lost at Florida | 91 |
| Auburn | 11-12 | 5-9 | lost at LSU | 71 |
| South Carolina | 5-11 | 3-9 | lost at Tennessee, lost vs. Missouri | 119 |
| Texas A&M | 8-7 | 2-6 | Did not play | 136 |
| Vanderbilt | 6-12 | 2-10 | lost vs. Kentucky, lost at Alabama | 123 |
Risers and Fallers
Don't look now, but Kentucky is showing signs of life. The Wildcats were the only SEC team to win two games last week, knocking off both Vanderbilt and Tennessee on the road. Freshman Isaiah Jackson averaged 15.5 points and 8 rebounds across the two games. Kentucky has now won three games in a row and vaulted into the top half of the league standings. The Wildcats's chances of earning an at-large bid to the NCAA Tournament are still very remote, but if they get hot, they certainly have the talent to make a run in Nashville.
Alabama, LSU and Arkansas each held serve by winning their lone game of the week. Arkansas' win was probably the most impressive, an 11-point victory over Florida in which four players scored at least 14 points. The Razorbacks have now won seven straight SEC games and played their way from an NCAA Tournament bubble team to comfortably in the field. They have a chance to add their best win yet with a matchup against Alabama on Wednesday. LSU took care of Auburn with a 104-80 win, with Cameron Thomas besting Sharife Cooper in a battle of star freshman. Thomas scored 27 points. Alabama looked wobbly, only beating Vanderbilt by four points at home, but the win virtually assured the Crimson Tide of a regular-season SEC title.
On the less hot side of things, Ole Miss finally cooled off. The Rebels had won four straight games before falling to rival Mississippi State by 10 points at home. The loss sets back the team's late push for an NCAA Tournament bid. Missouri and Tennessee each dispatched South Carolina, which has been a league punching bag of late, having lost five games in a row, but also each suffered a loss as a favorite. Missouri blew a 13-point second-half lead against Florida on Tuesday and Tennessee mustered just 55 points and trailed throughout a 15-point loss at home to Kentucky.
Mizzou opponent tracker
Missouri will look to avenge its worst loss of the season, a 21-point beatdown at Ole Miss from two weeks ago, when the Rebels come to Columbia Tuesday night. As mentioned above, Ole Miss' win streak came to an end when Mississippi State suffocated it in Oxford. None of the Rebels' five starters scored in double-figures, with star guard Devontae Schuler mustering just four points.
As of now, Missouri is scheduled to host Texas A&M for the team's Senior Day on Saturday, but with the Aggies having postponed six games in a row, that matchup appears to be very much up in the air. If Texas A&M cannot participate and another league game is postponed, it would make sense for the SEC to pair up Missouri and the other team without an opponent, even if it isn't someone the Tigers were originally scheduled to play. We don't anticipate Missouri would go outside of the conference to add a game to the schedule, however.
This week's schedule
Tuesday, Feb. 23
LSU at Georgia: 6:00 p.m., SEC Network
Florida at Auburn: 6 p.m., ESPN
Ole Miss at Missouri: 8:00 p.m., SEC Network
Wednesday, Feb. 24
South Carolina at Mississippi State: 6 p.m, SEC Network
Alabama at Arkansas: 8 p.m., ESPN 2
Tennessee at Vanderbilt: 8 p.m. SEC Network
Saturday, Feb. 27
Tennessee at Auburn: 11 a.m., ESPN or ESPN 2
South Carolina at Georgia: 12 p.m., SEC Network
LSU at Arkansas, 1 p.m., ESPN or ESPN 2
Ole Miss at Vanderbilt: 2:30 p.m., SEC Network
Florida at Kentucky: 3 p.m., CBS
Texas A&M at Missouri: 5 p.m., SEC Network
Alabama at Mississippi State: 7:30 p.m., SEC Network